A Brief Elliptical Trainer Buying Guide
This elliptical trainer buying guide should be your Bible for knowing what features to look for and what's important when comparing ellipticals. You'll find some that have lots of bells and whistles that may not have the basics, while others are stripped-down but have everything you need. This elliptical trainer buying guide points out what to look for. (Also see Shopping Online for an Elliptical Trainer.)
Noise Level
Be sure you know how much noise the machine makes. It may not bother you at first, but over time you'll stop using a loud elliptical trainer, especially if you can't enjoy music or television while you're exercising. In general, magnetic resistance is quieter than belts, and a solid, weightier machine will be quieter than one that may wobble or thump on your floor when you're really putting it through its paces.
Stride Length
Every elliptical trainer buying guide will tell you that stride length is more important to comfort than any other feature, particularly if you are tall. The longer the stride, the more range of motion you'll have. A full range of motion is key to a really good workout. Some elliptical machines have a relatively short stride, and these can feel jerky when you're using them.
Comfortable Foot Pedals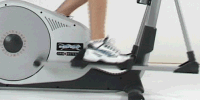 The foot pedals should be large enough to accommodate your feet comfortably and have a non-slip surface to lessen the risk of injury or stumbling. Some machines also have an adjustable slant, which can increase your comfort level.
Size
Make sure your elliptical trainer will fit the space you're planning on putting it. This sounds obvious, but some people don't realize just how large these machines can be, and you want open space on all sides so that you can easily get on and off.
Safety Features
If you have small children, check on safety features like an automatic safety turn-off button and a covered flywheel. Also make sure the hand rails are sturdy enough to support the heaviest user.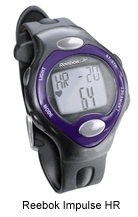 Heart Monitor
Elliptical machines are first and foremost for cardiovascular workouts, so you really need to have a way to monitor your heart rate. Whether it is a pulse rate monitor or a chest strap monitor, no elliptical trainer buying guide will tell you to bypass this essential feature – it is how you check your progress and make sure you aren't overdoing things.
Know What You Need – and What You Don't
Don't buy an elliptical trainer just because the machine has the most features. If you aren't counting calories, there's no need to know how many calories you've burned and what your average calories per hour are; but if this is important to you, that's fine. Compare features to make sure you're getting everything you need and nothing you don't.
Warranty
Let's hope you won't need to fall back on your warranty, but if you do have problems with your elliptical trainer, your warranty can make or break your satisfaction level. Warranties range from 90 days to 10 years, depending on the company, the model and what part of the machine you're talking about.
Compare warranties before buying and, if you're making a sizable investment, consider purchasing an extended warranty.
Following these guidelines should help you avoid mistakes and narrow down your choices considerably. But even an elliptical trainer buying guide can't make the final choice for you – that's your personal choice.