The Matrix E30 Elliptical is a Solid High-End Machine
The E30 is one of two new residential elliptical machines from Matrix, a company known for high-end, commercial grade exercise equipment including treadmills and bikes.  In 2016 the company developed a residential line to compete directly with Life Fitness, Precor and other big players in the space.
What You Get
The Matrix E30 gives a solid, compact design with suspension technology,  reducing noise and offering the most natural, smooth motion.  You get your choice of three different consoles so you can choose the one that fits your needs.
Let's take a look at some of the specs...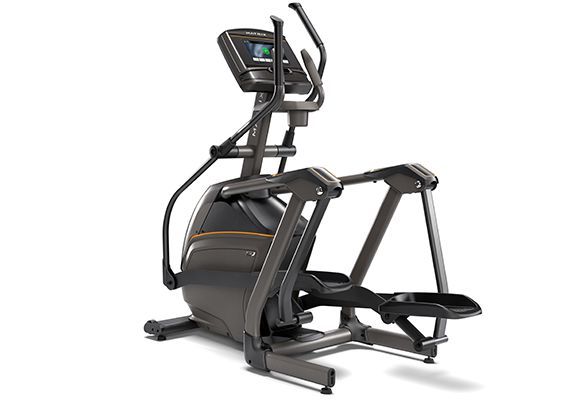 ECB magnetic brakes
20" fixed stride length
Dual action handlebars
20 resistance levels
Suspension elliptical technology
Contact and wireless heart rate
325-lb. User Capacity
Unit Weight/Dimensions — 284 lbs; 57.5"L x 29.5"W x 67.8"H
Warranty: Lifetime frame, 5 years parts, 2 years labor

The Word on the Street
The residential Matrix ellipticals and treadmills have received great reviews thus far, as the company appears to be maintaining the quality and design used in its popular commercial models, which is great news.  Some companies that have transitioned into the home market have failed as they haven't been able to maintain the quality while lowering their price points...not so with Matrix.
The E30 is a rock solid elliptical trainer that looks and feels like something in a high-end health club.  Yet it is perfect for the home gym due to its compact design and ease of use.
The company is known for its innovative technologies, and you get plenty of them here.  For starters, you have Suspension Elliptical Technology that is wheel-free, unlike traditional machines, so the motion is very smooth and quiet...one of the most natural movements you'll come across.
You also get Sprint 8, an exclusive interval training program that features a series of fast and slow movements to maximize your results and help you burn calories in a short amount of time.
ViaFit allows you to track all of your workouts to see your progress.  The Matrix E30 is also Passport Ready, which means you can watch high def destination footage right on your TV while you train.

Other features will depend on which of the three consoles you choose.
You have the base XR console, a simple 8.5" LCD display.  Stepping up you have the XER display, which adds a free Polar chest strap, Virtual Active, a 10" Bluetooth enabled touch screen, speakers, various applications, smartphone compatibility and a USB port.  At the top you have the XIR console, a 16" HD touch screen with all of the features of the XER, just with the larger diplay.
Regardless of which console you choose, you'll get a great workout with plenty of features and capabilities to help you reach your fitness goals.
Industry experts are very excited about this new lineup.  The E30 starts at around $2000 with the base XR console and the XER adds about $500, with the XIR adding another $500.
The higher end E50 model gives you more resistance levels, Exact Force resistance, a stronger warranty and multi-position handlebars.
Then there are two Ascent Trainers, the A30 and the higher end A50, which give you variable stride lengths up to 24" as well as incline from 24% all the way up to 54%.  So they offer much more freedom of movement and enhanced targeting if that is something that appeals to you.  They are however a bit more expensive than the suspension ellipticals.
Our Thoughts on the E30 Elliptical
We're liking the Matrix elliptical lineup thus far.  We've been using the ones in the gym for many years, and blind tested you really wouldn't be able to tell if you were on a gym or a home elliptical machine.
The E30 is very compact, and gives you plenty of capability.  It's smooth and natural, and will last for years due to its solid construction.  Either the E30 or E50 is a perfect choice for the home.  If you have a little more room, and a high budget, the A30 and A50 give you incline and adjustable stride to really change up your workouts.  Take a look at those as well.