The Weslo Elliptical Trainer – a Basic Beginner's Machine

Weslo Elliptical Reviews
The Weslo elliptical trainer is yet another machine produced by the fitness equipment giant ICON Fitness. The Weslo line is their entry into the budget elliptical trainer market – these are the lowest priced models they offer from the many brand names they manufacture. The advertising for Weslo ellipticals stress that these are machines for the individual looking for a basic, entry-level trainer. They tout these as, "your first steps toward a healthier, more vibrant life," and state that Weslo exercise equipment is, "fitness for real people."
Back to Basics
Weslo is obviously targeting the huge number of people who are on a budget and looking for their first foray into buying exercise equipment. The highest price you'll pay for a Weslo elliptical trainer is about $300. With that said, you should understand that you will get a very basic, stripped down model for the price.
These are not ellipticals for the marathon runner or weekend warrior – they are designed for the person looking to lose a few pounds and get a cardio workout to improve their health. The bells and whistles are limited.
UPDATE:  As of 2016, it looks like Weslo is no longer making elliptical trainers.  
Take a look at our list of Best Ellipticals Under $500 to find a good machine in this price range.
Not Bad for the Price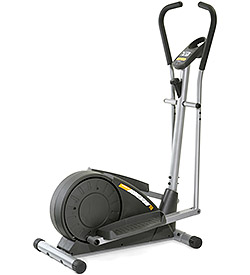 Most people who purchase a Weslo elliptical trainer find one through a chain store such as Sears, where they are quite popular because of the price.
The general consensus is that they are fine in the short term, especially for the price, but that purchasers end up moving up to a higher quality brand after a year or two.
For the price, most users felt that Weslo was a good way to try out elliptical training without investing too much money. The main complaint was that they tended to be wobbly and too creaky, producing significant noise.

What the Experts Say
Fitness instructors have reservations about Weslo elliptical machines for the same reason, but add some concerns about the resistance and the length of stride.
About half of them, however, would still recommend them to individuals who simply don't have the budget for something more expensive. They noted that they are essentially safe and effective, and the best in this price line.
For a stripped down basics only, beginner's machine, a Weslo elliptical trainer is a fine choice.
Click here to write your own review!
Weslo Elliptical Model Reviews
The Weslo Momentum 620 - Save your money and spend a little more on a better machine.
The Weslo Momentum 630 - a low-quality cheap trainer built to satisfy the demand by budget shoppers.
Weslo Momentum CT3.0 - This $199 elliptical trainer is bad news and should be avoided. It is nearly impossible to recommend any decent cardio machine that sells for under $200 that's worth a darn.
Weslo Momentum CT3.8 - This trainer fails at everything: the stride is ridiculously short, the resistance doesn't work, the console runs on small batteries, its unreliable and loaded with cheap parts that are going to break sooner or later.
Weslo Momentum CT5.0 - Just as bad in design as its less expensive siblings that sell for $199. Stay away from cheap ellipticals and wait until you can spend a little more for a better machine.
Weslo Momentum CT5.9 - Only good for a very light and small person. The 14 inch stride length is short and choppy so it feels more like a stepper than an elliptical.
Weslo Momentum G3.1 - This $199 elliptical is a very lightweight and extremely small machine. Plan on spending at least $400; anything selling for less than that isn't worth the trouble.
Weslo Momentum G3.8 - A machine for people with low expectations; there's no such thing as a quality $199 elliptical out there and we honestly don't know why they continue to make these things.
---