Precor EFX 5.31 Elliptical - Couldn't Image Settling for Anything Else
by Liam
(Toronto, Canada)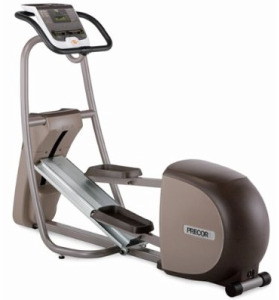 We have owned the Precor EFX 5.31 elliptical trainer for a little over a month, but we did extensive research (and tried out) a number of different ellipticals before purchasing it. Precor is by far the best elliptical out there. It is expensive, but that old mantra - you get what you pay for - is very accurate.

The only drawback of the Precor EFX 5.31 is that is lacks the moving arms for an upper body workout. (The higher end models have the arms.) That can be remedied by simply having small hand weights to use while on the elliptical. I always used the arms in the gym, but I haven't missed the arms as yet.

The Precor elliptical has an incredibly fluid movement with absolutely no strain on knees, back, or other potential sore spots. It is largely quiet, with the loudest noise coming when the crossramp adjusts the incline for workouts. My wife has chronic back pain, and the only elliptical she could comfortably use was the Precor. I have no back issues, but wouldn't have one on a machine such as this - it is poetry in motion - once we tried it, we would have had trouble using any other elliptical.

The Precor EFX 5.31 also comes with a phenomenal warranty. The warranty on the U.S. built machines is 10 years parts, and 1 year labour. That is unheard of with other elliptical companies that we researched.

You should be sure to do the research on any elliptical you are considering buying. It is a significant investment even if you buy a cheaper model. Before I tried out all the ellipticals that I did, I was leaning towards other brands (due to reduced cost, among other considerations). After deciding on the Precor elliptical, I couldn't imagine ever settling for anything else.

Join in and write your own page! It's easy to do. How? Simply click here to return to Elliptical Trainer Consumer Reviews - Rave or Rant!.