Horizon Elliptical Trainers – Value for Your Money
Horizon Elliptical Reviews
Among budget machines, Horizon elliptical trainers are one of the leaders of the pack. The company is known for producing great machines and it continues to maintain its reputation of high standards for quality, construction, manufacturing, and design.
Horizon is a brand of the Johnson Health Tech group which has been in business since the 1970s. In addition to Horizon and its sister brand AFG, Johnson Tech also puts out the Matrix and Vision brands.
One of the things consumers notice first about these trainers is the sleek design and beautiful consoles. Not only are Horizon elliptical trainers aesthetically appealing when compared to competitor models, they ride as well as they look and they come loaded with features.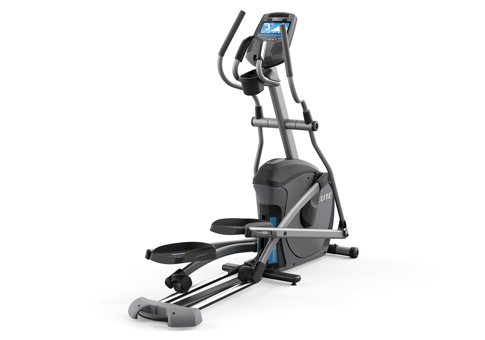 A Product Loved by Consumers
Horizon ellipticals are value-driven machines that consumers love to own and are buying them up as fast as they can; Horizon Fitness has gained a 17 percent share of the elliptical trainer mass market the past few years.
The company loads their eye-catching trainers with snazzy features -- but don't let appearances be your only criteria for purchasing one. It's what's "under the hood" that's most important and, in that regard, Horizon's new line-up of machines deliver again and again.

Great Prices With Great Features
Horizon makes quality elliptical trainers with 14-30 lb. front drive flywheels that offer value and solid performance at low prices ranging from $649 to $1599. They have a no-fuss, feature-friendly marketing approach, and continue to raise the bar by offering new budget models with advanced features such as pivoting footpads and power-driven inclines.
Current models include the popular EX-59 base model, the Evolve 3 and 5, the Elite E7 and top of the line E9 trainer.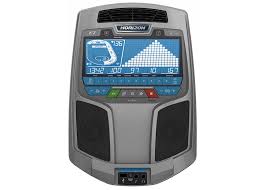 What We Say About Horizon Ellipticals
A few years ago we remarked that Horizon Fitness was making a couple of outstanding elliptical trainers mixed in with some average models. At the time, we thought that the strategy of offering so many models seemed confusing to the buying public. Well, it seems as if they listened to feedback from trainers and consumers as they now limit their line to just a few great machines.
Keep in mind that the company sells all of their popular ellipticals, including the EX-59, Evolve and Elite series, directly from their online store so they are able to offer great deals.
Best of all, all of the series have the same sleek design so it's simply a matter of matching features and price in order to find an elliptical trainer that's right for you.

Model Reviews
Most Popular Models

Horizon EX-59 - A lot of value for such a low price; an affordable trainer with articulating foot pedals, 18 inch stride, 14.3-pound flywheel and easy assembly.
Horizon Evolve 3 - A step up from the entry level EX-59 with a larger display, ViaFit to sync workouts, Passport to run around the world and plenty of options.
Horizon Evolve 5 - The mid-range model improves upon the Evolve 5 with a heavier flywheel and more workouts, among other features and comfort touches.
Horizon Elite E7 - One of two top end models from the company, offering incline capability and free Polar heart rate chest straps, among other additional features.

Horizon Elite E9 - The top of line model featuring 44 built in workouts, incline capability plus ViaFit tracking and Passport integration.
---