Best Elliptical Machines 2014
Almost every company claims they offer the best elliptical machines available. You can test literally dozens of elliptical trainers in your quest for the perfect exercise machine and simply end up confused. It's frustrating, isn't it? We've taken some of the guess work out of finding the right machine by doing some research of our own and come up with six of the best elliptical trainers money can buy. Each one fits the "best of" category in a different way, so there will be one that appeals to you.
Best Overall Elliptical Trainer 2014 – Precor EFX 5.33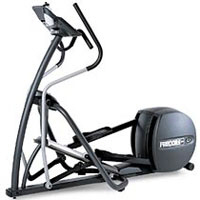 Since Precor is the company that invented the elliptical trainer, it's no surprise that the Precor EFX 5.33 is considered one of the best elliptical machines. This is a beautifully engineered, sleekly designed machine that will last for years. There's virtually no maintenance and you can rest assured that it will take any kind of a stress you're capable of putting it through. Outstanding features include the patented Cross Ramp feature that allows you to adjust the incline angle of the pedals from 15 -30 degrees to ensure a complete workout of all the leg muscles. State-of-the-art LED displays and graphics make designing and tracking your workout easy, and twenty resistance levels mean you'll never outgrow this machine. It also sets the industry standard for smooth motion, has a variable 21" to 23" stride and comes with the best warranty in the industry. At around $4,500, you'll feel like you're on a commercial grade machine and you'll use it for years.
Runners Up: Smooth Agile DMT and Life Fitness Club Series
---
Best Value Elliptical Machine 2014 – Smooth CE 3.6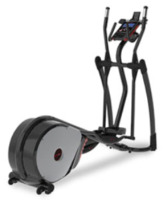 Smooth Fitness makes some of the best elliptical machines in the mid-price range, and their innovative Internet sales and service is legendary. The Smooth CE 3.6 is an upgrade to the highly rated 3.2 model, which was a benchmark in its price class among rear-drive units for a couple of years. The Smooth CE 3.6 is even better. Pivoting foot pedals mimic the natural movement of your ankles which alleviates foot numbness after a long training session, and helps keep your lower body aligned for less strain in the hips, knees, and ankles. The unit also comes with a wireless heart rate control that will automatically adjust the machine's resistance to keep you in the target HR zone for optimal results. For the price – about $1,299 – it's the best value around. You're getting a superior elliptical trainer without paying the high-end price.
Runner Up: Livestrong LS13.0E
---
Best Value Elliptical Trainer 2014 – Sole E25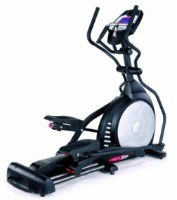 We admit it – there was a tie in the "Best Value" category. The simple truth is that we couldn't decide which trainer to add to our list of the best elliptical machines for 2014 – it will come down to preference for most consumers. Sole is another great value. The Sole E25 elliptical trainer comes in at a few hundred dollars less than the Smooth CE 3.6 at around $1,000 and offers some impressive features. Sixteen levels of resistance, twelve workouts and an LCD display that keeps track of everything from time, distance, levels to calories burned. Innovative engineering such as angled foot pedals that reduce strain on the joints make a world of difference to your elliptical workout. You simply can't go wrong with this one.
Runner Up: Yowza Navarre
---
Best Budget Trainer 2014 - Schwinn 430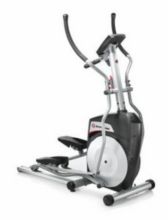 The Schwinn 430 elliptical trainer is a fairly new budget model made by Nautilus which has quickly become one of the best-selling, lower-end machines you'll find online. The articulating footpads and combination of programs and resistance are some of the features that make it one of the best elliptical machines priced under $1000. Articulating footpads are rarely seen as a standard item on a sub-$1000 elliptical trainer, but the Schwinn 430 has them. It's also got a slew of resistance levels, heart rate monitoring, and comes close to giving you that commercial health club machine quality. An excellent buy for $650, but we have seen it at Amazon for less than that!
---
Best Club-Quality Trainer 2014 – Life Fitness X8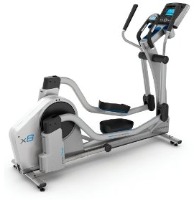 Here's our top pick of the best elliptical machines money can buy – the Life Fitness X8 Elliptical Cross Trainer. You can't get a great body by training comfortably and this machine has the tools to take you to a higher fitness level. It is simply unsurpassed in quality, scoring well above average to near-perfect in all critical areas including adjustability, low noise level, value, durability, ergonomic stride pattern, programming, and attractive design. This elliptical trainer has an 18" to 24" electronically adjustable stride length for better recruitment of muscle activity, upper body workout and twenty resistance levels. If you can afford the $4,300 price tag, you'll feel like you've opened a professional gym in your home. In fact, you'll look forward to stepping on to it every time!
---
Best New Elliptical Trainer 2014 – Smooth CE 8.0LC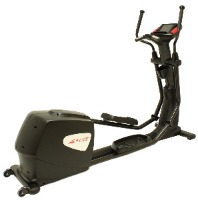 The Smooth CE 8.0LC elliptical trainer is debuting as Smooth Fitness's top-end model for 2013. The $1899 trainer features a heavy-duty braking system, oversized and cushioned foot pedals, 21" stride length, 21 programs, a wireless chest strap for heart rate monitoring, and a large 400-lb user capacity. Along with its launch, it is offered with a 10-year parts warranty for a limited time. The CE 8.0LC is rated as "light commercial" which means it is designed for use in hotels and corporate gyms where it is expected to be in use 6 to 8 hours a day. The CE 8.0LC is one the best elliptical machines made by Smooth and more than enough machine to handle the needs of you and your family for years to come.
ICON Fitness Reviews | Resources | Site Map #1 | Site Map #2 | Site Map #3
---
Return from Best Elliptical Machines to the Elliptical Reviews Home Page