The ProForm SMART Pro 16.9 Elliptical Machine Improves on Earlier Model

The ProForm SMART Pro 16.9 is a brand new elliptical with tons of great features and improvements on the similar 16.0 NE machine that preceded it.
With an adjustable stride, 35 workout apps, iFit technology and new Smart HD touchscreen, the 16.9 is looking like a great option.
What You Get
The ProForm 16.9 comes with a brand new 10" full color touch display which is web-enabled so you can browse the internet while you work out.   It is built of commercial grade steel and has a heavy 32 pound flywheel for smooth, quiet motion.
Let's take a look at the important specs...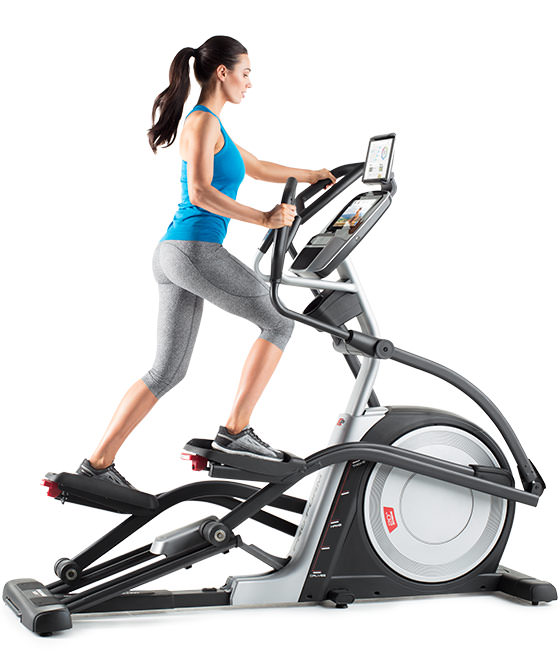 SMR™ silent magnetic resistance

26 digital resistance levels

32 lb. inertia enhanced flywheel

35 workout applications
20" adjustable stride
10" color web-enabled touchscreen display

iFit® enabled

Polar® wireless chest strap included

0-20 degrees adjustable incline

Multi-Grip Handles

Adjustable oversized pedals

iPod® compatible with Intermix Audio®2.0 sound system

Lifetime frame, 6 year parts and 3 years labor warranty
The Word on the Street
UPDATE: As of early 2021 the Pro 16.9 has been discontinued and replaced by the all new ProForm Pro E14. Check out our review of that new model.
----------------
The ProForm SMART Pro 16.9 is a relatively new model so there aren't many customer reviews out there just yet.  It's very similar to the 16.0 NE, so chances are it will be replacing that elliptical, or already has by the time you are reading this review.
It has all of the features that made the 16.0 NE popular, including up to 20 degrees of incline, easy assembly, multi-position grips and a 20 inch power adjustable stride.
However, it does have a few enhanced features that the 16.0 NE did not have.  
There's a 10-inch web-enabled touchscreen, an upgrade from the 16.0's 7" display.  Although it's only a 3 inch difference, it feels much bigger and easier to use.
The SMART Pro 16.9 also has a higher max weight capacity, at 375 lb. vs 350 lb., so we can assume that this elliptical has better construction.
It's interesting to note that the Pro 16.9 has 35 workouts, 5 less than the 16.0, which is the only downgrade we can see.  We're not sure why they would eliminate 5 workout programs, but perhaps there was a reason for it.
Other great features on the new ProForm SMART Pro 16.9 elliptical are 26 resistance levels, adjustable oversized pedals, iPod compatibility, a wireless heart rate monitor, transport wheels, CoolAire fan, and of course, iFit Coach, ICON Fitness' proprietary workout tracking/Google map integration program.
The Pro series have always been some of the most well-received ProForm ellipticals by experts, as they bring a higher level of quality along with tons of great features to keep you motivated and entertained.
How Does the SMART Pro 16.9 Compare to the Other ProForm Elliptical Trainers?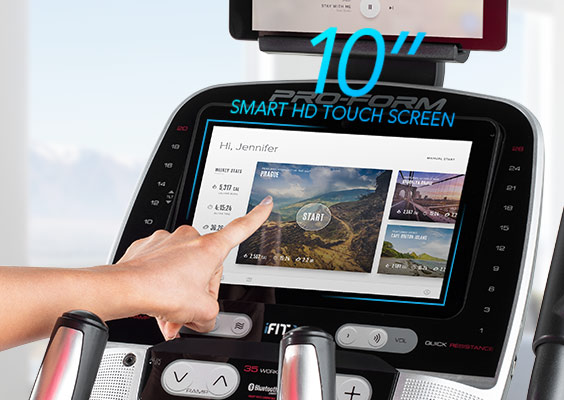 Simply put, the SMART Pro 16.9 is the highest end ProForm elliptical on the market today.  It's part of the Pro Series, which gives you the best of everything, yet still at a very affordable price.
Let's take a look at all three of the Pro Series ellipticals to give you an idea of how they compare to each other...
ProForm Pro 9.9
The 9.9 is the entry level model in the series, giving you a 21" stride, 28 lb. flywheel, 32 built in workouts, up to 10 degrees of incline, wireless heart rate monitoring, 24 resistance levels and a 350 lb. max weight capacity.
ProForm SMART Pro 12.9

The mid-level 12.9 gives you a little more than the Pro 9.9 in most categories, including a 32 lb. flywheel, 35 built in workouts, up to 20 degrees of incline, 26 resistance levels and a 375 lb. max weight capacity.
ProForm SMART Pro 16.9

The top of the line model, as you've read about above, gives you everything the Pro 12.9 has, but you get a 10" HD touch screen display rather than a 7" one.  Otherwise, the two ellipticals are essentially identical, except you get a stronger warranty on the SMART Pro 16.9.
Note that as of this writing, all SMART ellipticals come with one year of iFit Coach included for free, although that might change in the future.
All of the other ProForm ellipticals give you less than what you get on the Pro Series.  The Hybrid Trainers are very basic machines that are half elliptical and half recumbent; the CSE Smart Striders are rear drive and foldable, but have short 18" strides that aren't ideal for tall users.
The Endurance Series, including the 530E, 720E and 920E, is also very popular, and includes more affordable front drive ellipticals for those who are just starting out or are at the intermediate level.
But we like the SMART Pro 12.9 and 16.9 as they feature better construction and will last longer in your home.  They also have the best capabilities of all of the ProForm elliptical trainers.
Our Thoughts on the ProForm SMART Pro 16.9
The SMART Pro 16.9 looks to be a good addition to the ProForm Pro series, a nice upgrade to the 16.0 NE elliptical.  It's packed with great features and capabilities and also delivers the quality construction that some of the lower priced models lack.
The current price as of this writing is $2499, which is quite high, but it should definitely come down in price, especially if they phase out the similar 16.0 NE.  Look for it under $1700...at which point it is an incredible buy.  Over $2000 and not so much.
Also look at the Pro 12.9 elliptical, which is essentially the same machine with a 7" touch screen instead of 10".
We'll keep an eye on this one to see what the experts and users have to say.  For now, the Pro 16.9 is definitely a solid elliptical trainer with everything you could ask for.