Bowflex Max Trainer Review - An Elliptical and Stepper in One Calorie-Burning Machine

The Bowflex Max Trainer is an extremely popular exercise machine, giving you the benefits of an elliptical and a stepper combined.  
The company claims that you can burn more calories, engage your upper body more, and significantly reduce impact on your joints more effectively than a traditional elliptical or treadmill.
Compared to the company's other popular machine, the TreadClimber, the Max Trainers are much more affordable and more compact.
Let's review the M6, M9, Max Total 16 and new Max Trainer SE to see what these hybrid cardio machines are all about...
A Look at the Current Max Trainer Lineup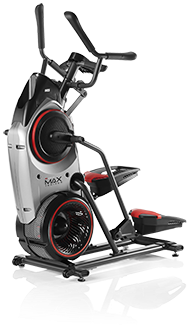 Bowflex is currently offering four Max Trainer models for 2023:  the M6, new SE, the M9 and the top of the line Max Total 16.

All four are very compact, about half the length of a traditional elliptical machine, so they are ideal for smaller gym spaces.
All of the models have a sleek, modern-looking design inspired by race cars and motorcycles, so they are very unlike your typical elliptical trainer.  
Depending on your tastes that can be a good or a bad thing.  We personally like the way these look as it makes them more appealing, and they certainly stand out from the crowd.
Let's take a look at all of the Max Trainers...
The entry level Max Trainer M6 is silver and black with red accents, and offers 16 resistance levels, 5 built in workouts and includes everything the M3 offers plus contact grip heart monitor, a backlit display and premium grips.
It also features the brand new JRNY Platform, interactive technology that gives you access to customized workouts based on your inputs, fitness assessments, rewards and tracking capability, plus Bowflex radio and other exciting new additions.
Moving up you have the Max Trainer SE, which is the newest member of the Max Trainer lineup. It has a completely different look than the other models, all black with the mechanics of the machine hidden.
The SE adds a 7" color LCD console and unlimited users, plus a surprisingly stronger warranty than any of the other machines. Perhaps the quality of materials has improved with the latest addition.
The Max Trainer M9 is the nextmember of the lineup, replacing the previous M8. It looks similar to the M6 although it's a dark grey and black combination.

The M9 steps it up with a much more advanced 10" touch screen display, streaming capability, Bluetooth heart rate armband, 20 resistance levels, customized workouts and unlimited user tracking.
The Max Total 16 is the top of the line elliptical, and takes it up another level with dual rail design, additional hand grips and an even larger 16" touch screen display. 

All Bowflex Max Trainers come with full body workout capability, after burn effect, water bottle holder, media shelf and an AC adapter. They all offer two free months of their JRNY interactive program.
RECENTLY DISCONTINUED
Although they may have been discontinued, you might find the M3 or M8 for sale still so here is some information on those models....
The Max Trainer M3 is all black with fire red accents, offering 8 resistance levels and 2 workout programs (Manual, Max Interval). It includes a chest strap for heart rate monitoring, a water bottle holder and a shelf for your magazine or tablet.
The Max Trainer M8 (a recent upgrade to the M7) looks like the M6, but with a darker appearance and it has more commercial-grade touches.  There are 20 resistance levels,  enhanced grips, pedals and display and up to 4 user profiles, as opposed to 2 on the M3 and M6.  
It also includes performance targeted programming that can adapt to your training level and set goals for you to reach, something the other machines don't have.
Note that there is a Max Trainer M8 performance pack, which includes a Samsung Galaxy E 9.6" tablet and a mat for an extra $300...not a bad deal if you don't have your own tablet to use.

Which Bowflex Max Trainer Should You Choose?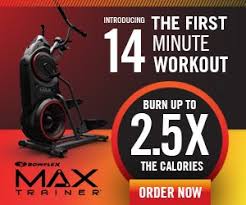 Deciding which Bowflex Max Trainer to choose comes down to your budget and the features that you are looking for. All of them will provide a solid workout, allowing you to burn calories and tone up the entire body.
The Max Trainer M6 is going to be the least expensive model, at around $1,299 on sale last we checked. It is a good entry level choice if budget is an issue, and you can do without the extras that the upper level models provide.
Our favorite Max Trainer here at All Ellipticals is definitely the M9, which happens to be the most popular model and biggest seller for the company.  Why?  Because it's a pretty big upgrade over the base M6 model in major areas.
For starters, you get more resistance levels to choose from. You also get a touch screen display and Bluetooth.
Another thing missing on the base model is the personalized workout capability that the Max Trainer M9 and Max Total 16 have. This is only available on the touch screen models.
What about the Max Total 16?  Why is that not our favorite?  Because the jump from the M9 to the Max Total 16 is not as great as that from the M6 to the M9, meaning that the upgrades on the Max Total don't necessarily justify the price increase of $800.
You do get even more built in workout programs and upper body training, and some enhanced touches here and there, but we believe the Max Trainer M9 has everything you need.  
Unless your budget is wide open, in which case go with the top of the line Max Total 16, opt for the M9.

What's the Word on the Street?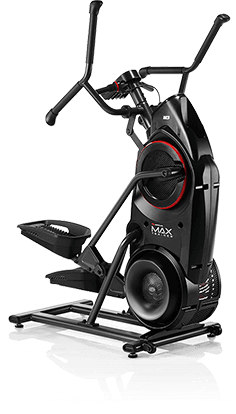 The experts give the Max Trainers very good reviews.  They like the fact that they are competitively priced for the features offered, around $1,299 for the M6 model.  The SE is a bit pricier, at $1,499. The M9 is a around $1,999 on sale, and the Max Total 16 is $2,499.  
They are all very compact which makes them ideal for the home setting...very appealing for those with limited space in their workout areas.
The unique selling point of the Max Trainers, as well as their counterparts, the Bowflex TreadClimbers, is definitely the fact that you can burn a ton of calories in a relatively short amount of time.
(Note that Bowflex recently retired the TreadClimbers, and now only offer traditional treadmills.)
You'll notice that the focus of the company website and commercials is not really the machines themselves, but rather the results that you can achieve by using them.
Although they used to featured the Max Interval training workouts, now they have JRNY which has an unlimited number of workouts to choose from.
Bowflex also claims that an independent study showed that you can burn up to 1.2x as many calories as you can on a stepper, 1.6x as many as you can on a treadmill, and up to 2.5x as many as you can on a traditional elliptical machine.  
Whether or not this is true is debatable, but the point is you can shed a lot of calories and get a very good cardio workout in, which you can do with most good cross trainers.
Some other Bowflex Max Trainer benefits: 80% more upper body engagement, 200% less impact and additional calorie burn long after your workout is complete.  
Keep in mind that last claim applies to any interval training that you do.  :)
Bowflex Max Trainer Review - Bottom Line
We like the Max Trainers, especially for those who don't have a lot of time to work out and want to maximize their results.  
Although the display is very basic on the M6, it does have a Burn Rate meter that actually shows you how many calories you're burning per minute and target levels to hit...so that's pretty cool for those looking to drop a few pounds.
Keep in mind that the M6, SE, M9 and Max Total 16 all sync with the Bowflex JRNY app to track your results, but you'll have to use your own tablet on the M6 and SE since they don't have a touch screen console.
Also, note that the M9 and Max Total 16 models are learning machines, so they actually monitor your workouts and suggests new targets based on your fitness goals.  So that's an additional motivational tool.
Either way, these are very good machines with a unique angle that makes them very appealing.
Check out all of the Max Trainer models and decide which one is right for you.
Bowflex Max Trainer Model Reviews
Bowflex Max Trainer M3 - The entry level model featuring the MAX Interval 14 minute workout, 8 resistance levels, wireless chest heart rate monitor and 2 user profiles.

Bowflex Max Trainer M6 - The mid-level and most popular model, this one offers 16 resistance levels, 9 built-in workouts and Bluetooth syncing with the company's fitness app.
Bowflex Max Trainer M8 - The higher end model in the series, introduced for 2019, with learning capability, upgraded features, heart rate monitor and Bluetooth syncing.
Bowflex Max Total 16 - The newest of the four models, with a touch screen display, WiFi and Bluetooth, and other high end features.