Precor Elliptical Machine Reviews – Leading the Industry in Quality

Precor elliptical machines have one of the highest reputations in the fitness industry for good reason.
The company has dedicated itself for thirty plus years to developing some of the finest workout equipment available, and they make sure they stand behind their product.

The company is international, based in Helsinki, but corporate headquarters are in the state of Washington. They pay particular attention to natural body movement and rhythm when developing items like Precor ellipticals.
The tag line, "Engineered to move the way you move," indicates a lot about the philosophy behind their designs.
With a lifetime frame and ten year parts and wear warranty, Precor's elliptical trainers are built to last.

The Current Precor Elliptical Lineup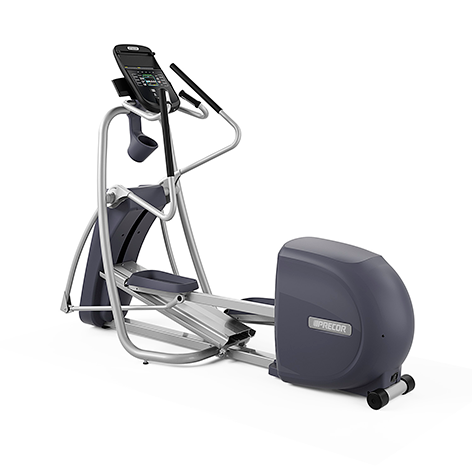 The cost of Precor elliptical machines is comparable to its competitors such as Matrix and Life Fitness. They start at around the $2,000 mark and go up from there, with a wide variety of models to choose from.
Let's look a little deeper into all of the current models in their lineup...
It starts with the Energy Series which includes the EFX 221, 222, 225 and the top of the line 245.  
You then have the Precision Series which includes the EFX 423, 427, 443 and 447.
There's the new Assurance Series, featuring the EFX 532i and 536i.
At the top of the line are the Experience Series EFX 635, EFX 665, EFX 731, EFX 761, EFX 833, EFX 835, EFX 863 and EFX 865, with the ultimate construction and design.
You also have the Adaptive Motion Trainers, or AMT series, which is an even higher end collection featuring ellipticals with a completely open stride adjustable up to 36 inches which conform to your movement.  
The AMT 733, 763, 835 and 865 start at around $7,300 and go up to about $11,000+.

The AMT Series is amazing, but on the higher price end so better for those without budget constraints.
Precor is one of the few brands that makes its equipment so sturdy that it doesn't require a weight limit, and most have child safety features to ensure against accidental injuries.
Precor's elliptical cross trainers are virtually silent and have a smooth, fluid movement that consumers rave about.


Which Precor Elliptical Should You Choose?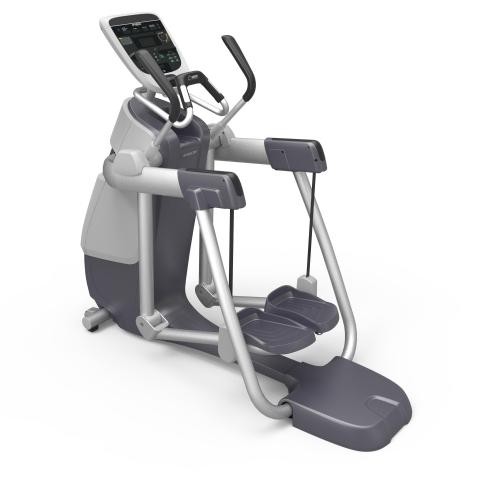 Fitness professionals love Precor's elliptical exercise machines because they are so close to the models Precor manufactures for use in commercial gyms.
They have most of the same features and plenty of extras that make using them a pleasure.  As such they are a great choice for your home if you can afford it.
But with so many different model choices, it's hard to decide which one to choose.  
Here's a little help for you, with the bolded model in each series being your best choice.
Energy Series ($2,499-$4,199)
This is the most affordable series that Precor offers, and is a good way to get a gym-quality elliptical without spending top dollar.  
The EFX 221 is the only model without moving handlebars, so we would definitely recommend starting at the EFX 222 for a couple hundred dollars more to get that arm workout in.  
The EFX 225 and 245 will give you power incline instead of manual, with the 245 giving you many more workouts and a touch screen with workout tracking.
So if you can afford it, the EFX 245 is the best choice in the Energy Series, followed by the 225 and 222.  
The EFX 221 is the most affordable, but since the handles don't move you can't incorporate an upper body workout.
Precision Series ($4,299-$5,499)
This step up series is more advanced and gives you 20 resistance levels as opposed to 16 and motorized incline up to 40%, as opposed to 25% on the top Energy Series models.  
Here the EFX 423 is the most affordable, but it and the EFX 443 have stationary handlebars only.
So here we would opt for the EFX 427 or the top end EFX 447, which gives you the most workouts and Preva tracking just like the EFX 245.
Experience Series 600 ($5,995-$9,095)
This series is another step up and typically found in gyms and physical therapy centers, but some people choose them for their personal home gyms as well.
Here you have the EFX 635, EFX 665 and EFX 685, and they feature more durable design and stronger warranties.
You also get a touch screen display on the EFX 665 and EFX 685 ellipticals, not available on the Energy or Precision Series Precor series.
Experience Series 800 ($6,845-$11,295)
This the the top of the line Precor elliptical series.  You definitely do not need this for home use, unless you have a household of professional athletes.  
However, if you can afford it, these are as good as it gets and you will be beyond happy with your purchase.
The most affordable model in the series is the EFX 833, which gives you plenty of resistance levels and built in workouts.  
The EFX 835, 865 and 885 give you moving handlebars. The 833, 863 and 883 have fixed handlebars.
The top of the line EFX 883 and 885 offer large 15" touch screens, but otherwise all of the Experience Series 800 ellipticals are quite similar as fas as capability goes.
Adaptive Motion Trainers ($7,595-$12,695)
These Precor elliptical are so named because they adapt to your motion, giving you more freedom of movement than you get on the traditional models we discussed above, up to an impressive 36".  
All have moving handlebars and 20 resistance levels to choose from.
700 Series
The AMT 733 is the most affordable model. The AMT 763 adds a 10" touch screen and the top of the line AMT 783 adds a 15" touch screen.
800 Series
These Precor ellipticals are very similar to the 700 Series, with the only difference being the ability to adjust your stride height. Here you have the AMT 835, AMT 865 and AMT 885.
So the models that we highlighted above are going to be the best Precor ellipticals in each of the four series.  That should definitely help you narrow it down.  
Decide what your budget is, then look at the top choices in each category.
Older Models
Assurance Series ($5,200-$5,700)
Another level up from the Precision Series, the Assurance ellipticals share the same frame but include the commercial display console of the higher end Experience Series.
Here we would opt for the EFX 536i with the moving handlebars instead of the 532i with the fixed handlebars.
Lots of Advantages with a Precor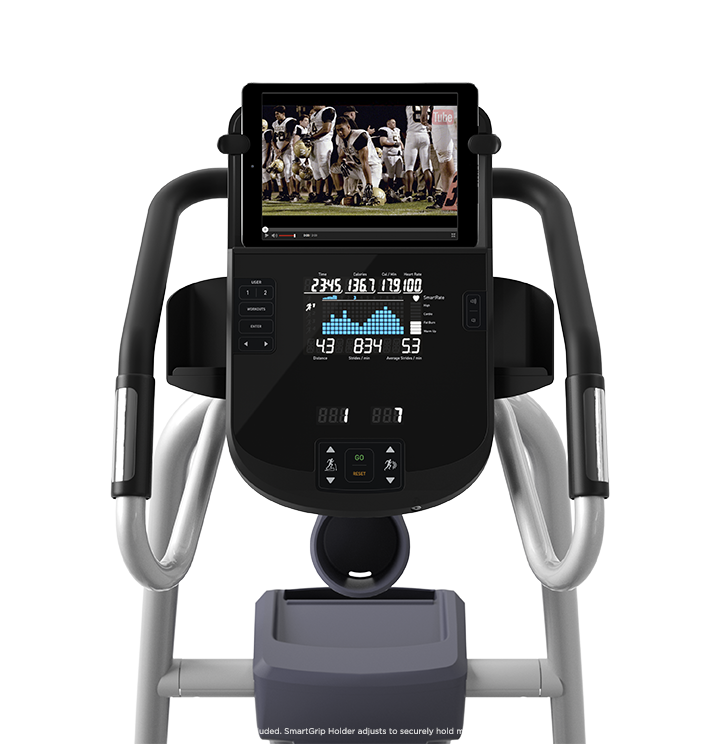 There are so many advantages to owning an elliptical trainer made by Precor (considered by many to be among the best in the business) – smooth, quiet ride, a multitude of options, durability that will last for years, a great warranty and a natural, easy fit.
The two things that may be considered a negative are the price, which is out of reach for a lot of consumers at $2,000+, and the fact that these are big, bulky machines. You won't be sticking a Precor back in an unobtrusive corner.
This is a serious piece of equipment; but if you have a home gym or a large room and are serious about your workout, the quality doesn't get much better than Precor elliptical machines.
Below you will find more in-depth Precor elliptical reviews with specs, pricing, buying tips and more for each model in the different series.
Consumer Reviews
Precor Consumer Reviews - Reviews submitted by our visitors: positive across the board!
Precor Elliptical Model Reviews
Energy Series

Precor EFX 221 - the entry level model in the Energy Series, this one has CrossRamp technology and SmartRate heart rate monitoring among other great features.
Precor EFX 222 - a step up from the base EFX 221 with movable handlebars for a more total body workout.  Otherwise it is identical.
Precor EFX 225 - similar to the 222 but with power CrossRamp technology rather than manual for more muscle targeting capability.
Precor EFX 245 - the top model in the Energy series with tons of workouts and Preva tracking technology.
Precision Series
Precor EFX 423 - the base model in the Precision series with fixed handlebars and 10 built in workouts.
Precor EFX 425 - the mid-level Precision Series cross-trainer model with CrossRamp and 20 levels of resistance.
Precor EFX 447 - the top of the line Precision Series model brings the gym right to your home with CrossRamp technology and up to 40 degrees of incline.
Experience Series
Precor EFX 731 - newer, more affordable Experience Series model introduced in 2017 with a fixed incline and moving handlebars.
Precor EFX 833 - This fixed handlebar elliptical trainer is priced too high for most home users, unless you can find it for around $2,000 as a remanufactured model.
Precor EFX 835 - A commercial-quality machine that is designed for heavy 24/7 public gym use.
Adaptive Motion Trainers - AMTs
Precor AMT 733 - The newest model in the series at a more affordable price point for 2017.
Precor AMT 813 - The base Adaptive Motion Trainer gives you up to 36 inches in stride length and 20 resistance levels to choose from.

Precor AMT 835 - The most popular Adaptive Motion Trainer with OpenStride technology giving you total freedom of movement.

---