The Precor EFX 835 Elliptical Trainer – One of the Best and Most Advanced Cross Trainers!
When you get a Precor EFX 835 elliptical trainer for your home gym, you are getting the exact same crosstrainer you currently use at the health club!
The Machine
The elegant LED display shows fitness stats for time (remaining, elapsed, in zone), segment time, calories/min, calories/hr, METS, Watts, distance, strides, resistance level, and more. You also get a scrolling message window that alerts you to % of Workout Complete, Workout Profile, and Summary.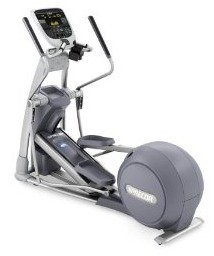 The specs on the Precor EFX 835 elliptical trainer are:
CrossRamp Technology
15 Workouts
20 Resistance Levels
Touch + Telemetry HR Monitoring
Self-Powered
Weight / Dimensions: 338 lbs / 68"H x 32"W x 80"L
Residential Warranty: lifetime on frame & welds, 10 years parts & wear items, 1-yr labor
Get the EFX 835 Elliptical Machine on Sale at the Precor Store!
The Buzz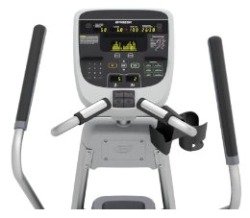 The Precor EFX 835 elliptical trainer offers Precor's patented CrossRamp Technology that ranges from 13 degrees up to 40 degrees. When you change the angle, you can focus on a specific muscle group, indicated by the console's body profile feature, called a Muscle Monitor™, that lights up when glutes, quads, hammies, and calf muscles are targeted.
The console also features a numeric keypad, matrix profile, options key, 7 languages, and pre-set program buttons. Users are also pleased to see the popular Smart Rate heart rate monitoring feature, which analyzes your heart rate (when you enter your age and weight prior to your workout), and keeps you in your target cardio zone.
Compare Prices on the EFX 835 at Amazon
Another point to consider with these health club quality machines is that the angled footplates keep your heels in contact with pedals to reduce stress on muscles, tendons, and joints. And the rollers and rails are enclosed to cut down on dirt and dust that can collect on the rails.
The low-impact Precor EFX 835 ("Elliptical Fitness Crosstrainer") offers the lowest Rate of Perceived Exertion or RPE of any cardio exercise system. That means that while you may be working out strenuously, you feel comfortable and don't realize you are working out as hard as you are. As a result, you work out longer and get better results faster.
You get moving handlebars for an upper body workout, as opposed to the fixed handlebars on the EFX 833 model.
Reviews on these machines usually offer one negative: the price. Yes, a commercial-quality machine that is designed for heavy 24/7 public gym use may seem like overkill for a home gym, especially one costing $7000+, but it is still a Precor. If elliptical trainers were cars, a Precor would be a Mercedes. You are paying for the name as well as the superior quality and patented engineering.
What We Say about the EFX 835
It's love at first sight with the Precor EFX 835 elliptical trainer yet the $7,945 price tag will be too rich for most home users to seriously consider buying one. Precor consistently produces the best and most advanced crosstrainers for both home and commercial markets, which is why they are often the number one choice of many public facilities worldwide.
You can spend thousand less and get a True, Life Fitness, or an Octane trainer, but if you love Precor machines, and money is no object, then go with an EFX.
Show me other Precor Elliptical Machines