Elliptical Stride Length is Extremely Important for Effective Workouts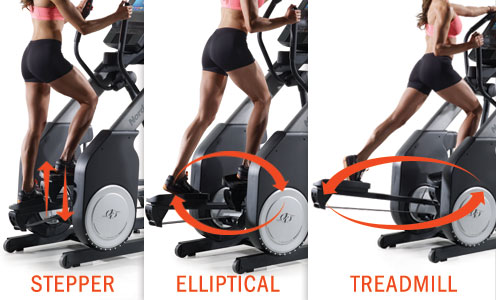 How ironic that the stride length of elliptical trainers would be the one feature that most folks don't consider when making a purchase of one of these fitness machines.
Programs, resistance levels, attractiveness, and warranty are all important of course, but the ability to work your muscle groups and heart rate properly is the goal of working out on ellipticals in the first place, isn't it?
To understand the concept clearly, remember that the elliptical stride length should be determined by the user's height. It needs to feel comfortable (and preferably with articulating footpads to keep your feet from falling asleep!) yet many people may not realize they are working out on a machine that is too small for them.
Choosing a Comfortable Stride Length
Although it will obviously vary from one person to the next, there are some general rules  to follow when it comes to choosing the ideal stride.
If you select a machine with a stride that is too short for you, it may feel choppy and uncomfortable.  Likewise, if you opt for a trainer with too long a stride you may be over-stetching and risking a muscle pull.
The exception would be if you are out of shape, then you may be able to work out on an elliptical trainer with a shorter length without too much discomfort. Most commercial health club models have a minimum 20" stride since the machines need to accommodate multiple users of different heights.

You should try as best as possible to find the machine with the ideal stride based on your height.
Here's a basic guideline for you to follow...
Shorter Individuals (5' 3" or smaller)
If you at or under 5' 3", you can comfortably use elliptical machines that have a 16" to 18" stride length.  Most of the entry level trainers on the market and a few of the more advanced ellipticals will offer you this range.
Average Sized Individuals (5' 4" to 6')
If you over 5' 4", you will be OK with an 19" to 20" stride, which is going to be the majority of treadmills on the market.  If you're on the taller side of this range you will probably be most comfortable with a 20" stride.
Taller Individuals (6' +)
If you're over 6', you definitely want at least a 20" stride, otherwise you may not be able to get a full elliptical motion in.  It's hard to find over a 20" stride, but there are a number of trainers on the market that do offer this capability.
Note that if you are shorter but have longer legs, you will be more comfortable with a longer stride length, and vice versa...if you are taller but have short legs, you may not need the longer stride length.
What About Fixed vs. Adjustable Stride?
Most elliptical trainers on the market offer fixed strides, but you'll also find several models with adjustable strides.
Brands with a wider selection of ellipticals like NordicTrack offer machines with both fixed and adjustable stride lengths.  ProForm, Sole and Life Fitness do as well.
If there is more than one user in your home gym, you might benefit from an adjustable stride elliptical, especially if there are varying heights in the family.  That way, each individual can choose their ideal stride length.
However, even if it's just you, you might enjoy the option to change up the length, as you can target different muscle groups with each workout.
For example, if you have an elliptical with an adjustable stride from 18"-20" and you are of average height, the shorter length will give you a more stepper like workout while the longer length will be more of a jogging or running workout.
So if an adjustable stride machine is in your price range, by all means go for it.
Let's take a brief look at all of the most popular brands to see which offer a fixed and which offer adjustable stride elliptical trainers.
| | | |
| --- | --- | --- |
| | FIXED STRIDE | ADJUSTABLE STRIDE |
| NordicTrack | YES | YES |
| ProForm | YES | YES |
| Sole | YES | YES |
| Horizon | YES | NO |
| Bowflex | YES | NO |
| Matrix | YES | YES |
| Life Fitness | YES | YES |
| Precor | YES | NO |
| Schwinn | YES | NO |
| Nautilus | YES | NO |
| Octane | YES | YES |
| True | YES | YES |
You'll typically find small fixed strides on lower cost ellipticals; fixed and adjustable strides of 18-20" on the popular mid-level brands and fixed 20" + on the high end gym brands.  There are certainly exceptions, but that's basically what you will find out there.
The most common stride length is 20", as that will accommodate the most users comfortably.  That's why you will find many ellipticals with that fixed length within each of the mid tier and high tier brand's offerings.
Getting the Best Possible Workout
Elliptical trainers are designed to work out the muscle groups of the upper and lower body, but especially the legs.  On most machines you can grip the stationary handles and just target the leg muscles.
The amount of calories burned on an elliptical machine equals that burned on a treadmill, but with a lower impact on the joints — more akin to riding a stationary bike.
If you can drop your hands to your sides and not use the handles, the act of striding and balancing yourself on a trainer helps to further target the core muscle groups.
Since every individual is different, each of us will experience different comfort levels on elliptical machines as far as ergonomics are concerned: the smoothness of the flywheel, the angle of the footpads, the brake system—all of these factors come into play.
Just remember that it is the stride length of elliptical trainers that provide the starting point when deciding which model to buy for your home use.
---