Front Drive Ellipticals or Rear Drive - Which is Better?
Are front drive ellipticals as well regarded in the fitness industry as the rear drive models are? They are often sometimes referred to as shuffle trainers and, depending on the model, you may have even used a forward drive machine that felt kind of like a "stepper."
If you've paid attention to the expensive commercial monsters you've been using at the gym to get yourself shape, then you've probably noticed they are not front drive elliptical trainers, but rear drive machines.
High end brands such as Precor and Life Fitness put the flywheel at the back which provides a truer and more natural heel-toe ellipse.  But some people actually prefer the motion of a front drive.
Different Approaches to Motion
Let's look at two popular manufacturers who use different approaches to the motion: Sole, which uses front drive; and Precor, which uses a rear drive design.
In our Best Ellipticals $1000 - $2000, you can see that Sole machines in the same price range each score very well for features, warranty and perks. Their main difference then, is the location of the drive train.
Some experts will tell you that the front driven elliptical trainers are more linear and thus produce a flatter oval motion. We've also found in our own reviews that when the front drive models lack articulating foot pads, the motion is not as smooth an elliptical as what we find in higher end models.
Even worse, without the footpads inclined inward (Sole ellipticals are designed with a 2° foot pedal slope), the flat position of your feet usually causes them to go numb after a long workout. 
Another notable difference on front drive units is that users tend to move their weight forward, especially grabbing or leaning on the bars, in which case the front of the machine had better be stable or the user will notice some wobble. 
To overcome a lack of stability, makers of front drive elliptical trainers will use a larger flywheel in residential models to make the unit feel sturdier. A heavy flywheel will also contribute to a much smoother motion and stride.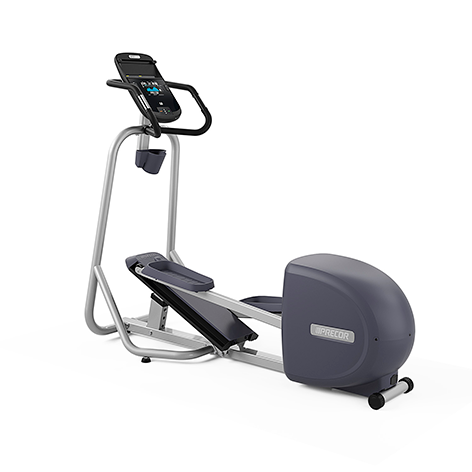 Rear or Front Drive - It's a Personal Choice
The most important point to remember is that rear drive models are more expensive to manufacture and the dominating companies in the field (Precor, and Life Fitness) have strong patents on these designs. Latecomers to the elliptical trainer market have no choice but to design front drives.
These companies also have the advantage that, with the flywheel working at the back, they can add an angle ramp and adjustable incline onto the front of the machine — and that's what really tickles your fancy on your health club's machines.
But newcomers to the home market like Matrix Fitness offer similar commercial-grade construction to Life Fitness and Precor, yet offer only front-drive machines.  Plus, they are as compact as the mid-drive models we discuss below...
But Wait...What About Mid Drive?
If you've been on the NordicTrack site lately, you might have noticed a whole new type of elliptical machine, the mid-drive model.  With these, the drive isn't in the front or the rear...it's right in the center, under the pedals.  Manufacturers claim that you are even more naturally balanced on the mid-drive machines, but that is yet to be determined.
Many users prefer the center drive ellipticals because they tend to be very compact, making them the ideal choice for smaller spaces.  For example, the NordicTrack ACT Commercial, shown here, is only 54" L.  Compare that to the typical 80"+ on a rear or front drive and it's quite a difference.
TRUE Fitness, another popular high end brand, offers only center drive ellipticals, and their compactness is what makes them an ideal choice for smaller home gyms.
Time will tell if the mid drive models become as popular as the front and rear drive ellipticals.  But at the end of the day, it's just a matter of preference.  If you like the way it feels then it's the perfect choice for you!
Who Makes Each Type of Machine?
Some brands will offer you all three choices, others two and still others just one.  Let's take a look at all of the popular elliptical manufacturers to see who offers what...
| | | | |
| --- | --- | --- | --- |
| | Front Drive | Rear Drive | Mid Drive |
| NordicTrack | Yes | Yes | Yes |
| ProForm | Yes | Yes | No |
| Sole | Yes | No | No |
| Horizon | Yes | No | No |
| Matrix | Yes | No | No |
| Life Fitness | No | Yes | Yes |
| Precor | No | Yes | No |
| TRUE | No | No | Yes |
| Octane | Yes | No | No |
| Schwinn | Yes | No | No |
| Nautilus | Yes | No | No |
| Bowflex | Yes | No | No |
So as you can see NordicTrack is the only brand that offers front, rear and mid-drive ellipticals.  ProForm offers front and rear, but no mid.
All of the other brands for the most part just offer one type of elliptical, with Life Fitness adding a new mid drive series to their lineup recently.
What's the Bottom Line?
Front drive elliptical vs rear drive vs mid drive?  There isn't too much difference workout-wise between the three, especially when you are on a high quality machine.
The original commercial-grade manufacturers, Life Fitness and Precor, offered only rear drive.  Now Life Fitness added mid drive.  You then have Octane Fitness and Matrix with strictly front drive, both equally well regarded companies.
So there is no right or wrong when choosing an elliptical design...just go with what you are comfortable with.
---