NordicTrack Elliptical Reviews – Great Features & Awesome Workouts

NordicTrack ellipticals are the most popular cross trainers on the market today, with a wide variety of models to fit every budget and fitness level.
The company leads the pack in the mid-price range, with the best selection of built in workouts, advanced technology and plenty of extra features to keep you focused and motivated.
Let's get into our reviews to see what these top selling ellipticals are all about...
A Look at the Current NordicTrack Elliptical Lineup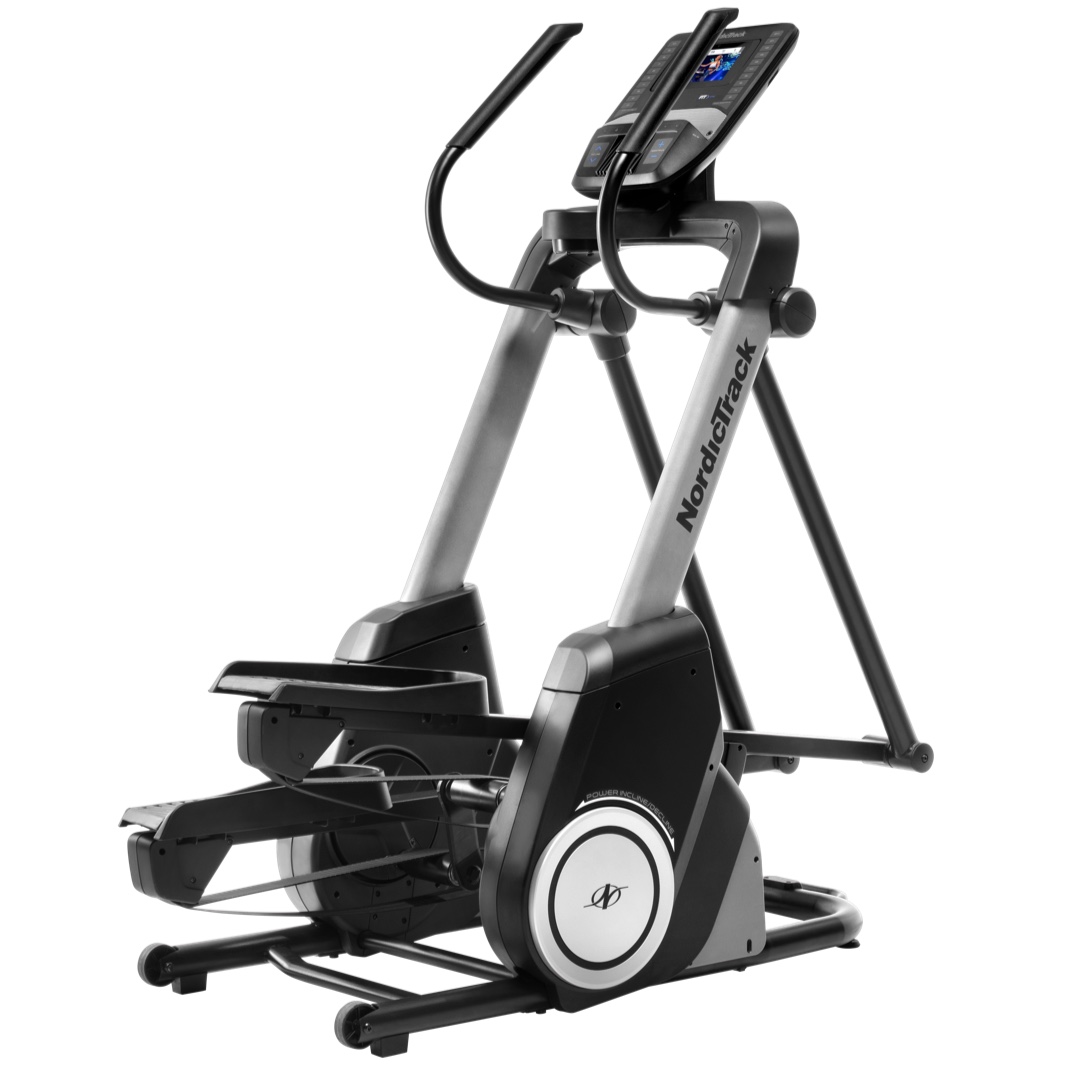 At any given time the company offers a choice of about a half dozen NordicTrack elliptical trainers ranging in price from $1299 to almost $3999, although the ones that are around $1,500-$2500 are by far the most popular with buyers.

NordicTrack's philosophy and goal remain the same as it always has...making a competitively priced exercise machine with all of the features and capabilities the user could want, whether it's a beginner or a seasoned athlete.  
They cater to a wide range of individuals, and that's what makes them so popular.
The current 2023 lineup consists of the popular FreeStride Trainers, as well as traditional front drive ellipticals. It looks like the rear drive ellipticals might have been discontinued.
FreeStride Trainers
The FreeStride Trainers, including the FS10i and new FS14i ellipticals, give you the most freedom of movement of the entire lineup, making them the most popular choice.  
The FS10i gives you a 10" Smart HD touch screen, up to 10 degrees of inline capability, 24 resistance levels and a very generous 32" stride, more than you find on any other elliptical on the market.
It also has Bluetooth audio, 20 lb. flywheel and a 375 lb. max user weight capacity.
The new FS14i has an even larger 14" Smart HD touch screen, decline capability on top of incline, 2 additional resistance levels, and hand controls for the incline and resistance. Otherwise the FS14i is very similar to the FS10i
The FreeStride Trainers are definitely NordicTrack's top of the line models.
Front Drive Models (Commercial Series)

The front drive ellipticals require less space than the rear drives, yet do not fold up.
On a front drive machine you are leaning slightly forward, as opposed to a more straight posture on a rear or mid drive.  However, it is not a significant difference.
You have the Commercial 9.9 and Commercial 14.9, with 19"-20" strides, up to 20 degrees of incline and plenty of built in workouts.  
(Note the mid-level Commercial 12.9 was recently discontinued)

All front drive models have touch screen displays.
There is also a brand new model called the AirGlide 14i, which is the first elliptical that we've come across that offers decline capability on top of incline functionality. It shares the same size 14" touch screen, but on the AirGlide it tilts so you can get the ideal viewing angle.
Occasionally, the company adds a couple of Elite models to the front drive collection when others sell out. So you may see the Commercial 9.9, Elite 10.9i or Elite 14.9i rounding out the Commercial Series at times.
Rear Drive Models (SpaceSavers)
(Note: This series may be discontinued as of 2023)
The rear drive NordicTrack ellipticals are called SpaceSavers, because they can be folded up after use and are good for those with smaller workout areas.  
A rear drive model puts you in a more stable position, as opposed to the slight lean forward of a front drive machine.
You have the SpaceSaver SE7i and SE9i, both with power incline and plenty of workouts.  The SE9i adds a touch screen display.  
Note that the SpaceSaver models have the shortest stride length of all, only 18", so they are not ideal for taller/larger individuals.
It looks like these models might be discontinued, as only the SE9i is available and it's shown as a closeout model.
So that's a recap of all of the current NordicTrack ellipticals. You have the FreeStriders, front drive and rear drive series, all with a few different models to choose from with varying features and capabilities.

Which NordicTrack Elliptical Should You Choose?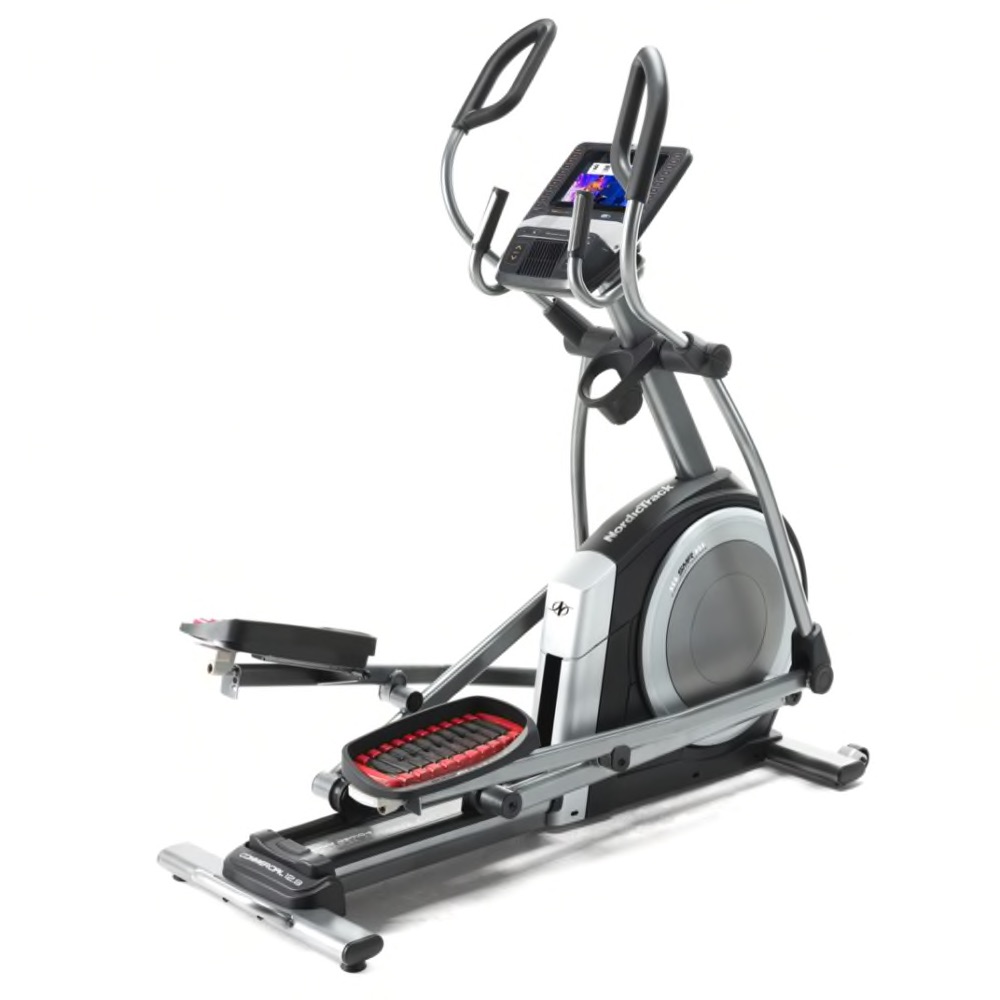 There are certainly a lot of choices and it can be difficult to decide which NordicTrack elliptical to choose.  
The Front Drive Series typically offers the most options as far as models, and those are more of the traditional type ellipticals.  
Most of the lower to mid priced machines on the market are front drive. They offer you incline capability and good fixed stride lengths, so take a look at those models to see if one of them appeals to you.  
The Rear Drive SpaceSavers are ideal for those who want to fold up their machines after a workout.  However, their 18" strides are among the smallest, so taller individuals will be better off with a Front Drive elliptical or one of the FreeStriders. (Note these may be discontinued as well)
The FreeStride Trainers, as we've mentioned, give you the largest stride ranges, so you can really emulate a full sprint.  Those who prefer to stretch out and run like you are on a treadmill will really enjoy this series.  However, they are also the priciest of the NordicTrack ellipticals.
If budget is a concern, each series has entry level and up-level choices, usually adding more workouts, more resistance levels and sometimes more incline, as well as a touch screen, as you move up.  So consider how much you actually have to spend.
What do we recommend here at All Ellipticals? We're glad you asked!
Our expert's top choices are the FS10i FreeStride Trainer and the new AirGlide 14i front drive model.  
When reviewing all of the features and capabilities of the entire NordicTrack elliptical lineup, these models have the right capability/price ratio.  
So to sum up, look at the front drive series if there are budget constraints...if you're more open, absolutely opt for one of the FreeStride Trainers.

NordicTrack Elliptical Pros
Consumers tend to be very pleased with their NordicTrack elliptical trainers, as they have features that are typically only found on much more expensive trainers.  
Besides the great prices, here are the main attractions of the brand:
Huge Workout Selection - no other ellipticals give you as many different built in workouts as NordicTrack does.  Although the amount varies from one model to the next, they all give you plenty of programs to choose from, including intervals, heart rate, distance, calories, and more.
Stride Length Variety - whether you like fixed or adjustable, are short, average or tall, there is a machine that will fit your needs.  They offer a wide range of stride lengths so everyone gets the perfect fit.
Advanced Consoles - the consoles on all NordicTrack ellipticals are user friendly, with one touch controls and plenty of workout feedback.  The more expensive models even have Smart HD touch screens, which you don't even find on some commercial trainers.
Plenty of Resistance Levels - even the lower priced models give you a ton of resistance levels to choose from, so even if you go with a manual program you can ramp up your training and work your way up through all of the different levels.
iFit Technology - all of the ellipticals from NordicTrack now come with iFit, a unique suite of tools including personal trainer workouts, nutrition plans, tracking/sharing and Google maps to train anywhere worldwide. It's an immersive workout experience that you won't get anywhere else. Oftentimes your elliptical will come with a free year of iFit, so you can try it out and see if you like it.
Solid Warranties - a good sign of a company's confidence in their products, the newest NordicTrack ellipticals come with solid coverage on the frame and extended coverage on parts and labor as well.
Tons of Extras - all ellipticals come with extra features like music compatibility, speakers, workout fans, moving handlebars, heart rate monitoring and plenty of other comforts that you don't typically find for the price.
So there's plenty to like here, and reviews from both users and industry experts have been quite favorable.
NordicTrack Elliptical Cons
The few customers that do complain about their NordicTrack elliptical machine are those that have mechanical issues...but keep in mind this is the case with any brand as there are always going to be a few machines that are "off" for one reason or another.
The company sells tens of thousands of these machines each year, so the likelihood of a bad machine is much greater than it would be for a company that only sells a few hundred.
ICON's customer service isn't the greatest, but the quality of the machines has improved greatly, eliminating much of the need to speak with customer service in the first place.  So in all likelihood this will not be an issue for you at all.
Why Trainers Love NordicTrack Ellipticals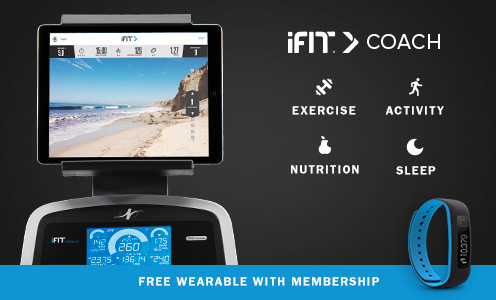 An interesting note – personal trainers and other fitness professionals are great fans of the NordicTrack brand of elliptical machines for the at-home user.
They highly recommend them for the little extras such as a larger display screen and better incline adjustment, and feel that they offer a near-gym quality for a moderate price.
They also love the iFit technology, which helps keep you on track to reach your fitness goals, an additional motivational tool that really does work.
Most trainers suggest that between a low-end $700 elliptical and a moderate NordicTrack, the NordicTrack is always worth the extra cost, but that going up to true commercial quality isn't necessary for most people – they feel that NordicTrack elliptical trainers are an excellent choice.
Below you will find in-depth reviews of all of the current models, including specs, info, pricing and more....
NordicTrack Elliptical Model Reviews
Most Popular Models

FreeStride Trainers
NordicTrack FreeStride Trainer FS10i - A newer model, likely replacing the FS9i with enhancements like Bluetooth audio and design improvements.
NordicTrack FreeStride Trainer FS14i - The newest elliptical, with a huge 14" touch screen display, wireless heart rate chest strap and decline capability.

Front Drive Series
NordicTrack Commercial 9.9 - The newer base model with a 7" touch screen, iFit technology, 32 workouts and power incline.
NordicTrack Commercial 12.9 - Another new model joining the front-drive lineup, this one has a heavy 30 pound flywheel, power incline and tons of resistance levels.
NordicTrack Commercial 14.9 - the new top-of-the-line front drive elliptical with a 14" touchscreen, loads of workouts, Bluetooth and iFit technology.
Rear Drive Series
NordicTrack SpaceSaver SE7i Elliptical - New model has a great range of features and its slim line design allows you to store it almost anywhere.
NordicTrack SpaceSaver SE9i Elliptical - Folds up with the smallest footprint yet and enables the user to go online with a fully web enabled touch screen display.
Recently Discontinued
NordicTrack FreeStride Trainer FS7i - The mid range model in the front drive series, this one is web enabled with incline, iFit and a lot of great features.

NordicTrack FreeStride Trainer FS9i - The top end model in the series with incline and decline, plus a 10" web-enabled touch screen and a 32 inch adjustable stride.

---