NordicTrack FreeStride Trainer FS14i - New Top-of-the-Line Elliptical
The NordicTrack FS14i is the newest member of the FreeStride Trainer family, the company's popular low impact elliptical series that makes you feel like you're floating on air.
It becomes the new top of the line model, joining the FS7i, FS9i and FS10i, all great machines that add a lot more enjoyment to your cardio workout.
Let's dive into the review to see what the FS14is all about...
FS14i - What You Get
The FreeStride Trainers are all very compact, which makes them ideal choices for the home gym. You get a large touch screen control center for ease of use, large foot pedals, adjustable stride to vary your workouts and plenty of resistance levels.
Let's take a look at the important specs...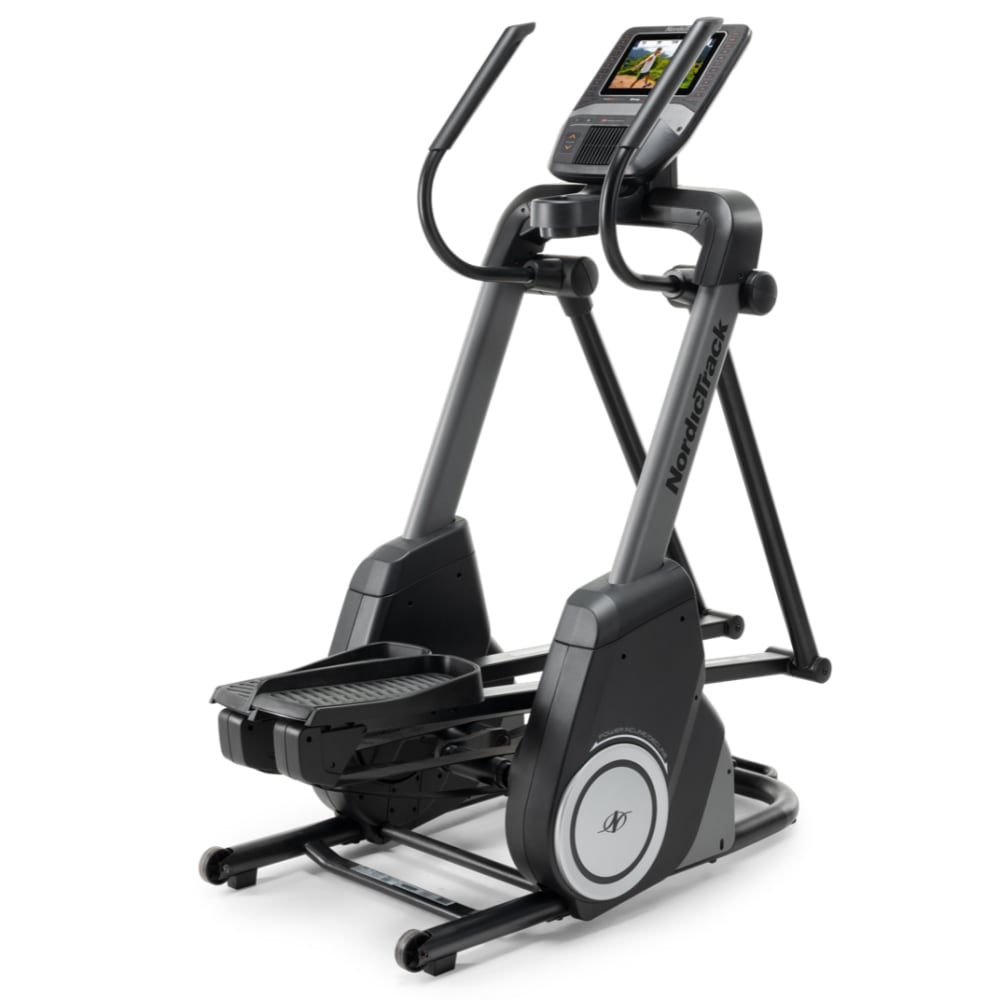 14" Smart HD touchscreen

Stride auto adjustable up to 32 inches

Innovative Floating Suspension

Integrated handle incline/resistance controls
-10 to +10 degrees decline/incline
iFit Enabled
SoftTouch upper body grips
Two 2" digitally amplified speakers
26 resistance levels
AutoBreeze Workout Fan
375 pound max user weight
10 year frame, 2 years parts and 1 year labor warranty 

What's the Word on the Street?
Users just love the FreeStride Trainers, as they are about as close as you can get to zero impact, which means you won't experience the pain that you sometimes feel after a long workout session.
The new FS14i is just as compact as the rest of the models in the series, including the All Elliptical favorite FS7i. That means it will fit well in any gym setting and give you room for another cardio machine or piece of equipment.
However, there are two things that separate the FS14i from the other. For starters, it has a large 14" touch screen as opposed to the 10" and 7" screens on the other models.
This makes for a very enjoyable workout experience, more like being in the health club. Everything is a available with a touch...you can control the incline and resistance and tap into NordicTrack's exclusive iFit program, which often comes with a free year of membership.
You can learn more about iFit here, but basically it's an immersive workout experience with a huge library of on-demand training videos, Google maps of destinations worldwide to choose from, nutrition and sleep recommendations, tracking and sharing capability and a lot more. It really adds to the workout experience.
The NordicTrack FS14i also adds decline training to the mix, which means that in addition to the incline capability that all of the FreeStride Trainers have, you can actually decline the machine up to 10 degrees.
That gives you the ability to target different muscle groups that you don't typically hit. Decline is very rare on ellipticals and even treadmills, so it's a nice feature that separates the FS14i from the rest of the pack.
On top of the incline and decline you get a very generous 32 inch stride, which gives you much more freedom of movement than you get on a typical elliptical trainer.
You also get 26 levels of resistance, so you can make your workouts as challenging as you like. And iFit actually automatically adjusts your incline and resistance levels for you, which is a very cool option.
Heart rate monitoring is possible with the free Bluetooth chest strap, so you can get accurate measurements and keep yourself in the ideal zone.
Extras include transport wheels, water bottle holder, oversized cushion pedals, two digitally amplified speakers, integrated handle controls for incline and resistance, and much more.
The FS14i is the most advanced elliptical yet from NordicTrack, and is sure to please even the most demanding user.
Which FreeStride Trainer Should You Choose?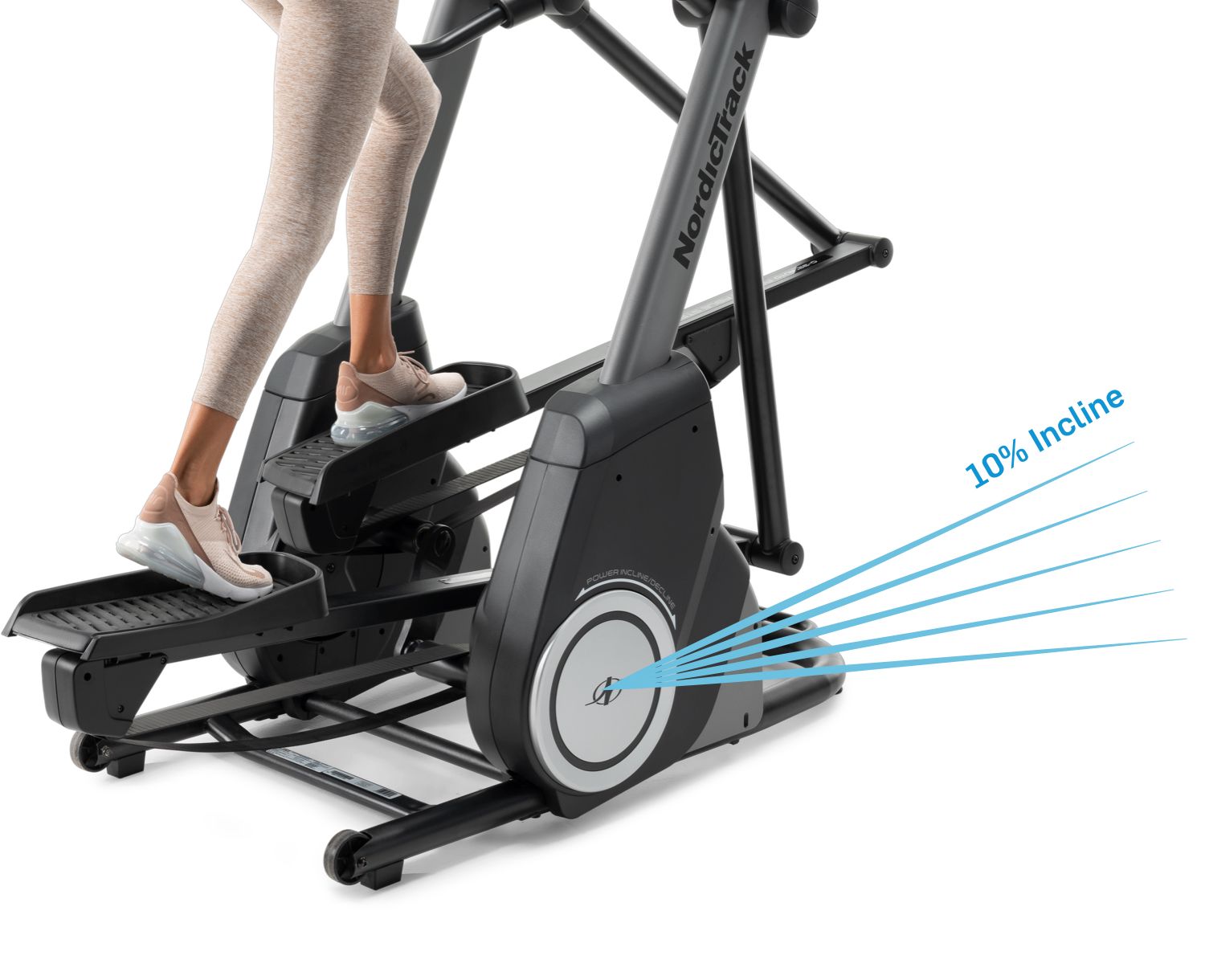 As of this writing there are now four different FreeStride Trainers to choose from. So making a selection might be a bit more difficult. However if you have an idea of what you're looking for and a budget, the choice should be a bit easier.
You have the FS7i, FS9i, FS10i and the newer FS14i. They all come with iFit, touch screens, 20 lb. flywheels and 375 lb. maximum user weights.
The difference is really in the details.
So the FS7i, which has been one of our top picks for years, is going to be the most affordable model at around $2,700. The only real separator from the other models is the 7" Smart HD touch screen as opposed to 10" on the FS9i and FS10i and 14" on the FS14i.
Other than that you get a couple less resistance levels and a few less built in workouts. But that's where the differences end for the most part.
So we would definitely opt for the FS7i, unless you have the budget for one of the higher end models. The 10" screen on the mid-level FreeStride Trainers is awesome...the 14" screen on the FS14i is even better.
You just have to decide if the additional $1000 or $2000 to upgrade is worth it for you.
The other consideration of course is the decline training. Again, this allows you to target additional muscle groups that incline training doesn't. Do you need decline training? Of course not! Is it a cool option to have? Absolutely.
So consider what you want from your elliptical trainer, and then decide if it's worth the extra money to get those features. If not, opt for the FreeStride Trainer FS7i. You won't be disappointed.
NordicTrack FS14i Review - Bottom Line
We love the new NordicTrack FS14i, and it's definitely a nice addition to the family. The FreeStride Trainer series has always been our favorite due to its compact size and impact-free training.
However, at just under $4,000 on sale it may be out of reach for most people, and that's understandable.
Consider the FS7i, which is about 30-40% less expensive and just as capable and impressive as the FS14i.
Bottom line is you really can't go wrong with any of the NordicTrack FreeStride trainers. They are awesome ellipticals unlike anything else out there!