NordicTrack FreeStride Trainer FS10i - Feature-Packed
The NordicTrack FS10i is one of the newest ellipticals in the company's FreeStride Trainer series, improving on the previous top-of-the-line FS9i with lots of upgraded features and capabilities.
With its compact size, incredibly low impact workout and unlimited workout options, the FS10i is sure to be one of the most popular ellipticals in the lineup.
Let's jump into our review to see what this new cardio machine has to offer...
FS10i - What You Get
The FS10i FreeStride Trainer features a compact, space-saving design, auto adjusting stride on the go, and solid commercial steel construction.
There are plenty of workout options, incline capability and a number of resistance levels to choose from.
Here's a breakdown of the most important specs for your review...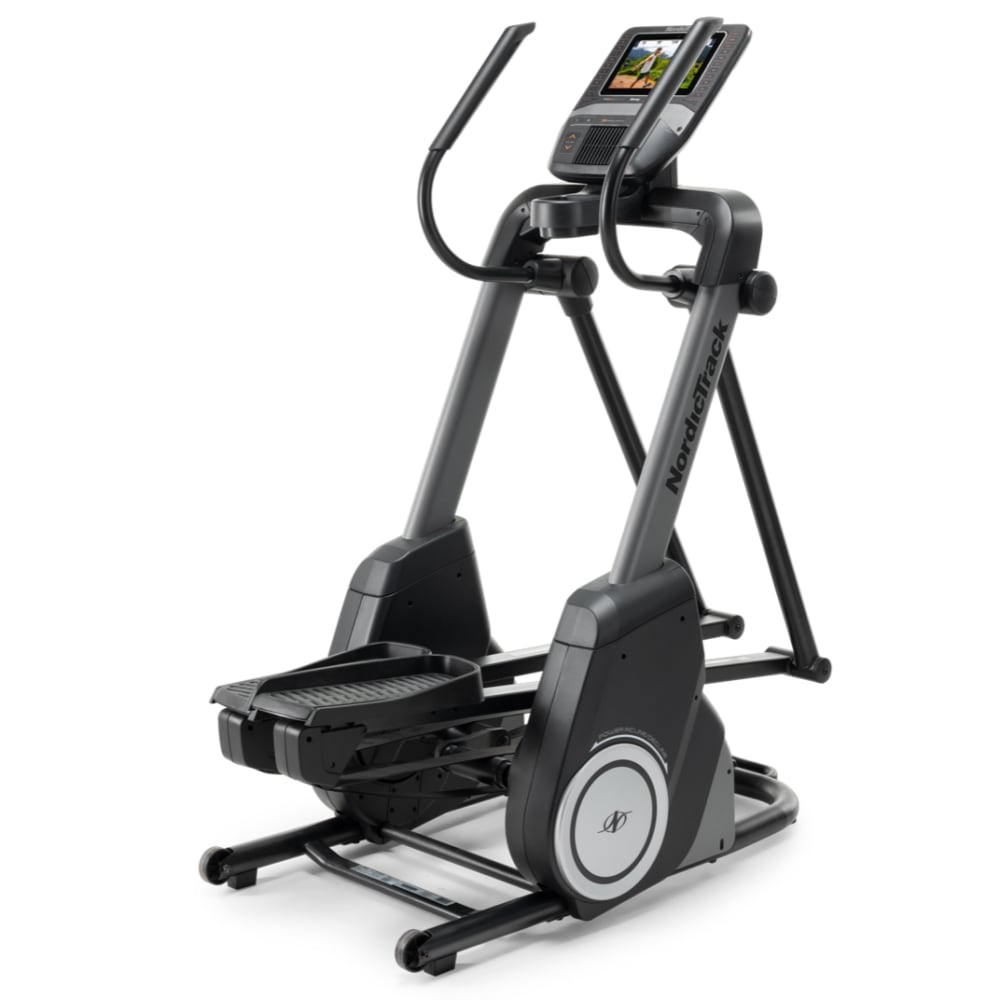 10" Smart HD touchscreen

Stride auto adjustable up to 32 inches

Innovative Floating Suspension

0-10 degrees incline
iFit Enabled
SoftTouch upper body grips
Two 2" digitally amplified speakers
AutoBreeze Workout Fan
375 pound max user weight
10 year frame, 2 years parts and 1 year labor warranty 

What's the Word on the Street?
People seem to be genuinely excited about the release of the new NordicTrack FreeStride Trainer FS10i.
The series has been a best seller for the company for a number of years, due to the fact that these are some of the most compact elliptical machines on the market, and also provide almost zero impact with their unique design.
The FS10i is replacing the previous top model, the FS9i, with several upgrades and enhancements for the new year.
One of the most noticeable is Bluetooth Audio, which makes for a much better listening experience for your workouts, videos and movies. This is a big upgrade to the sound system that the FS9i had.
You get a 10" Smart HD touch screen display, larger than the one found on the mid-range FS7i elliptical. This capability makes you feel like you're in the health club, and you can access an unlimited library of on-demand videos through the iFit program.
For those who don't know about iFit, it's a membership program that gives you tons of workouts and personal trainers to choose from, as well as Google Maps to choose any location worldwide to train in. It has nutrition information, sleep recommendations, tracking and sharing and a lot more.
As of this writing iFit comes free for one year, so it's definitely a great time to consider buying an FS10i. After the first year there is a small monthly fee, but definitely worth it for all that you are getting.
The main selling point of the FS10i and other FreeStride Trainers is the total freedom of movement. With a 32" auto adjustable stride you can choose any kind of workout you want: short stride for a stepper-like workout, medium stride for a traditional elliptical workout and full 32" for more of a jog or run.
Most ellipticals max out at 20", so this gives you much more to work with. Plus, the way it is built makes you feel like you're floating on air as you work out, so there's much less impact on the joints than you typically find.
You can also incline up to 10% and choose from 24 different resistance levels.
Between all of the iFit workout options, incline and resistance levels, you can literally do a different workout every single day on the NordicTrack FS10i. That's what separates it from the competition.
Which FreeStride Trainer Should You Choose?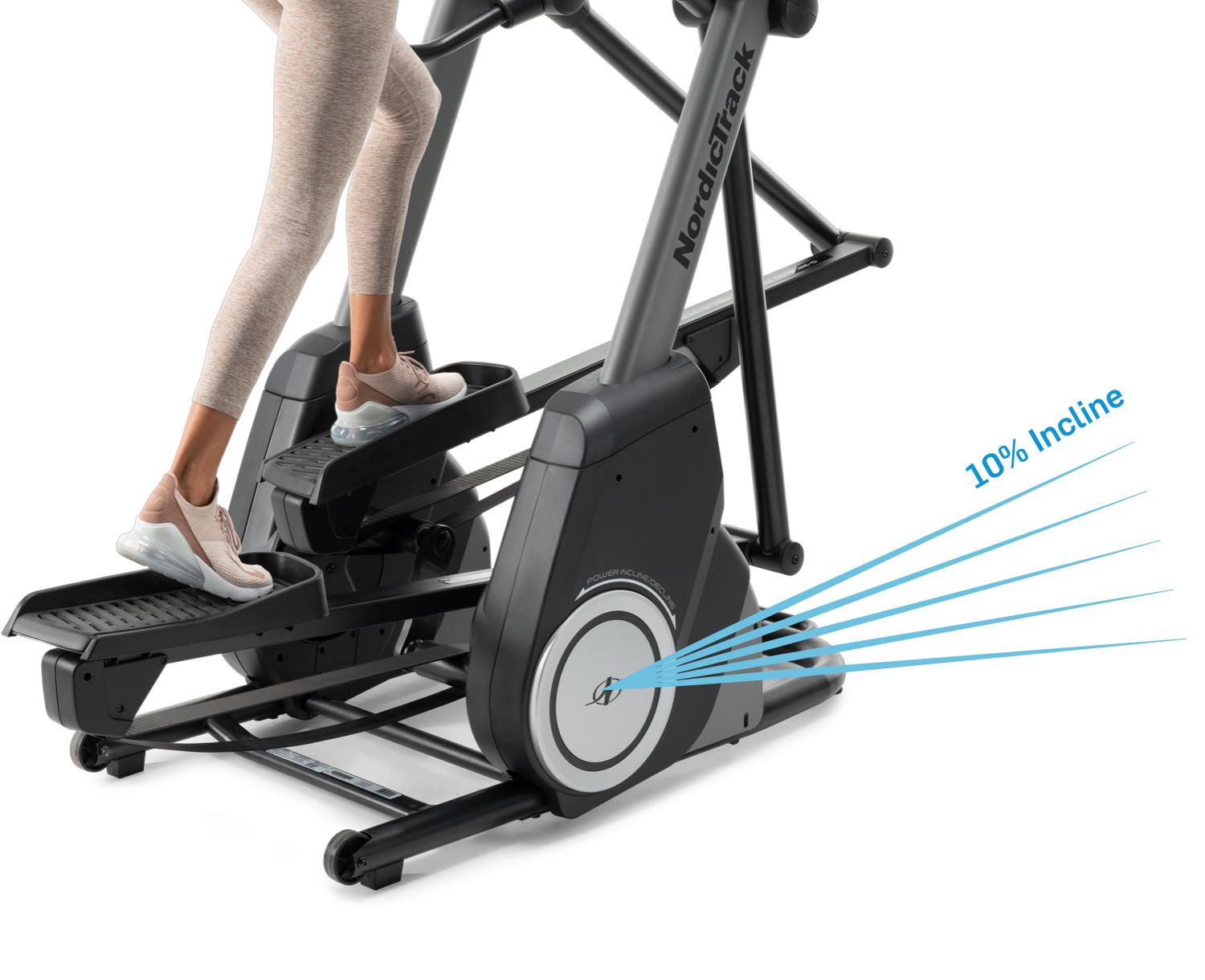 As far as which FreeStride Trainer to choose, it really comes down to budget. This series is a bit more expensive than the other NordicTrack ellipticals due to the advanced features and capabilities, but most agree it's well worth the additional expenditure.
If budget is a concern, then definitely consider the base model FS7i FreeStride Trainer. It will give you a 7" touch screen, plenty of resistance levels, power incline and a lot more.
Please note that the new FS10i isn't much different than the FS7i, except for the fact that it has Bluetooth audio and a larger touch screen display (10" vs 7"). Other than that, the FS7i actually has some nicer touches that the FS10i doesn't have, like wireless heart rate capability.
So if budget is open, look at the FS7i first and then the FS10i. If budget is wide open, consider the new FreeStride Trainer FS14i, a top of the line elliptical with a huge 14" touch screen display as well as decline training capability.
NordicTrack FS10i Review - Bottom Line
We definitely like the new NordicTrack FS10i, and it's a great option for those who are looking for something low impact that won't take up a lot of room.
There's iFit workouts, incline, touch screen, lots of resistance levels and some nice comfort features that you don't typically find.
However, besides the larger touch screen and audio enhancements, it might not be worth the additional expenditure compared to the FS7i, which has been one of our top picks for years.
So unless you really need the larger screen, we would recommend to save the extra few hundred and take a closer look at the FS7i.
Both the FS7i and FS10i are great options though, and you can't go wrong regardless of your choice.