NordicTrack FreeStride Trainer FS9i Review - The Top End Elliptical Hybrid

The NordicTrack FreeStride Trainer FS9i is the top model in the series, offering an elliptical, treadmill and stepper in one machine with a 32" stride, as well as both incline and decline capability.  
It's the most advanced trainer that the company offers, and has more features and capabilities than any other machine on the market today, especially at this price point.
If you're looking for a compact elliptical that gives you total freedom of movement, plenty of built in workouts and a large touch screen display, this is as good as it gets.
Let's jump into our review to see what this one is all about...
FS9i - What You Get
The FS9i comes with a 10" bright, full-color, Smart HD web-enabled touchscreen so you can surf the web, post to your social pages, watch movies or do anything you'd like online while you work out.  
You can also view your time, distance, calories, incline and other workout metrics, and track all of your progress to help you reach your fitness goals.
Here are some of the most important specs....
10" color web-enabled touchscreen

Stride auto adjustable up to 32 inches

Innovative Floating Suspension

-10 to +10 degrees decline/incline
iFit Coach Enabled
Music compatible

38 built-in workout apps

2 inch speakers with high quality sound system

Built in heart rate monitor using CardioGrip™ on the handlebars
AutoBreeze Workout Fan
375 pound max user weight
Lifetime frame, 5 years parts and 2 years labor warranty 

What's the Word on the Street?
UPDATE: As of early 2020 it looks like the FS9i might be on its way out. There is an all new FreeStride Trainer FS10i that may be replacing it. Check out our review of the new model.
The NordicTrack FreeStride Trainer FS9i is quite popular and has received very positive reviews since it was first introduced several years ago.  
It's a bit more expensive than its little sister, the FS7i, but it does have several upgrades such as a larger touchscreen (10" vs 7") and decline capability that the FS7i does not have.
You also get a few more workouts and a few more resistance levels to choose from.
Still, it's about $700-800 or so more, so if you don't need the decline capability definitely take a look at the FS7i to save yourself some money.
The FS9i has a 32 inch auto adjustable stride, which allows you to transition from a stepper to an elliptical to a treadmill with the touch of a button.  
The fact that you can change up your workouts so much on one machine is a big selling factor for the FreeStride Trainers.
Some of the other highlights include iFit Coach built right into the elliptical, which gives you even more specially designed workouts, tracking and sharing capability, training with personal trainers in various locations throughout the world and virtual runs with Google map integration.
The assembly process on the FS9i is quite easy, requiring just a few steps, and since this is a center drive machine, the footprint is quite small which is great for those without extra room in their workout spaces.  
Plus it's easier to balance and these machines make you feel like you are floating on air with their innovative suspension.
Other benefits include transport wheels, oversized pedals, quick touch controls, and a free wireless chest strap for accurate heart rate readings.
NordicTrack really packed just about everything in to the FS9i...you'd be hard pressed to find any feature or capability that is missing.
Which FreeStride Trainer Should You Choose?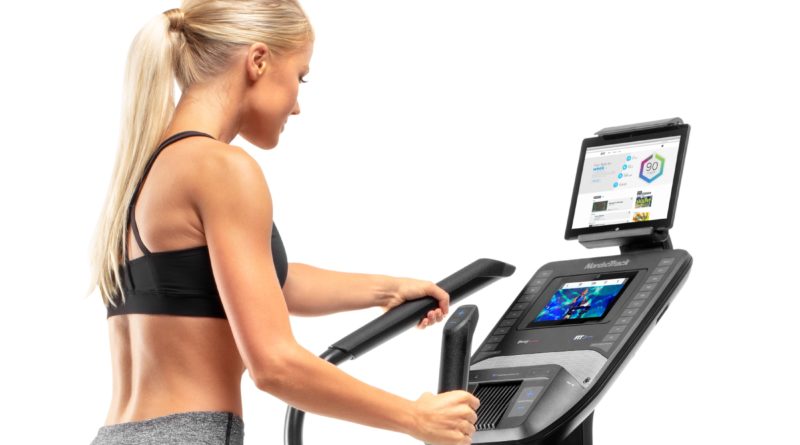 When it comes to the FreeStride Trainer FS9i vs the FS7i and the entry level FS5i, the main things to consider are the price, the console and the incline/decline capability.
The FS9i is the most expensive, at around $2,799 on sale (sometimes cheaper), but it does give you more features and capabilities than the other two ellipticals, including more workouts, resistance levels and most importantly, decline capability that none of the other FreeStrider Trainers or any NordicTrack ellipticals have.
So if you want the most of everything, and decline training is something that really interests you, then the FS9i will be the right choice for you.
However, we love the FS7i because it too gives you everything you need except the decline capability.  
There are plenty of workouts and resistance levels to choose from, you still get incline capability, and you also get a touch screen...it's just not as big as the one on the FreeStride Trainer FS9i.  But to us, a touch screen is a touch screen and 7" is just fine.
If you're comparing the FS9i to the entry level FS5i, however, the FS9i wins hands down.  
The base FS5i elliptical has a basic 7" backlit display and no incline capability, as well as fewer features overall.
But it is still gives you much more freedom of movement than the other NordicTrack elliptical series', including the Front Drive, Rear Drive and Mid Drive models.
To summarize, if you're on a budget, you don't need incline or decline and you don't mind the regular LCD display, then the FS5i is a good choice for you.
If you like the idea of a touch screen console and want some incline capability to ramp up your workouts, the FS7i is the right choice for you.
Lastly, if you have the budget for it, want a larger touch screen and will take advantage of the incline and the decline capability, then the FreeStride Trainer FS9i is the perfect trainer for your home gym.
NordicTrack FS9i Review - Bottom Line
Although we like the NordicTrack FreeStride Trainer FS9i, our favorite in the series is still the mid-level FS7i as it gives you just about everything you need for a great, effective workout for under $2000.  
Although we love decline, and it's very hard to find on any elliptical these days,  it's hard to justify spending $700-800 more for that and a larger touch screen console.
Still, if you can spend a little more than $2000 and want a solid 3-in-one machine with tons of capabilities and features, you'd be hard pressed to find something better on the market.  
The FS9i is a a stepper, an elliptical and a treadmill packed into one machine with incline, decline, internet, music, workout tracking, app syncing and Google map integration.  If that doesn't get you motivated I don't know what will!
So check out the full lineup of FreeStride trainers to see which one appeals to you.  The FS5i is the most affordable choice, but keep in mind it is not web enabled.  
Therefore the FS7i and FS9i are better choices for you.