The New NordicTrack C 9.5 Elliptical is a Solid Choice
The NordicTrack C 9.5 model is one of the newer elliptical trainers from the company, first introduced back in 2016.  It has a ton of great features and capabilities, and at only $999 on sale it's an incredible value for what you are getting.
What You Get
The C 9.5 gives you a 7" web-enabled Smart HD touch screen, so you can surf the web, watch videos, post to your social pages or whatever it is you like to do online.

You have an 19" power adjustable stride, up to 20 degrees of power incline, 32 different professionally-developed built-in workouts to choose from and 24 resistance levels.
You also get the exclusive iFit Coach technology built right into the machine, which gives you access to tons of additional workouts, tracking and sharing capability and Google map integration to work out anywhere in the world.
Let's take a look at the specs...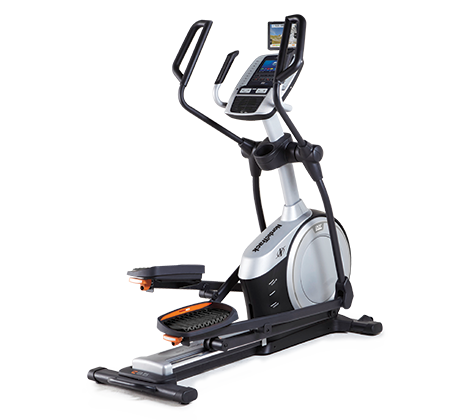 Front driven flywheel mechanism 

7"color, full touch screen with web capabilities
IFit® Coach enabled to track your workouts

24 resistance settings using SMR® technology

32 workout applications

0-20 degrees power incline
AutoBreeze workout fan

Auxiliary music port

19" adjustable stride length
Adjustable, oversized pedals
Lifetime frame, 3 years parts and 1 year labor warranty
350 lb. Max user weight 
The Word on the Street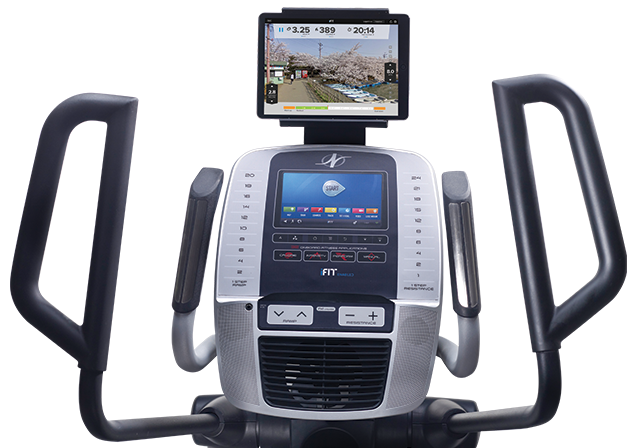 The NordicTrack C 9.5 has received a lot of buzz since it was first introduced, with critics excited about all the elliptical had to offer for such a competitive price. It packs in a ton of features, especially given the price of $999 when it's on sale.  

For starters, you get the web-enabled touchscreen that we mentioned above.  
That's a really great feature, and something you just don't find on all other ellipticals, even ones that are priced much higher. The base C7.5 model does not have internet capability built into the machine.
You also get up to 20 degrees of adjustable incline, 24 resistance levels to choose from, a heavy flywheel for smooth, quiet motion and adjustable oversized pedals.
One of the best features is iFit Coach technology, enabled on all of the front drive models now, which gives you additional workout programs on top of the 32 built into the machine, as well as tracking and sharing capability and Google map integration.  With iFit the machine automatically adjusts its incline to match whatever course you choose.
You can monitor your heart rate via the grips on the handles.  A wireless chest strap is not included...if that is something you're interested in take a look at the C 12.9 or the top of the line Commercial 14.9 model.
All in all this in a solid front drive machine with a boatload of features at a very affordable price.
How Does the NordicTrack C 9.5 Compare to the Other Ellipticals in the Lineup?
The C 9.5 is one of four ellipticals in NordicTrack's Front Drive series, so it's helpful to compare it to those models to see which one makes the most sense for you.
The least expensive model in the series is the C 7.5, which is around $799 or so when it's on sale.  It has plenty of resistance levels and workouts as well as incline and iFit Coach, but you get a basic 5" backlit display as opposed to a Smart HD touch screen on all of the other models.
The C 9.5 is a step up from that model, with more resistance levels and workouts, the 7" touch screen and multi-position handlebars.  It's about $100 more expensive than the C 7.5.
Moving up you have the C 12.9, which gives you even more resistance levels, workouts and a higher max weight capacity.  This one adds a free chest strap for wireless heart rate monitoring...the C 7.5 and C 9.5 only have grip heart rate capability.
At the top of the lineup is the Commercial 14.9, which is vert similar to the C 12.9 but with a 10" touch screen instead of the 7", and a slightly higher max weight capacity.
The C 12.9 and Commercial 14.9 run about $1299 and $1499, respectively.
So deciding between the C 9.5 and the others should come down to budget and your needs/wants.  If budget is a major concern, stick with the C 9.5 and look at the C 7.5 if you're OK with an entry level machine.
If you want something more advanced, something that will stand up to heavier usage, and you like the idea of wireless heart rate monitoring for more accuracy, look at the C 12.9 and Commercial 14.9.
What about the other NordicTrack ellipticals?  In addition to the Front Drive Series there are also the FreeStride Trainers, Rear Drive SpaceSavers and Mid Drive Commercial series.  It's difficult to compare one to the other though because they are quite different.
If you think you might prefer a rear drive or a mid drive ellipticals, check out our main NordicTrack elliptical page to learn more about the different types they offer.
Our Thoughts on the C 9.5
The NordicTrack C 9.5 is a very solid choice if you are looking for a sub $1000 machine with a lot of great features.  You get a ton of workouts, incline capability and resistance levels to choose from.  You have iFit Coach built in which really helps keep you motivated to reach your ultimate fitness goals.
Additionally, there's a holder for your tablet, you can surf the web while you work out, you can plug in your iPod or other mp3 device and listen to your favorite music.  They have everything pretty much covered.
The C7.5 and C9.5 aren't as sturdy/well-constructed as the C 12.9 and Commercial 14.9, but those machines are both over $1000.  So if you want to stay under that, the C 9.5 is definitely a great option.