Proform Elliptical Reviews – Excellent Value With Loads of Features

ProForm elliptical trainers are a division of ICON Fitness, backed by the company's considerable resources. The line fills an otherwise relatively empty field in the fitness industry.

There are a lot of high-end elliptical machines and a lot of budget models, but the $599-$999 price range is pretty sparse for some reason.
ProForm recognized this and has strived to fill this niche with an impressive assortment of elliptical machines for those who don't want to break the $1,000 mark...although they now carry a few higher end models above this price level.
Another reason to like ProForm ellipticals is the many different models currently offered. This includes machines that fold up for storage, ones with incline capability and even ones with touch screen displays with internet built in.
Almost no other manufacturer offers such a wide variety, let alone in this price range.
Let's take a closer look at this very popular brand...
The Current ProForm Elliptical Lineup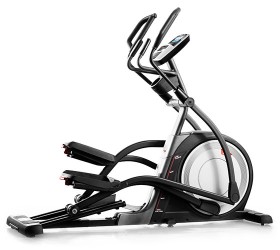 Per our latest ProForm elliptical reviews, there are a number of different series to choose from in 2019.
Here is the current lineup...

Endurance Series
This is the company's most affordable series, and consists of three front-drive models: the 520E, 720E and the SMART 920E.  
Here you get 19" strides, 20 degrees of incline, 18-24 resistance levels, up to 32 workouts and 325 lb. max weight capacities.
This series is ideal for beginners and those on a budget, with a nice array of features and capabilities.  Prices range from $599-$999 on sale.
Smart Strider CSE Series
This series is comparable price wise to the Endurance Series, but features a rear-drive design instead of a front drive, putting you in a more upright position.  
On the 495, 695 and 895, you have 18" strides, SpaceSaver folding design, up to 10 degrees of incline, and the same resistance, workouts and max weight capacities of the Endurance models.
This series is also for beginners and those on a budget who need a folding elliptical.  
Note that the stride length and incline are lower on these models. Prices range from $599-$999 on sale.
Pro Series
This is the most popular ProForm elliptical series, comparable to NordicTrack's top selling C Series.  
Also front drive like the Endurance models, the Pro Series steps it up with 20"-21" strides, up to 20 degrees of incline, 24-26 resistance levels, up to 35 workouts and 350-375 lb. max weight capacities.
This series is for more serious users, as well as heavier and taller users, as it gives you longer strides and higher max weight capacities than the Endurance and Smart Strider series.  
Construction is also better on the Pro Series. Prices range from $999-$2499 on sale.
Hybrid Trainer Series

This series consists of the Hybrid Trainer Base, XT and Pro models, all of which are elliptical trainers combined with recumbent exercise bikes.  
So it's two machines in one for those who prefer to have the option to sit down to work out.  
Here you have 15-17" strides, no incline, 16-20 resistance levels, 16-20 workouts and 350 lb. max weight capacities.
This ProForm elliptical series is obviously different than the rest, and is also more of a beginner machine like the Endurance and Smart Strider Series. Prices range from $399-$599.
HIIT Trainer Series

These are the newest addition to the lineup, and also a hybrid machine.  Instead of an elliptical and a recumbent bike, here you get an elliptical and a stepper, similar to the Bowflex Max Trainer.  
The HIIT Trainer Base and Pro models give you a 10 degree vertical and 5" horizontal elliptical stride, 24-26 resistance levels, 32-34 workouts and 350 lb. max weight capacities.
This series is for those who want to ramp up their training with HIIT, or High Intensity Interval Training workouts, that give you more of a cardio boost than the traditional elliptical alone.  
You also target the leg muscles differently.  Prices range from $999-$1599.
So as you can see there are a lot of choices when it comes to ProForm elliptical trainers.
Which ProForm Elliptical Should You Choose?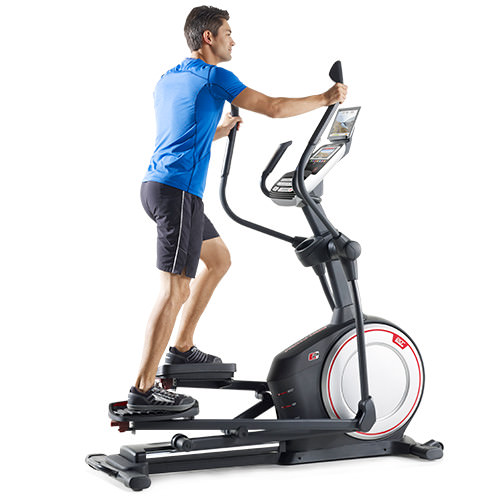 With so many options, it can be hard to pick the best ProForm elliptical trainer for you.  They definitely have more models than any other company out there.
We'll try to help you narrow them down here....
If you're just getting started, and want a good entry level elliptical trainer with enough features to give you a good workout, then look at the Endurance Series.  
The 520E and 720E are good choices, and if you want a touch screen display look at the SMART 920E.
If you prefer the rear drive design, or if you need something that folds, look at the Smart Strider CSE Series.  
The 495 CSE and 695 CSE are good here, and again if you prefer a touch screen look at the top end SAMRT 895 CSE elliptical.
If you're more of an intermediate, you've been working out for some time or if you just want something a little more substantial than an entry level machine, definitely look a the Pro Series.  
As we mentioned, it's the most popular and has superior construction to the other Series.
The Pro 9.9, 12.9 and 16.9 are all very good, with the latter two offering touch screen consoles.
If you're into interval training, if you like the step machine and want to ramp up your cardio and burn calories, consider one of the two HIIT Trainers.  Either model is a good choice.
If you want a two-in-one machine that gives you the elliptical and the recumbent bike, check out the Hybrid Trainer Series.
All of the ProForm ellipticals come with a wide variety of workouts, the company's iFit Coach programming, good resistance levels and solid warranties.  
So it's just a matter of picking which series appeals most to you, and which model within the series is within your budget.
High-End Perks at a Reasonable Price
Trainers usually recommend ProForm ellipticals for people who are looking for a good, mid-priced machine that comes with a few of the extras usually reserved for higher priced versions.
ProForm can offer these extras because the cost of research and development is spread out at ICON over several different brand names, and ProForm benefits from the trickle-down effect from the top lines.
Trainers compare these elliptical machines to lower priced ones and find that Proform models consistently out-perform them and have innovative features that are rare in machines under $1,000.
Excellent Value for Your Money
The average buyer recognizes Proform elliptical trainers as an excellent value for the money. You may want to buy one of these if you've been disappointed with a budget elliptical machine that didn't hold up well over the long haul, especially when you simply aren't able or willing to spend thousands of dollars on a machine at the high end of the scale – and that's a lot of the buying public.
The bottom line is that these are great choices for those who want a lot of features and capabilities without paying top dollar.
You can read our in-depth ProForm elliptical reviews below to get more information on each model in the lineup.  This will help you make a more informed buying decision.
Consumer Reviews
ProForm Ellipticals User Reviews - Comments we have received from consumers who bought a ProForm elliptical trainer.
ProForm Elliptical Model Reviews
Endurance Series - Front Drive

ProForm 520E - the entry level model in the Energy series, this machine is packed with great features such as incline, iFit, music compatibility and generous stride and workouts built in.
ProForm 720E- the middle Energy series model with a 20" stride, 24 workouts and adjustable incline.

ProForm SMART 920E- the newest in the series, a great improvement on the 520 E and 720 E with a color touch screen, iFit enabled and tons of great features.
Pro Series - Front Drive
ProForm Pro 9.9 - one of the newest models, replacing the Pro 9.0 NE with a longer stride, more workouts and iFit Coach technology.

ProForm SMART Pro 12.9 - improving on the 12.0 NE with a 7" web-enabled touch screen, heavier flywheel and more built in workouts.

ProForm SMART Pro 16.9 - an improvement on the 16.0 NE with an enhanced 10" touch screen and increased weight capacity, among other new features.
CSE Series - Rear Drive
ProForm Smart Strider 495 CSE - entry level rear drive model with easy assembly and an 18" stride.

ProForm Smart Strider 695 CSE - new middle of the series model with nice upgrades from the base model and a Round Watts display.

ProForm Smart Strider 895 CSE - new last year, this is the top of the line rear drive model with iFit Coach and touch screen technology.
HIIT Trainers
ProForm HIIT Trainer - a new hybrid elliptical with high intensity intervals and lots of built in workouts.
ProForm HIIT Trainer Pro - recently introduced, a hybrid elliptical/stepper for full body workouts and interval training.
Hybrid Series
ProForm Hybrid Trainers - half elliptical, half recumbent bike in two series: Base and Pro.  Nice features and iFit Bluetooth technology.
---