ProForm Carbon E10 - Solid, Affordable Home Elliptical

The ProForm Carbon E10 is one of the newer ellipticals in the company's lineup. It has plenty of features and capabilities to give you a solid workout, and comes at a very affordable price.
ProForm is known for packing in a lot...touch screens, tons of workouts, plenty of adjustability, etc. without charging a lot. As such they have become very popular choices for the home gym.
Let's dive into our review to see what this model is all about.
What You Get
The Carbon E10 is a relatively compact elliptical, with a small footprint compared with many other popular home machines.  It's black and grey with red accents, giving it a sleek, modern look.
Let's take a look at the most important specs...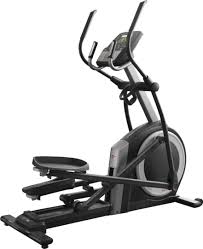 SMR™ silent magnetic resistance

24 digital resistance levels

25 lb. inertia enhanced flywheel
19" power adjustable stride
Up to 20 degrees of incline
10" Smart HD touchscreen display

iFit® enabled
Water bottle holder
Adjustable, oversized pedals

Dual 2" speakers

10 year frame, 2 year parts and 1 year labor warranty

The Word On the Street
What people like about ProForm is the fact that all of their cardio equipment, including treadmills, ellipticals, bikes and rowers, are all very affordable, yet still have all of the extras typically found on more expensive machines.
The Carbon Series is one of their newest offerings, and all of the ellipticals in the series have high quality construction, adjustable strides, oversized pedals, unlimited workouts through iFit, plenty of resistance levels, transport wheels, speakers and much more.
There are several models that rotate in and out, including the EL, EX, E7 and E10. As of the writing of this review, the Carbon E10 was the top model in the series.
The Carbon E10 has a 10" Smart HD touch screen display, something some of the other models in the series don't have. On the touch screen you can see all of your workout data and tap into iFit, the company's interactive workout experience with an endless library of programs to choose from on or off the machine.
You have a 19" adjustable stride and 24 different resistance levels to choose from, so you can work your way up over time. When you do one of the iFit workouts the trainers automatically adjust your resistance, which is a very cool feature. You can also ramp up to 20 degrees to target different muscle groups and amp up your cardio.
In addition to the touch screen, resistance and incline levels and all of the workouts you can choose from, you get Bluetooth capability, large cushioned pedals, leveling feet and front mounted leveling feet.
So far the Carbon Series has been very popular, especially since the Pro Series was discontinued. This left only the Carbon Series and the more expensive HIIT Trainer Series, but the latter are more like Max Trainers and less like traditional ellipticals.
If you're looking for an affordable elliptical for your home the Carbon Series is definitely worth considering for many reasons.
How Does the Carbon E10 Compare to the Other ProForm Ellipticals?
The ProForm Carbon E10 is the top model in the Carbon Series, as we discussed above.
Let's take a look at the entire ProForm elliptical lineup to see how it compares to the others...
The entry level ellipticals are called Hybrid Trainers, which are actually ellipticals and bikes in one machine. These are very basic and really only for beginners, as those who are more seasoned will want something a bit more advanced, especially if they train often. Currently there's one model called the Hybrid Trainer XT.
Moving up you have the Carbon Series, which bridges the gap between the Hybrid Trainers and the HIIT Trainers.
The Carbon Series consists of:
ProForm Carbon EL- You get a 19" stride, 20 degrees of incline, 18 resistance levels, 15 lb. flywheel, a 5" LCD display and a 300 lb. max user weight.
ProForm Carbon EX - You get a 19" stride, 20 degrees of incline, 20 resistance levels, 20 lb. flywheel, a 6" LCD display and a 325 lb. max user weight.
ProForm Carbon E7 - You get a 19" stride, 20 degrees of incline, 24 resistance levels, 25 lb. flywheel, a 7" Smart HD display and the same 325 lb. max user weight as the Carbon EX.
ProForm Carbon E10 - As you've read about above, this one gives you everything the Carbon E7 has, but has a 10" touch screen rather than a 7" one.
As you move up in the Carbon Series lineup you get a little more of everything...resistance levels, flywheel weight, screen size and max user weight.
Moving up the ladder you get to the HIIT Trainer Series, which is sort of like an elliptical and a stepper in one, similar to the Bowflex Max Trainer. There's a Carbon HIIT H7 and a more advanced Pro HIIT H14, with 10" vertical elliptical strides and heavy 30 lb. flywheels.
Like the Hybrid Trainers, these are not traditional ellipticals, but appeal to those who are looking for combo workouts.
So that's the ProForm elliptical lineup currently...Hybrid Trainers, Carbon Series, HIIT Trainers. There used to be a Pro Series, but those were recently discontinued for some reason.
If you want a traditional elliptical for your home gym and like ProForm, the Carbon Series will be the best way to go.

Which ProForm Elliptical Should You Choose?
When it comes to choosing a ProForm elliptical for your home gym, it really comes down to your needs and your budget.
If you want a very basic machine just to get the heart pumping a little bit and you don't want to spend a lot of money, look at the Hybrid Trainers.
If you want a compact traditional elliptical that's also comparatively affordable, consider the Carbon E10 and the rest of the Carbon Series models.
In the Carbon Series we like the Carbon E10 best, as it's just packed with great features and you also get the touch screen console that the EL and EX don't have.
If you want something even more advanced and you have the budget for it, take a look at the HIIT Trainer series. There we like the Pro HIIT H14, again because of the advanced touch screen technology.
As of the writing of this review the Hybrid Trainer is around $599, the Carbon Series is $799 to $1400, and the HIIT Trainers are $1400 to $1699.
So consider what your budget is first and then figure out which model is in your price range. If your budget is a bit more open we recommend one of the more advanced HIIT Trainer models.
Final Thoughts on the ProForm Carbon E10
From time to time ProForm offers the Carbon E10 for free with a 3 year iFit membership, so if this deal is in place at the time you are reading this review then it's definitely worth considering.
With that deal you're only paying for the iFit workouts, and the machine itself is at no cost. But even if that deal is not being offered, the Carbon E10 is a solid choice given all of the features and capabilities it offers.
Again, if you're looking for something a bit more advanced consider the ProForm HIIT Trainers. You can also look at their sister company NordicTrack, which has a few more traditional elliptical options to choose from.