Elliptical Trainer Assembly – Let a Pro Set It Up
Before you can begin training, your first workout is the elliptical trainer assembly. First you will need to get the box in the house (strength training!), and lay out all the parts (organizational skills!), and then put it all together (mental puzzle!).
If you aren't mechanically inclined, putting an elliptical together can be a challenge, both physically and mentally. In addition, positioning of some parts to the frame during assembly may require the assistance of a second person.
While most elliptical trainer installation can be an easy do-it-yourself job, if you want to have your new machine properly installed and calibrated, let a pro set it up for you.
When Installation is Included
If you buy a high-end brand crosstrainer such as a Precor, delivery and professional installation is automatically charged by the manufacturer. With this type of elliptical trainer assembly, authorized technicians in your area will receive the product directly from the manufacturer, call you to set up a delivery date, install the product, and remove all packaging debris from your home.
Hire an Elliptical Technician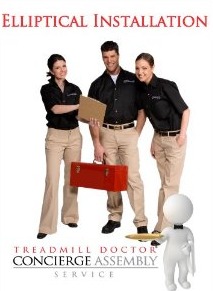 If the manufacturer does not offer installation, you can hire a third party to do the work for you, such as the new Amazon Elliptical Installation Home Service. 
With this service, you get a certified and insured home fitness equipment technician who will correctly assemble your machine and test the electronics. If your elliptical is DOA out of the box or had any damage during shipment, the technician can help begin the manufacturer's guarantee and warranty process for you.
Please note that the assembly technician does not pick up and deliver the machine – the delivery company does that. You can then set up the appointment, any day of the week from Monday through Saturday.
The installation typically comes with a 90-day warranty for defects in workmanship, and the technicians are insured for up to $1 million in accidental damage protection to your home.
After installation, the tech will show you the basic features of your new machine including the programs and any preventive maintenance, if necessary. They will also haul away the used carton and packing materials.
When to Opt for This Service
There are budget machines that come partially assembled or require only a few easy steps to install. Along with the nuts, bolts, the elliptical, and a diagram, the box should contain any necessary Allen keys or hex wrenches you will need.
On the other hand, you should definitely purchase an elliptical machine assembly service for a mid to high-end machine that will have more advanced electronics as well as heavy parts to mount into place.
Many machines, especially the high-end, commercial-grade ones, weigh over 350 pounds, so it is a good idea to spend a little extra to let the pros set up the machine for you.
If the thought of having to do an elliptical trainer assembly is preventing you from purchasing one of these awesome machines, then you should factor in the cost of the pro installation. It will save you hours of frustration and your machine will be assembled right the first time.
Elliptical Trainer Parts and DIY Maintenance