Octane Elliptical Trainer Reviews - Are They Worth the Price?

One would think that Octane elliptical trainers would have a larger market share since they are made by a company dedicated to making only ellipticals, including seated models as well as standing units.
Formed in 2001 by two former executives of Life Fitness, Octane strives to deliver quality and value in their high-end line-up of machines.

A Look at the Current Octane Lineup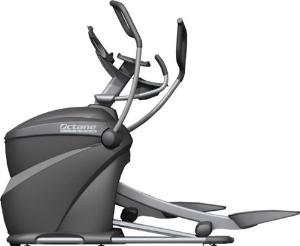 Octane elliptical trainers, which retail from about $2,000 to $8,000, have a unique design. The machines have two rails per pedal in their four-bar linkage front drive system, and this helps to give the Octane ellipticals their stable feel.
In addition, the pedals are very close together (as close as 1.8") for a remarkable and comfortable ergonomic stance. This natural stride motion will feel better on an Octane than you'll find on a more expensive Precor.
Octane also offers the effective X-Mode Cross Training Program, which instructs the user to do various exercises at one-minute intervals, such as pedaling faster, doing squats, etc. The program generates a randomly selected exercise to perform. After a two-minute recovery period, the user will start on a different muscle group to target.
There are a number of models currently offered, including Standing, Recumbent, Lateral and Zero Runners.
Standing Ellipticals
The Standing Octane Fitness Ellipticals are their traditional series.  They range in price from $2,199 to $7,899, depending on the model you choose.
The base Q35 has the smallest footprint and features a 20.5" stride, 20 resistance levels, 8 built in workout programs, 3 workout boosters and a 300 lb. max weight capacity.
The Q37 is their top seller, and adds multi-grip and converging path handlebars as opposed to the straight ones on the Q35.  Otherwise the two machines are the same.  There is also a Q37xi model that gives you a set of resistance bands and SmartLink connection to additional workout programs.
The Q47 is the top end traditional model, with a generous 18"-26" adjustable stride as opposed to the fixed stride on the Q35 and Q37 ellipticals.  You also get fingertip resistance level and stride length controls, digital heart rate on the moving handlebars and 10 built in workouts.  Just like with the Q37xi there is a Q47xi version with resistance bands and Smart Link workouts.
In addition to the popular Q35, Q37 and Q47, you also have the commercial grade PRO 310, PRO 3700C, XT3700, XT4700 and XT-ONE Octane ellipticals.  These models are considerably more expensive, but give you more workouts, console options and higher max weight capacities.
The company also recently introduced a high-end version of the very popular Max Trainer called the Octane MTX Max Trainer.  It's like a club quality version of the Bowflex M3, M5 and M7, also owned by Nautilus, Inc.
Recumbent Ellipticals

The recumbent series is just that, ellipticals that allow you to sit down while working out, which some people prefer, especially those with a bad back.  Here you have a much smaller selection, so it's easier to choose the one that appeals to you.
The base XR4 is the entry level model, with straight handlebars, PowerStroke pedal motion, 15 seat height and 5 seat tilt adjustments, 20 resistance levels, 6 workout programs built in and 2 workout boosters.
The up-level XR6 adds a step-through design, soft grip pedals, stationary foot pegs and converging handlebars, as well as 20 seat height adjustments.  Like some of the standing Octane ellipticals it is available as an XR6xi model with additional SmartLink workouts, a more advanced console and wireless heart rate monitoring.
The XR650 is the light commercial grade elliptical in the series, with 30 resistance levels (up from 20 on the others), wireless heart rate monitoring, additional workout boosters and a higher max weight capacity of 400 lbs., as opposed to 300 lbs. on the others.
At the top of the lineup you have the XR6000, which gives you all of the features of the XR650 elliptical, plus fingertip adjustment controls, an MMA advanced program and an option to upgrade to a 10" glass touch screen console with much more functionality.

Zero Runners

The newest Octane ellipticals, and probably the coolest, are the Zero Runners.  These are as close as you can get to an outdoor run or a treadmill type experience, without any of the impact.  They are so named because their is literally zero impact, giving you complete freedom.
The entry level ZR7 gives you an impressive 58" stride, 7 Cross Circuit training attachments with bands included, SmartLink connectivity, wireless heart rate monitoring, Bluetooth, 4 built in programs and an additional 38 through SmartLink and a 300 lb. max weight capacity.
The up-level ZR8 adds aluminum legs, lighter pedals, contoured grip and a heavier duty frame, plus a free wireless chest strap.
The ZR7000 and ZR8000 are the commercial grade Octane ellipticals, with advanced console options, 10-15 resistance levels, 8 built in programs and a higher max weight capacity of 400 lbs.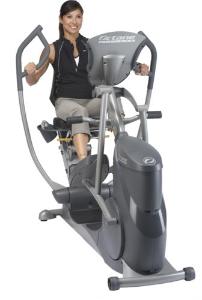 Which Octane Elliptical Should You Buy?
The truth is you really can't go wrong with any Octane elliptical.  We've had our Q47 for at least 10 years now, and it performs just as well today as it did the day we bought it, with virtually zero maintenance.
But there are certainly a lot of models, so choosing one can be a bit difficult.  We can hopefully make it a little easier for you here.
If you are used to a traditional elliptical, and just want a great regular machine for your home gym, then stick with the traditional series.  These are just like the ones you find at your gym, and they are also the least expensive of all of the Octane Fitness ellipticals.  You don't need the commercial grade models for your home, as the Q series is perfectly fine.
In this series we recommend the Q47 (we're biased) or if space is an issue the Q35 and Q37 are also great.
If you want to be adventurous and really like the idea of a side to side motion rather than front to back, look at the Lateral X.  However it is very expensive.  Try it out at your gym first before pulling the trigger.
If you are older, or you have a bad back, or just like the idea of training on a seated elliptical, then by all means consider the Recumbent Octane ellipticals.  They give you all of the same benefits; you're just in a more comfortable position.
Here we like the XR6 model, as again you don't need the commercial grade ellipticals for your home gym.
Now, if you are more of a runner, or just like the idea of being able to completely control your stride then take a look at the Zero Runners.  These have also made their way into gyms and people seem to love them.
Here we like the ZR7 or ZR8, both are fantastic.  They are more expensive than the traditional Standing ellipticals, but about the same as the Recumbent series.
So to summarize, first choose the series that most appeals to you:  Standing, Recumbent or Zero Runner.  Then find the model which has the features you like.
What about the console choices?  The advanced consoles give you wireless heart rate monitoring, a link up to additional workouts and more functionality.  However they come at a premium.  So it's a matter of deciding if you need that, or you'll be just fine with the console that comes standard.
You can read Octane elliptical reviews from consumers as well as our own experts below so you can learn more about each model, including specs, prices, buying tips and more information.
Consumer Reviews
Octane Ellipticals User Reviews - Reviews submitted by consumers and users like you. Read what owners of Octane elliptical machines have to say about their purchase.
Click here to write your own review!
Octane Elliptical Model Reviews
Octane Zero Runner ZR7 - completely impact-free with up to a whopping 58" stride, this machine allows for a completely natural motion and muscle strengthening.
Octane Zero Runner ZR8 - an upgraded version of the ZR7 with more commercial grade components, advanced features and more resistance capability.
Octane XR4 Elliptical - The seated Octane XR4 offers a stylish workout for the home. It features the new PowerStroke technology, and gives you a total body workout.
Octane XR6 Elliptical - The only seated ellipticals on the market! Add muscle endurance and upper and lower body strength training to your workouts.
Octane XR6000 XRide Recumbent - this is the top of the line recumbent elliptical model, giving you plenty of workout programs and advanced technology for a full body workout.

Octane LateralX Elliptical - There isn't another elliptical like this one; the design is flawless and the components are superior quality all the way.
Octane Q35 Elliptical - Stay motivated with he X-Mode on-board personal trainer.

Octane Q37 Elliptical - An exercise experience few competitors can match.
Octane Q47 Elliptical - Feels better than anything else you'll ride; technologically and bio-mechanically superior to Precor and Life Fitness models.

---