The Octane Q35 Elliptical Trainer: Advanced X-Mode Training
The Octane Q35 Elliptical Trainer and its sibling models are likely to feel superior to what you have experienced before in ellipticals as far as a smooth ride. As for advanced features, this model has its own on-board personal trainer - the X-Mode - to help you stay motivated and to instruct you as to the best ways to work your entire body.
What You Get
Ellipticals generally only offer a lower body workout, but the Octane Q35 Elliptical Trainer adds body-resistance programming to deliver an effective upper body workout. In the X-Mode, you get exercise instructions as well as automatic resistance adjustments at one-minute intervals, such as pedaling faster or performing squats. The elliptical's training mode will tell you when to rest before starting the next exercise on the next group of muscles.
The full list of specs on the Octane Q35 includes: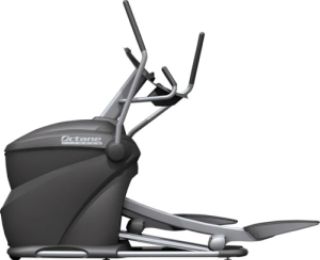 Eddy Current Resistance – 20 levels
5 Workout Programs
4 X-Mode Exercise Options
20.5" stride Length
1.8" Pedal Spacing
Front drive action
Upper Body Arms
Transport Wheels
300 lb. user weight capacity
Warranty –lifetime frame; 3 years parts; 1 year labor
The Word on the Street
With its Body-Mapping Ergonomics, narrow 1.8" Pedal Spacing, and the QuadLink Drive, the Octane Q35 elliptical trainer gives the user a fluid workout experience.
Pro athletics and trainers endorse the Octane line of machines while home users love or hate it -- and here's why: this is a machine for people who are already in great shape.
At Level 1, the Octane elliptical trainers are far more difficult (deliver a higher beginning resistance level) than other machines, so out-of-shape users will be out of breath in their first workout on this machine.
Consumers writing their own Octane elliptical reviews feel the Q35 has a few shortcomings such as a very basic electronic display. Another con: a $2200 cardio machine with no wireless Heart Rate Monitor? (You have to order the Q35e model to get that.)
On the plus side, you get a great upper body workout from the ArmBlaster programming, and it's got the space-efficient footprint at 27" x 68" which is smaller than other elliptical trainers, and lastly it has the easy step-in rear entry.
Our Thoughts on the Q35 From Octane
While the Q47 and Q37 series are out of most people's price ranges (about $3,800 to $4,300), the Octane Q35 elliptical is a more affordable trainer, sale priced at around $2,199.
However, there are some issues with squeaks on the wheels, issues of dealing with greasing the rails, motherboard problems, and so on.
The company addressed the problem with the soft wheels in 2005 (this model has been around since '03) but these are odd issues considering the company was founded by elliptical designers who formerly worked for LifeFitness.
For our money, we would still buy a club-quality Precor instead of the Octane Q35 Elliptical Trainer.
Show me other Octane Elliptical Trainers