Horizon Elliptical Reviews – Great Value for Your Money

Among the lower and mid-priced level machines, Horizon ellipticals are definitely one of the leaders of the pack.
The company is known for producing great machines and it continues to maintain its reputation of high standards for quality, construction, manufacturing and design.

Horizon is a brand of the Johnson Health Tech group which has been in business since the 1970s. In addition to Horizon and its sister brand AFG, Johnson Tech also puts out the Matrix and Vision brands.
One of the things consumers notice first about these trainers is the sleek design and beautiful consoles.
Not only are Horizon elliptical trainers aesthetically appealing when compared to competitor models, but they ride as well as they look and they come loaded with features.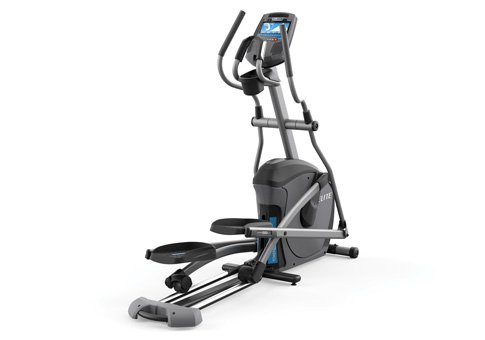 A Product Loved by Consumers
Horizon ellipticals are value-driven machines that consumers love to own and are buying them up as fast as they can; Horizon Fitness has gained a 17 percent share of the elliptical trainer mass market the past few years.
The company loads their eye-catching trainers with snazzy features -- but don't let appearances be your only criteria for purchasing one.
It's what's "under the hood" that's most important and, in that regard, Horizon's new line-up of machines deliver again and again.
The Current Horizon Elliptical Lineup
Horizon makes quality elliptical trainers with 14-30 lb. front drive flywheels that offer value and solid performance at low prices ranging from about $4999 to $899 on sale.
They have a no-fuss, feature-friendly marketing approach, and continue to raise the bar by offering new budget models with advanced features such as pivoting footpads and power-driven inclines.
Current 2022 models include the popular Go Series, which includes the best selling EX-59 base model and the Advanced Series. The previous upper-end Elite series seems to have been discontinued as of our latest review.
Let's take a closer look at all of the ellipticals so you can see what they are all about...
GO SERIES
EX-59
This is the entry level Horizon elliptical, great for beginners who want a solid starter machine to start toning up and burning calories.
The EX-59 features a 4.5" Yellow Green LCD display, an 18" stride, 10 resistance levels, the patented SixStar frame and 10 built in workout programs.  It is a non-folding machine.
Evolve 3
The Horizon Evolve 3 features an 18-lb flywheel, up from 14 lbs. on the EX-59, plus a 5.5" LCD display, a 20" stride, 20 resistance levels, ViaFit tracking, Passport HD video capability and 32 built in workouts including manual mode.
The Horizon Evolve 5 steps it up with an 23-lb flywheel, a 6.25" Blue LCD display, a 20" stride, 20 resistance levels, ViaFit tracking, Passport HD video capability and 39 built in workouts including manual mode.
Advanced Series
7.0 AE
The newest addition to the Horizon elliptical lineup is the 7.0 AE, with a 7" LCD display,  15 resistance levels, 20 incline levels, 6 built in workouts and Bluetooth workout tracking.
You also get a free new training app and heavy 23 lb. flywheel for smoother operation.
Peak Trainer (Discontinued)
The newest member of the Horizon elliptical lineup is the Peak Trainer HT 5.0, a hybrid cardio machine that competes head to head with the popular Bowflex Max Trainer.
Elite Series (Discontinued)
The Elite Series, which includes the Elite E7 and Elite E9, are the more advanced Horizon ellipticals, built for more intense workouts and muscle targeting.  
They also have incline capability, which the EX-59 and Evolve Series do not have, workout fans, and higher max weight capacity than the other machines.
The Horizon Elite E7 features an 23-lb flywheel, plus an 8.5" extra wide blue LCD display, a 20" stride, 20 resistance levels, 10 degrees of incline, ViaFit tracking, Passport HD video capability and 42 built in workouts including manual mode.
The Horizon Elite E9 features an 30-lb flywheel, a 7" touch screen display, a 20" stride, 20 resistance levels, ViaFit tracking, Passport HD video capability, Virtual Active on board videos and 43 built in workouts including manual mode.
So as you move up from the base EX-59 to the Evolve Series to the Elite Series, you get a little more durability, and extra features and capabilities.
Which Horizon Elliptical Should You Choose?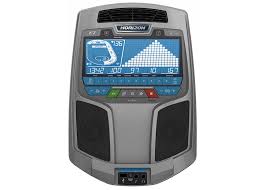 Now that Horizon Fitness has narrowed down their lineup considerably, it's a lot easier to make a decision as to which one to buy.  
In years past, they've had about a dozen at a time, and it was quite difficult to narrow it down.
If you are just getting started, and want a basic, easy to use machine with sufficient workouts, good ergonomics and some resistance levels, opt for the EX-59.  
It's a great entry level, beginner's choice that has become one of their most popular ellipticals.  However, note that the 18" stride might be a bit uncomfortable for taller users.
The new 7.0 AE is also a great option as it includes incline capability, a large LCD display and a free training app to control the machine and track your workouts.
If you want something a little more durable, and like the idea of a more compact elliptical trainer that can fold up for easy storage post workout, check out the Evolve Series.  
Both models are fine, but the Evolve 5 will give you a heavier flywheel, larger display and more workouts than the Evolve 3.
If you're a bit more serious, and want the best Horizon ellipticals, then definitely look at the Elite Series.  These are larger, heavier machines with higher max weight capacities and incline capabilities that the other machines don't have.  
Both the Elite E7 and Elite E9 are fantastic, but the E9 has additional workouts as well as being the only model with a touch screen display.
You can check out more in-depth reviews of all of the latest Horizon ellipticals below.  
You'll find more comprehensive specs, info, news and pricing as well as some buying tips to save some money on your purchase.

Horizon Elliptical Model Reviews
Horizon EX-59 - A lot of value for such a low price; an affordable trainer with articulating foot pedals, 18 inch stride, 14.3-pound flywheel and easy assembly.  The most popular Horizon elliptical.
Horizon 7.0 AE - The newest elliptical in the lineup, this one adds incline capability, Bluetooth functionality and a free training app that the other machines don't have.
Horizon Evolve 3 - A step up from the entry level EX-59 with a larger display, ViaFit to sync workouts, Passport to run around the world and plenty of options.
Horizon Evolve 5 - The mid-range model improves upon the Evolve 5 with a heavier flywheel and more workouts, among other additional features and comfort touches, on top of what is included on the Evolve 3.
Discontinued Models
Horizon Elite E7 - One of two top end models from the company, offering incline capability, heavier flywheel and free Polar heart rate chest straps, among other additional features.

Horizon Elite E9 - The top of line model featuring 43 built in workouts, incline capability plus ViaFit tracking and Passport integration, in addition to all of the features found on the Elite E7.
---