The Horizon EX-59 Elliptical Review – A Quality Budget Model
The budget priced Horizon EX-59 elliptical trainer is the most affordable machine available from Horizon Fitness, and is also one of their most popular models.  
At under $600 on sale, it offers great value and everything you need for a good cardio workout, including the company's patented SixStar Certified™ technology. 
If you're in the market for an affordable, compact elliptical for your home gym, this one is certainly worth considering...let's get right into our review of this model.
The EX 59 - What You Get
On the console's three window red LED display, you get readouts for time, speed, distance, calories, heart rate, level and watts.
The Horizon EX-59 elliptical offers 10 diverse workout programs including targets (Time, Distance, Calories) and goals (Hills, Weight Loss, Reverse Train, and Custom). On-the-fly changes let you select different programs and resistance at any time.

Let's look at some of the best features...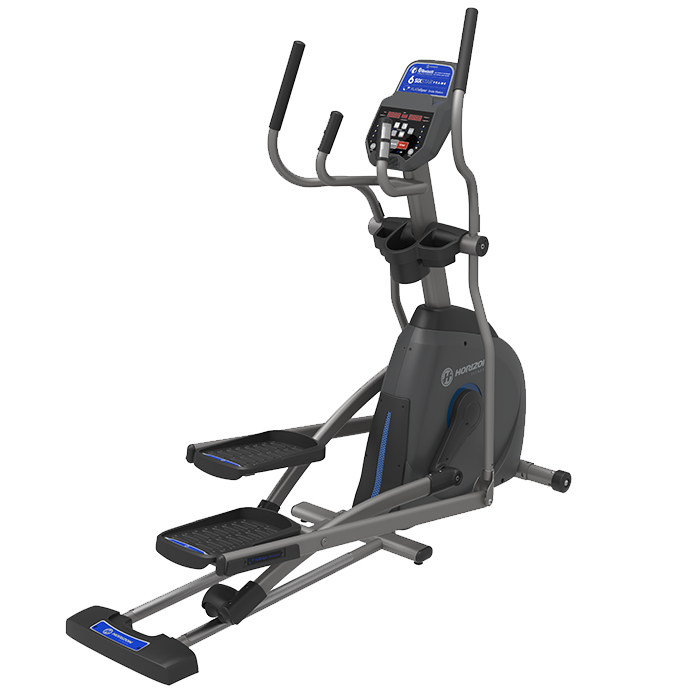 18" Fixed Stride
14.3 lb. Flywheel
10 workout programs
10 levels resistance
Contact Grip Heart Rate Monitor
Sonic Surround™ speakers w/MP3 compatibility
Dual action upper body handlebars
SixStar Certified™ non-folding frame
300-lb. User Capacity
Unit Weight/Dimensions — 145 lbs; 68"L x 25"W x 64"H
Warranty: Lifetime frame, 1 years parts and labor

What's the Word on the Street?
As the upgraded replacement for the EX-58, the Horizon EX-59 elliptical trainer has a heavy 145-pound frame based on the new SixStar Certified™ technology for optimum body posture and ergonomic comfort.
This includes several key points including Q-Factor ZEROgap™ overlapping pedal motion, foot path that mimics a natural walking gait, pivoting pedals, an 18" stride length, and a low step-on height.  
All of these unique technologies combined put you in the ideal position to ensure maximum results with minimal impact.
Other features include the Sonic Surround™ speakers with MP3 compatibility, new Bluetooth audio capability, a cooling fan in the center of the console, tablet rack and hand grip monitors for heart rate readouts.
Reviewers are very pleased with the entry level EX-59, just as they were with its predecessor, the EX-58 elliptical trainer, which was a significant improvement over the EX-57 model of years past. 
As long as you keep in mind that the Horizon EX-59 is a budget machine that doesn't have the bells and whistles of a $2000 elliptical trainer, you will definitely like it a lot.
It packs a lot of value for such a low price. 
However, it is strictly for light use, although it does seem to hold up well for larger users. The 275-lb weight capacity seems accurate without being overstated.
If you want something a little more durable you can bump up to the new 7.0 AE, which gives you a heavier flywheel, incline capability and Bluetooth functionality.
Also look at the Evolve 3 or the Evolve 5 models, which give you folding capability, Passport TV, ViaFit tracking and other enhanced features.
If you don't need all of the extras, then the EX-59 is the perfect entry level machine for you.
How Does the EX-59 Compare With the Other Horizon Ellipticals?
All of the Horizon ellipticals offer a wide range of features and capabilities at an affordable price.  
They all also have the patented SixStar frames, which address 6 important areas to put you in the most natural, comfortable, ergonomic position possible while you work out.
So in a nutshell you can't really go wrong with any of the ellipticals from Horizon.
That said, the EX-59 is more of a beginner's elliptical than something built for more serious training.  It has the lightest flywheel of all of them (heavier flywheel weight equates to smoother, quieter motion) at 14.3 lbs. as opposed to 30-lbs on the top of the line Elite E9 model.
It's the only model with an 18" stride, but it did get a bump up to a 300 lb. max weight capacity from 275 lbs, matching what the Evolve 3 and 5 offer.
As you move up in the Horizon lineup you do get more features and more durable frames.
The newer 7.0 AE, as we mentioned adds a heavier flywheel, incline capability, a larger display and Bluetooth technology, as well as a free training app that the EX-59 does not have.
The Evolve Series, including the Evolve 3 and Evolve 5, are the only folding models, so if space is an issue these are a great choice.  
They also give you 20" strides, heavier flywheels, higher max weight capacities, more resistance levels and the ability to track your workouts through the company's ViaFit technology.
So you can see that you get much more with the Evolve ellipticals than you do with the Horizon EX-59.
What about the Elite series?  
The Elite E7 and Elite E9 ellipticals are built for more serious training.  They don't fold like the Evolve series, but they are even more durable, with 325-350 lb. max weight capacities.  
They also have incline capability that the EX-59 and Evolve ellipticals do not have.
The Elite models also give you many more built in workouts and more advanced consoles...the top of the line Elite E9 even has a touch screen display with Bluetooth, something no other Horizon elliptical offers.
So choosing a Horizon elliptical comes down to what you are looking for and what your budget is.  If you're just starting out, or budget is an issue, the EX-59 is going to be your best bet.
If you want something a little more advanced, or need a folding elliptical due to space constraints, take a look at the Evolve Series.
If you want the best, and incline capability and loads of workouts appeal to you, then definitely look at the Elite Series.
But again, all of the ellipticals from Horizon are good choices.
Horizon EX-59 Review - Bottom Line
All this for just under $600: articulating foot pedals, SixStar frame, 10 resistance levels, built in speakers, Bluetooth audio, tablet rack, 10 built in workouts...that's a lot of capability.
The Horizon EX-59 is a good-looking elliptical trainer with an attractive console that offers many of the same components as the higher priced Evolve and Elite models.
As for competitor models, the Horizon EX-59 elliptical compares favorably to other cross trainers in the under-$700 range, and even offers a better labor warranty: one year compared to just 90-day coverage on many units.
The EX-59 compares well to what Proform and Nordictrack offer, and it looks like will the EX-59 will enjoy the fan following that the Schwinn 430 once had.
Overall, this is a quiet trainer that feels great. If you can get the Horizon EX-59 elliptical trainer at around $599, it's definitely a Very Good Buy.