The Horizon Evolve 5 is a Step Up Elliptical With Nice Features
The Horizon Evolve 5 is the mid-range elliptical trainer in the series, bridging the gap between the Evolve and up-level Elite models.  It offers a lot of great features for a reasonable price, which is why it is one of the more popular trainers from the company.
What You Get
There is a 6.25" blue backlit LCD display, which is the first upgrade you'll notice from the Evolve 3 model, which has a 5.5" display.  You have Horizon's patented SixStar folding frame for convenience, a large number of workout programs and workout metrics such as distance, calories, speed, watts, RPM and Cardio Compass which keeps you in your ideal heart rate zone.
Let's take a look at some of the main specs on the Horizon Evolve 5: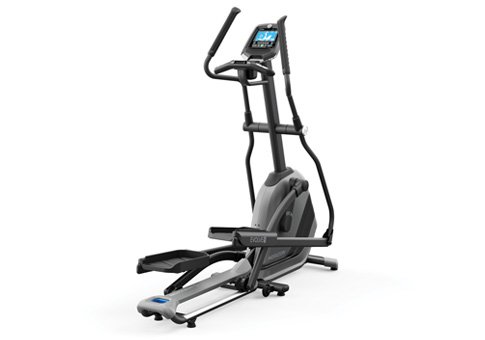 20" Stride
23-lb Flywheel
37 Programs
20 Levels Resistance
Easy Setup/Folding Frame
Contact Grip Heart Rate Monitor
Built-in Speakers
Cushioned Pedals
SixStar Certified™ frame
300-lb. User Capacity
Unit Weight/Dimensions — 175 lbs; 69"L x 28"W x 69"H
Warranty: Lifetime frame, 3 year parts and one year labor

The Word on the Street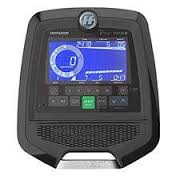 The Horizon Evolve 5 has received great reviews as it offers a wide range of features and extra touches for under $1500 when it's on sale.  Experts like the fact that the company focuses on design and ergonomics to ensure that your workout is as natural as possible.
The Six Star design present on all of their ellipticals, including the base EX-59 elliptical trainer focuses on, as you may have inferred, 6 different features that ensure you get the most out of every workout: natural foot path, smooth momentum, optimal pedal placement, ideal handle spacing,  straight body posture and a low step on height.
The Evolve ellipticals feature something called FeatherLight folding as well, unlike the others, so they are a good choice if space is limited.  It's all hydraulic so it's very easy for you to fold it up and store it away when you're finished working out.The Evolve 5 elliptical also features a heavier flywheel than the Evolve 3, meaning it's a little quieter, as well as ViaFit to track your workout progress.  
Another feature that's mentioned in customer reviews is Passport technology, a system that syncs with the machine and shows high definition footage of two destinations on your TV so you can imagine you are running on those courses.  The coolest part is that it is synced to your workout intensity and speed, so it's like you are actually out there on the course.
A few other nice touches: the built-in speakers, bottle holder, tablet rack, cushioned pedal inserts and contoured hand grips.
Any negatives?  The Evolve 5 does not have incline.  For that you have to bump up to one of the Elite Series models, which offer 10 degrees of incline.  But other than that, this one has just about everything you need.
How Does the Evolve 5 Compare to the Evolve 3 and Other Horizon Ellipticals?
The Horizon Evolve 5, as well as its little brother the Evolve 3, are both great choices for those who want a more compact elliptical with folding capability.  The entry level EX-59 does not fold, nor do the two upper end Elite Series models, the E7 and E9.
The Evolve Series is your mid-level lineup, not for beginners, but not for advanced training.  As such, they are perfect for most users, as they have everything you need for a great workout as well as other appealing features and capabilities.
As far as the Evolve 5 vs the Evolve 3, there are some upgrades worth noting.  For starters it has a heavier flywheel, which means the elliptical motion with be quieter and smoother.  It also has a larger display: a 6.25 in. blue backlit vs the 5.5 in. yellow green one on the Evolve 3.
You're also getting an additional 7 workouts, including more calorie-based, performance and custom options.  So the Evolve 5 is a nice step up from the Evolve 3, and only cost an additional $200.
What about the Evolve 5 vs one of the Elite Series models? Well, probably the main reason why you would consider the Elite E7 or E9 would be the incline capability.  You don't get incline on the EX-59 or the Evolve series Horizon ellipticals.
So if incline training is something that appeals to you, you might want to bump up to either the Elite E7 or E9.  Also, these models have heavier flywheels, better displays (touch console on the E9) and heavier max weight capacities.
For heavier usage, or use by multiple individuals, the Elite Series might be a better option for you.  Otherwise, as long as you can sacrifice the incline capability, the Evolve 5 is a great choice for the home gym.
Our Thoughts on the Horizon Evolve 5
The Evolve 5 is a very good choice and definitely one of our Best Buy Picks in the price category.  Typically you get a design or a feature focus, not both.  The Evolve series focuses on functional design and also packs in features that will keep you motivated.
You have a decent stride length, a nice, clear display, 37 built in workout programs, ViaFit tracking, Passport HD videos and some nice comfort features as well.
The fact that it folds easily is a huge plus as well, as most people have space constraints to deal with in their home gym environments.
The only thing that may be a deal breaker for you is, as we mention above, the lack of incline capability.  Some of the similarly priced ellipticals from NordicTrack and ProForm have incline built in.  If that's the case check out the upper end Elite ellipticals from Horizon.
But there is enough here to make the Horizon Evolve 5 elliptical a good choice and definitely worth considering, as it's a nice upgrade from the base Ex-59 as well as the Evolve 3 elliptical trainer.