About The All Ellipticals Site
Way back in 2006, we decided to put together a resource for those looking for an elliptical trainer for their home gyms.  There were plenty of treadmill sites, but not a lot dedicated to the elliptical.  The few that we did find were lacking in comprehensive information, or biased towards a few brands that they were trying to promote.
We created this site for you, whether you are looking for your first budget elliptical trainer or you are a seasoned fitness expert looking for the ultimate training machine.

Our site is designed to make it easier for you to compare makes and models of elliptical cross trainers based on all of the features that are important to you.
Helping You Find the Right Elliptical Cross Trainer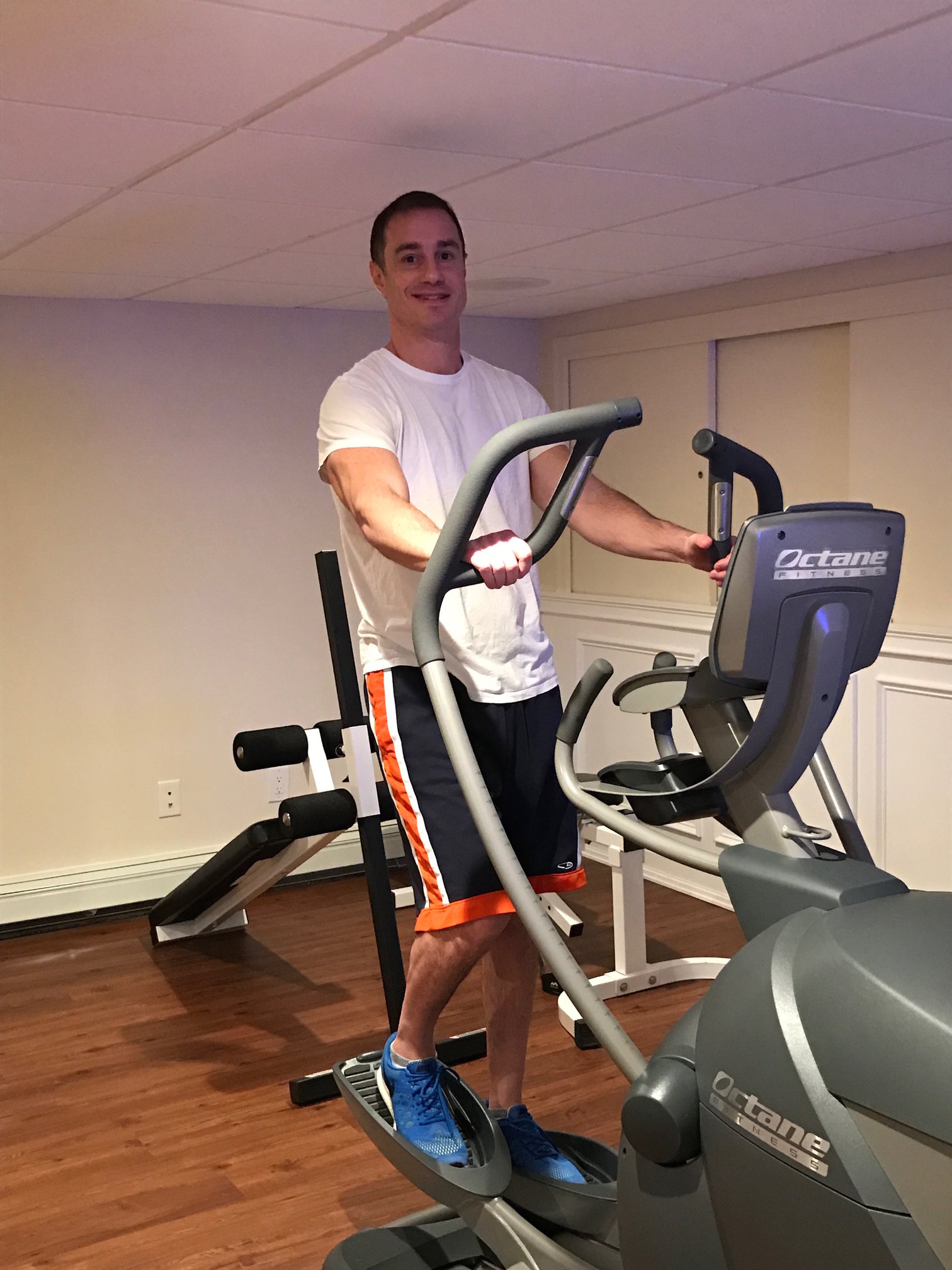 Who am I? My name is David and that's me right there in my basement on an Octane Q47, a beast of an elliptical that I've had for over 12 years.  It works as well today as it did the day I got it, and it definitely sees a lot of use in my household.
I've been working out since I was about 15 years old, first in my basement gym and then at various health clubs on the East Coast, including Powerhouse, Gold's, Sports Club LA (NY) and Lifetime Fitness.
I'm a big fan of the weights and the machines, but for cardio if I'm not outside running, I'm on the elliptical or the treadmill.  I've probably used at least 30 different brands from the cheap entry level trainers up to the high end club versions from Life Fitness, Precor and Matrix.
So why should you trust my elliptical reviews? Here are just some of the facts that make me qualified:
Cornell University Graduate - Bachelor of Science Degree

Reviewing ellipticals since 2006

Over 350 models tested/reviewed

Inside scoop on new releases/upgrades

Team of reviewers/testers

Test drive access to machines from NordicTrack, ProForm, Bowflex, Horizon, Sole, Matrix, Life Fitness, Precor, Octane
No elliptical cross trainer is right for everyone. Our site helps you weed through all of the hype and advertising and get to the facts.
We've collected information on every major brand of elliptical trainer as well as the many different models each company makes. You can read our reviews of both the companies and the individual elliptical machines to understand what the pros and cons of each one are.

We've packed a lot of information into our site, but we've carefully organized it to make it easy to use and understand. Some of the things you can do include:
Read our Best Elliptical Trainer section to see our expert's top picks for new model year in all price categories.
Read our individual reviews of elliptical cross trainers within a brand to learn which ones have the features that meet your particular workout needs.
Use our comparison charts to narrow down your search by price, and then compare models in your price range to choose the right make and model.
It's important to know as much about elliptical cross trainers as possible if you are going to invest your hard-earned money in one. This site will illustrate the many differences between the hundreds of models available.
From there, you can decide which is best for you knowing that you have as much information as possible to make a sound decision.
We hope you will find this site useful in your search for the right elliptical trainer for your home gym.
The Editors
AllEllipticals.com
Follow us:
Site Map #1 | Site Map #2 | Site Map #3 | Discontinued Models
---
Return to the Elliptical Reviews Home Page