The Octane Q37 Elliptical Trainer: An Awesome Machine
Riding the Octane Q37 Elliptical Trainer, you get a maximized total body workout on one of the most bio-mechanically correct machines on the market. From the close pedal spacing and comfortable stride length, to the pedal articulation and fluid ride, this trainer offers an exercise experience few competitors can match.
What You Get
The Octane Q37 Elliptical Trainer has cool ergonomic features such as the QuadLink Drive, an easy 4" step-up height, oversized pedals, and a narrow 1.8" pedal stance that is far less stressful on the hips and knees than other elliptical trainers.
Its on-the-fly programming include Presets (Manual, Random, Interval), plus Heart Rate Controlled, Goals, Cross-Circuit, and Workout Enhancers.
You have a choice of two different models: the Q37x and the more advanced Q37xi.
The full list of specs on the Octane Q37 includes: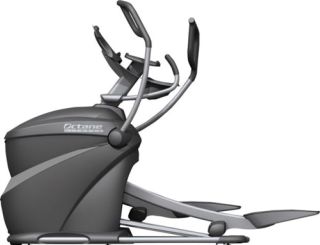 Eddy Current Resistance - 20 levels

10 Workout Programs
SmartLink technology
20.5" stride length (xi adjustable)
1.8" Pedal Spacing
Front drive action
Wireless & Contact Heart Rate
Upper Body Arms
Transport Wheels
300 lb. user weight capacity
Warranty - Lifetime frame; 5 years parts; 1 year labor
The Word on the Street
The Q37 is a solid elliptical trainer, and they have improved it significantly over the years. Octane Fitness has always been known for producing high quality cardio machines, and although they offer a bike and a rower, ellipticals are their flagship machines.
The Q37 sits right in the middle of the standing elliptical series price wise and feature wise. It gives you a bit more than the entry level Q35 but not as much as the top end Q47.
You might have come across an Octane elliptical in your health club, as they are one of the big names in commercial equipment. A gym will typically have one of the traditional standing models as well as one of the lateral trainers that moves side to side, called the LateralX.
If so, you're aware that these ellipticals look a lot different than others on the market. They're front heavy, with a large casing around the flywheel, and not as sleek or streamlined as those you'll find at NordicTrack or Sole.
However, when it comes to form, function, design and quality, Octane ellipticals have few rivals.
Some of the unique features of the Q37 are the multi grip handlebars that give you a great upper body workout. You can change your grip to target different muscle groups...something you can't do on most ellipticals.
Pedals are closely spaced only 1.8" apart which matches natural body movement and alleviates pressure on your back.
SmartLight technology on the top of the console shows you when you're in your target heart rate zone or when you're about to transition to the next workout booster.
Speaking of workout boosters, these are an exclusive feature of Octane ellipticals, included X-Mode, GluteKicker, and ArmBlaster, and they add an extra dimension to your workouts based on what area you want to target. You also get 8 varied built in workouts.
As we mentioned above, there is a Q37x and a Q37xi. In addition to all of the features above, the Q37xi has an adjustable stride of 18" to 26", as opposed to the fixed 20.5" stride on the Q37x. The xi also has two additional built in workouts, multi color light display, Polar wireless heart rate monitoring, Bluetooth capability and heart rate on the handlebars.
So you can say that the Q37xi is the more interactive model of the two.
Our Thoughts on the Q37 Elliptical
If you're in the market for a high end elliptical that's similar to what you would find in your health club, the Octane Q37x or Q37xi are definitely solid choices.
They are on the pricy side, but as with most things you get what you pay for. If you want to save a little bit check out the lower end Q35 model. And for something even more advanced take a look at the Q47 series.