The Seated Octane xR4 Elliptical – More Effective Than a Recumbent Bike
The seated Octane xR4 elliptical offers a stylish workout for the home. It features the new PowerStroke technology, and gives you a total body workout. It's no wonder it is recommended by 97% of current owners.
What You Get
There are two models: the Octane xR4ci elliptical with 12 programs and the xR4c with 8 programs. The basic programs include manual, random, custom interval, and beginner, and 4 goal programs (350 calories, 750 cals, 10K, and ½ marathon). The xR4ci offers the basic 8 workouts plus 4 heart rate controlled programs.
The specs are: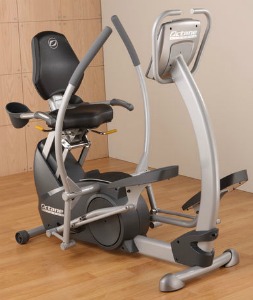 Multiple Seat Adjustments
20 Resistance Levels
Digital contact heart rate sensors
Polar® wireless HR monitor (xR4ci model)
Oversized Pedals
Pedals forward or backward
Built-in Foot Platform
300 lbs max User Weight Capacity
Weight / Dimensions: 196 lbs / 35" x 53"
Warranty: 3 years parts and 1-yr labor
The Word on the Street
UPDATE. The Octane XR4 is no longer available. Check out our review of the Octane XR6 here.
------------------
In studies, the Octane xR4 elliptical has shown to work more muscle groups in the upper and lower body than a seated recumbent bike. Octane's exclusive PowerStroke technology offers 343% more gluteal muscle activity than a recumbent bike due to the elongated elliptical motion in the pedal design.
The leg motion, or power stroke phase, of an X-Ride over a recumbent is over 54% longer.
With the X-ride you can split your workout to focus only on upper or lower body. With your feet on the built-in foot rest, use the chest press booster to work the arms, chest, and shoulders – it even counts out ten reps for you. Switch to the leg press booster and the elliptical counts out 15 reps with increased resistance.
The cushioned seat, with 5 tilt adjustments and 15 height settings, and the ergonomically designed handlebars are a perfect fit for any size user. Other features of the Octane xR4 include a compact footprint, a 300-pound max user weight, heart rate sensors on both the stationary and the moving handlebars, and an easy mount step-through frame design.
Our Thoughts on the Octane xR4 Trainer
The Octane xR4 offers superior ergonomics and quality engineering by the number one premium elliptical manufacturer, Octane Fitness. If you are in the market for a seated elliptical, the xR4c at $2,699 or the xR4ci at $2,999 is an excellent choice.
Being seated is the most comfortable you can get while working out on a cardio machine, and it is far more effective than a recumbent bike, according to studies done at the St. Cloud State University Human Performance Lab.
If your health condition requires a seated trainer, and money is no object, the Octane xR4 elliptical is a good choice.