The Octane Zero Runner ZR7 Offers Unmatched Impact Free Natural Motion
The ZR7 is a uniquely designed running machine from Octane Fitness. Designed similar to an elliptical trainer, the Zero Runner allows you to simulate real running motion without any impact on your joints.
Octane ZR7 - What You Get
The ZR7 has a dynamic LCD display that shows a wide range of workout data including time, pace, distance, calories burned, stride length, and heart rate. It has a keypad which allows you to change the settings and program your workouts. There is a built-in slot where you can fit your smartphone or tablet comfortably.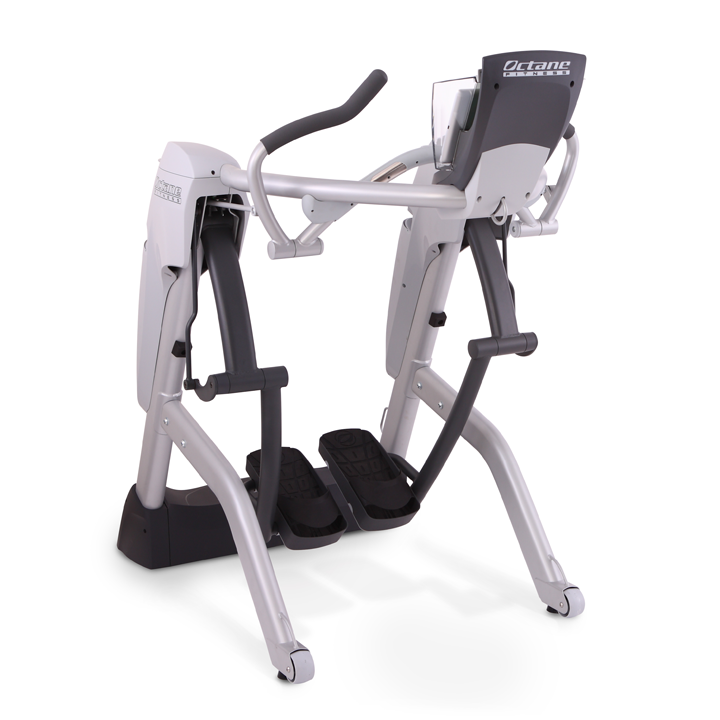 Up to 58" Stride
Cross Circuit attachments with bands
35 Workouts
2" pedal spacing
Whisper quiet operation
SmartLink compatibility
Bluetooth mobile syncing
Wireless heart rate monitoring/Polar chest strap
Max user weight: 300 lbs.
38" W x 63" L
Warranty: Lifetime frame, 5 years parts, 1 year labor
The Word on the Street
UPDATE: The Zero Runner ZR7 is no longer being sold. Check out the current Octane ellipticals on sale at the company store!
------------------------
Assembling the ZR7 may take a little time and effort, but the instruction manual explains the process in detail and tells you what goes where.
And let me tell you...it's all worth it!
This unique elliptical is compactly designed and doesn't take up a lot of floor space. It weighs close to 200 lbs. but it comes with a set of transport wheels. So, you will find it very easy to move it around.
The moment you step on the Zero Runner ZR7, you realize that this is unlike any other machine you have ever tried.
The machine has pivot points at the hips and knees and has a foot platform that flexes just like your ankle.
It means you can run just like you run on the street – without any restricting movements. It is so much different from training on an elliptical trainer where your movement is restricted by the machine's stride length and elliptical path.
One of the highlights of the Zero Runner is the SmartLink app, which takes indoor running to a whole new level.
SmartLink uses a revolutionary stride tracing technology to trace your stride throughout your workout session.
It allows you to monitor your posture and stride and make the necessary adjustments to ensure proper form throughout the training session. It is an excellent feature and is particularly beneficial to serious runners.
The app creates customized workout programs based on your fitness goals. It stores all your workout data and helps you monitor your fitness progress closely. It also allows you to share your goals and achievements with your friends on social media.
The Zero Runner, contrary to its name, is not just about running. You can also do strength and stretching workouts using the CROSS CiRCUIT program. The machine has resistance bands which you can use to incorporate cross training into your everyday fitness regimen.
The machine has contact as well as wireless heart rate tracking devices that give you real-time readout of your heart rate while you train.
The Zero Runner is a non-motorized, self-powered machine. So, there is absolutely no noise and you can work out any time you want without disturbing anyone.  
You have up to a 58" stride, which allows you to extend your stride to a full run, regardless of your height.  If you compare that to the 26" stride on the popular Q47 you can see just how versatile this machine is.
Of course you can choose to do more of an elliptical motion in the mid stride range or a shorter, stepper like motion.  It's really up to you to choose what kind of workout you want.
The only downside to the ZR7 is that it lacks movable handlebars. It is the only flaw in an otherwise perfect fitness machine. The feature, however, is available in the up-level model – the ZR8.
Also, the machine has a user weight capacity of 300 lbs. So, it is not ideal for heavier individuals.

How Does the ZR7 Compare to the Other Octane Ellipticals?
You can't really compare the ZR7 to any of the other Octane ellipticals, as it is a completely different animal. Suffice it to say that it removes the restrictions that the other ones have.
Whereas the top of the line standing elliptical, the Q47, has an 18-26" adjustable stride, which is very impressive, the ZR7 gives you up to 58". That's more that double the length, allowing you to completely stretch out as if you are running on a treadmill.
Plus, the way they are designed minimizes the impact on your knees and joints even more than their traditional ellipticals do.
Add to this Bluetooth workout tracking, Cross Training attachment points,  wireless heart rate monitoring and SmartLink workouts, and you can see how these machines are the most advanced in the series.
What about a comparison of the two Zero Runners?
When looking at the ZR7 vs the ZR8, the two machines are very similar with a few differences worth noting.  
The ZR8 is more heavy duty, with aluminum legs, lighter foot pedals, closer pedal spacing, more resistance levels, contoured grips and a free Bluetooth chest strap included.
As such, the Zero Runner ZR8 is more expensive than the ZR7, costing around $4,300 on sale and $3,300 on sale, respectively. (During special sales we've seen these prices even lower)
Both are great machines that are newer than most of the other Octane ellipticals, and the ZR7 should be just fine for most home users.  
If you want the free chest strap and a more durable elliptical, go for the ZR8 if it fits your budget.
Octane ZR7 - Final Thoughts
The Zero Runner ZR7 is a runner's dream come true. It allows you to run freely with zero impact on your joints. It is perfect for serious runners, older people, and people with joint problems., or just about anyone who wants to stretch out as much as possible.
The machine also has innovative features like SmartLink and CROSS CiRCUIT to help you achieve your fitness goals faster. It improves your form and running efficiency and makes you a better athlete.
It is priced a little higher than a regular treadmill or elliptical trainer, but it is worth every penny if you can swing it. If you love running, there is no better machine to spend your money on.
You can take a look at the Zero Runner ZR7 on the Amazon website where it is often on sale with free delivery.  Also check out the ZR8 while you are there.