The ProForm 520E Elliptical Review - Top Overall Budget Model
The ProForm 520E is a very popular elliptical machine due to its price and the fact that you get a lot of nice features included that you don't typically find elsewhere.  
For the casual user it's a solid choice, and as such is one of our 2020 Best Budget Elliptical Trainers.
If you're in the market for a compact, affordable cardio machine for your home gym, this one just might be it.
Let's get into our review to see what this one is all about...
Endurance 520E - What You Get
You get a 5" backlit display that shows you all of the relevant metrics such as distance, time, incline and calories burned.  
The 520E has a very generous 19" stride, suitable for all sized users, as well as a nice amount of built in workouts and resistance levels.
Here's a closer look at the important specs....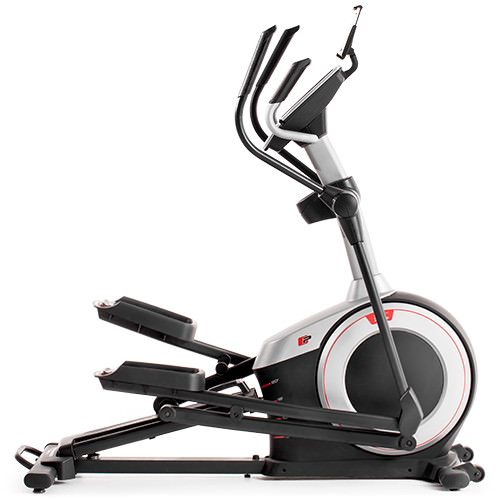 0-20 Degrees Incline

18 Digital Resistance Levels
18 Workout Programs
iFit Coach Ready
19" Stride Length
Compatible iPod® Music Port
Music player compatible
Dual-Grip EKG™ Heart rate monitoring
Oversized, Adjustable Pedals
300-lb. User Capacity
Warranty: 10 year frame, 2 year parts, 1 year labor

What's the Word on the Street?
UPDATE: As of late 2020/early 2021 the ProForm 520E and the rest of the Endurance Series ellipticals have been discontinued. You can read about all of the latest ProForm ellipticals here.
--------------------
Most expert reviews note the fact the 520E is a very nice upgrade to the previous 510E model.  Users appreciate the new touches as well.
The 520E comes with a lot of features that you just don't find on an elliptical under $1000.  You get incline capability up to 20 degrees to target different muscle groups, as you do on the up-level 720 E model as well.
You have a generous 19" power adjustable stride length, rather than the 18" you often find on elliptical machines at this price level.  
You also get 18 built in workouts to choose from and 18 different resistance levels. So you can really change up your workouts from one day to the next.
One of the best features on the ProForm 520E is iFit technology. Although it's not built into the machine as it is on pricier models such as the 920E, the machine is iFit ready.  
This just means you have to use your tablet or phone to access it, but users agree it's well worth it to tap into huge library of personal trainer designed on-demand workouts, tracking and monitoring of your results and Google maps to train in any location around the world.
So this machine is truly packed with every feature you could want.  You can also plug in your iPod or other music player to listen to your favorite songs as you work out.
The 520E comes with oversized pedals, heart rate monitoring, commercial gauge construction and SMR silent resistance.  Assembly is relatively easy and the instructions are clearly laid out in the manual.
There's also a water bottle holder, adjustable tablet holder, USB charger and transport wheels to easily move the machine from one place to another.
How Does the 520 E Compare to the Rest of the ProForm Ellipticals?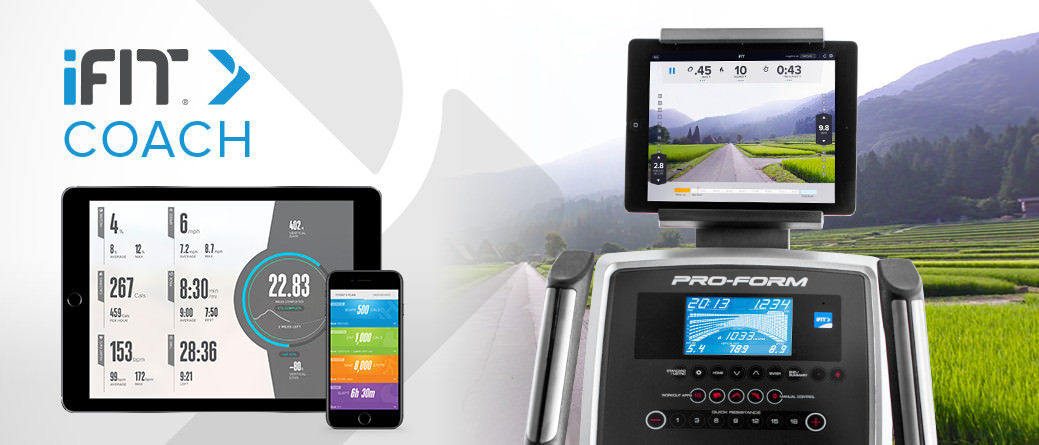 There are a lot of ProForm ellipticals on the market, and there's something for every budget and every fitness level.  
There are currently four different series:  Hybrid Trainers, CSE Series, Endurance Series and Pro Series.  
Let's take a closer look at each of them so you can see how the ProForm Endurance 520e elliptical stacks up to the rest...
Hybrid Trainers 
This series is the least expensive and consists of a base, an XT and a Pro model.  These are half elliptical and half recumbent bike, so they are not traditional elliptical trainers like the rest of the series.  These are strictly entry level for those who want the option to sit or stand.
CSE Series (Smart Striders)
This is the rear drive series, consisting of the Smart Strider 495 CSE, 695 CSE and 895 CSE.  Rear drive puts you in more of an upright position than a front drive elliptical like the 520E.  These are the only folding models, but they also have the shortest stride lengths at 18".
Endurance Series
These are similar in price to the Smart Striders, but with a front drive design rather than a rear drive.  You also get more incline and a longer stride.
The ProForm 520E, as you read about above, gives you a basic 5" LCD display, iFit Coach, 20 degrees of manual incline, pulse heart rate, 19" stride, 18 built in workout programs, tablet holder, 18 resistance levels, 15 lb. flywheel,  and a 300 lb. max weight capacity.
The up-level 720E gives you 20 degrees of power incline, 24 workouts, 20 resistance levels, 20 lb. flywheel and a 325 lb. max weight capacity, in addition to all of the features the 520E gives you.
The top-end 920E offers everything the 720E does, plus a 7" Smart HD display, Bluetooth capability, wireless heart rate, 32 workout programs, 24 resistance levels, 25 lb. flywheel and the same max weight of 325 lbs.
Pro Series
These are the most advanced ProForm ellipticals, sharing the front drive design of the Endurance Series but with more durability and heavier-grade construction.  
The Pro 9.9, 12.9 and 16.9 have longer 20"+ strides, free wireless chest straps, multi position grips, heavier flywheels and higher max weight capacities.
So the ProForm Endurance 520E is going to be a bit more advanced than the CSE Series, yet not as advanced as the Pro Series models.  
As you move up in the Endurance Series, you get a bit more of everything, including workouts, weight capacities, flywheel weight and resistance levels.

Which ProForm Elliptical Should You Choose?
The ProForm 520E elliptical is one of our top budget picks, so if you are leaning towards this one and want to stay under $1000, it's definitely a great choice.
Just keep in mind that it is more of an entry level trainer, good for the beginner and light usage.  
You do get power incline on the mid-level 720E as well as more of all of the important specs, and a nice HD touch screen with Bluetooth on the top end 920E, so definitely consider them as well.
If you need something that folds, consider the Smart Striders, which are similarly priced to the the Endurance models.  But remember that they have shorter strides which may be uncomfortable for tall users, and less incline capability.
If you have the budget for it, your best bet for home use is one of the Pro Series ellipticals.  These are a bit more expensive than the 520E, 720E and 920E, but they are much more durable and can stand up to heavier use.  They're also much smoother and quieter with their heavy flywheels.
In the Pro Series we like the 12.9 and 16.9 better than the 9.9 because you get the touch screens, more incline capability, heavy 32 lb. flywheels and stronger warranties.
But again, if you're just looking for an affordable elliptical with all of the tools you need for a great workout, by all means go for the ProForm 520E or one of the other Endurance models.
ProForm 520E Review - Bottom Line
The 520E is a great choice and remains one of our Best Buy picks in the price category for the simple fact that you get a ton of great features and capabilities all for under $599.
There's incline, a nice array of built-in workouts, a generous stride length, 18 resistance levels, iFit compatibility and music ports with a sound system.  That's just about everything covered.
Is it built of the same quality and durability as a $2000 elliptical? Of course not.  But if you are looking for a cardio machine that's easy on the wallet to use a few times a week for an enjoyable workout, you can't do much better than the ProForm 520E.
Also take a look at the more advanced 720E and 920E trainers, and if your budget is more open definitely consider one of the more durable Pro Series ellipticals.