ProForm Elliptical Customer Feedback
by Katlyn
(Lahaina, HI)
UPDATE: Please note some of the models below may be older or discontinued. To read our expert reviews of the latest ProForm ellipticals just click here.


---
I just purchased the ProForm 6.0 ZE elliptical trainer for Christmas this year and it is AMAZING.
I really did my homework on different ellipticals because it was such a big investment for me. I read a lot of reviews stating that some of the lower end ellipticals were very noisy and would shake when you use them. NOT THIS ONE.
I was amazed how quiet the machine was! The only thing you heard was my heavy breathing!
I was amazed at how hard level 10 resistance was! I wasn't expecting such a good quality! I am very very pleased with this elliptical. Setup was easy... much faster having two people! The directions are exactly on!
No guessing needed! So again... I would highly highly recommend the ProForm 6.0 ZE elliptical, especially if you don't want to spend a fortune! It was only $399 at Sports Authority.
ProForm 6.0 ZE Elliptical - Another Pleased Customer
by Dan
(Swartz Creek, MI)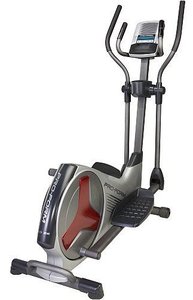 Made by Icon the ProForm 6.0 ZE elliptical is a rear flywheel home model. Assembly was simple, and the instructions were right to the point.

The hardware was easy to identify and use.
The console is simple and runs on batteries. It should have come with a power supply (they try to sell you later).

The ProForm 6.0 ZE has ten levels of resistance and will give a beginner or seasoned athlete a workout.

We are very pleased with the purchase of our ProForm elliptical trainer.
ProForm 6.0 ZE Elliptical - Control Panel Burned Out After 6th Use
by Robert
(San Diego, CA)
My wife bought the ProForm 6.0 ZE around 6 months ago but has barely used it. She has only used it around 6 times for less than 30 minutes each time. This morning she decided to use it because she wants to get back in shape, again. After using this machine for less than 5 minutes she smelled smoke and then the display board went out. So after only a few uses this machine is broken. She called the manufacturer and they said that they only do a 90 day warranty and if she wanted to buy the part it is over $200. They do not want to help her out at all in this situation and she said that the representative she was talking to was rude. The product may have the bad one of the bunch but this company does not stand by its product and has poor customer service. Electronic components should last more than 6 months anyways. It would be one thing if a movable part broke but this was something electronic that doesn't have any moving parts that shorted out. The machine appears to be poorly made and had cheap parts. When I went to put it together some of the taps that connect some of the covers of the pieces were broken off before I even took them out of the box. Since they just cover the pinch hazard areas I didn't even bother to request replacement parts for it. If you want to buy an elliptical buy one that has more metal than plastic in it.
ProForm 585 CSE Elliptical - Bolts Falling Out, Console Not Working
by Bryan
(Grand Blanc, MI USA)
Do not buy any elliptical trainer made by ProForm. Had to get a new console for the ProForm 585 CSE elliptical because it did not work. The product does not stay together. Nuts and bolts fall out of arms when in use. When it's in warranty they will send out new nuts/bolts. However, they still do not stay in. If not in warranty they will charge you $139 to come to your home to look at it. If they don't have the right nut/bolt they will charge another $50 to return to your home. The elliptical has never worked right. I bought the elliptical as a gift for my wife so I had it in the box for over a month before it was used. After the new nuts/bolts were sent they did not stay in well either. After all this the warranty has ended.

My wife has not used the ProForm elliptical much because its a lemon. Seems like the company would make it right. They won't. Also you will need a power cord which does not come with unit. Another charge because the batteries only hold up for a few weeks. The service with ProForm is bad also. It is very hard to talk to a person. You will be on hold for an hour waiting in line to talk to someone. It took me a week to talk to someone. Many times the recording will tell you to call back later. Great service?? They will not return your emails. My wife wants a treadmill and we are going to stay far away from ProForm and you should to.
Proform 600 Elliptical - Belt & Pulley Problems
by Tammie
(Auburn, WA)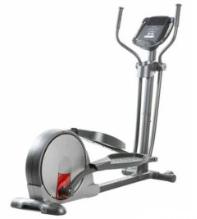 The ProForm 600 elliptical is horrible. Bought it yesterday. My husband spent 2 hours putting it together.

The machine has about 40 minutes on it and the belt will not stay on no matter how tightly it is adjusted.

Now not only will the belt not stay on but the pulley is sliding off the shaft until it rubs on the plastic body! Once it rubs a hole through the body the pulley will simply fall off!

I am very disappointed with the ProForm 600 as I was really looking forward to using this elliptical trainer. I have made arrangements with the store to return the machine. We will see how that goes!
ProForm Strideselect 600 Elliptical - Nothing But Trouble
by Hunter
(Saskatchewan, Canada)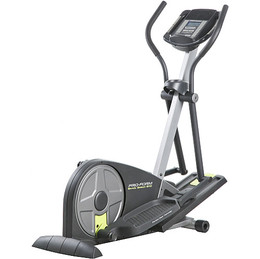 The ProForm Strideselect 600 elliptical has been nothing but trouble since we got it. We have been in touch with customer support and they have been less than helpful to say the least. Parts are just about as much as the machine is worth and are not returnable. I have read other reviews and will have to look into other courses of action. Basically we got ripped off.
Want to start a new discussion? Just click here to visit Elliptical Trainer Consumer Reviews - Rave or Rant!.
ProForm 675 Elliptical - Breaks Down Every 3 - 6 Months
by Tom Page
(Gadsden, Alabama)
Piece of S&*%t!!!! Don't waste your money on the ProForm 675 elliptical.

I have had mine since November, 2006. It has broken down about every 3 to 6 months. I used it almost daily 5 to 6 days a week.

I weigh 185-190 lbs and I don't abuse it; it just wears out. It takes anywhere from 3 to 6 weeks to get it repaired. Purchased from Sears. Now it will be sold as scrap metal or left in the parking lot at Sears!!!

Let them worry about disposal!!!
Want to start a new discussion? Just click here to visit Elliptical Trainer Consumer Reviews - Rave or Rant!.
Proform Epic 1200 Pro - Major Problem With Belt
by Lori
(Myrtle Beach, SC)
I bought the ProForm Epic 1200 Pro for myself Christmas 2007. In the year that has past I have had major problems with the belt.

After 4 months the belt self destructed into a million shreds. At this time the warranty was only 90 days.

Of course the belt shredding happened at 110 days and I was not covered. ProForm did send me a $50 belt at no charge but not the average person can install this so I ended up having to get a trained repair person to the house to put the new belt on.

Now at 12 months the belt has once again began to shred into pieces so I called and asked for assistance because I didn't think it was normal for this type of wear.

I am 5' 5" tall and weigh 120 lbs and I'm the only person who uses the machine. I use the Epic 1200 Pro 30-50 minutes 5 days a week. For me to fix the machine again it will cost me over $200.

So in one year I will have shelled out almost $300 to fix a machine I bought for $700+ 1/3 the cost of the purchase in one year. I loved the machine up to this point.

I received no help from their customer service just a "it's a wear and tear item". I don't feel that the wear and tear item, the belt, should self destruct every six months but they seemed to think so.

I would not recommend the ProForm Epic 1200 Pro based on the warranty and the customer service that I received.
Want to start a new discussion? Just click here to visit Elliptical Trainer Consumer Reviews - Rave or Rant!.
ProForm XP 160 Elliptical Machine
by Paul Del Chiaro
(Antioch, CA, USA)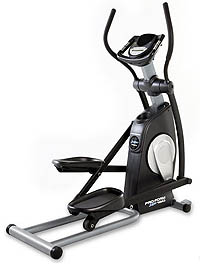 I am very happy with my ProForm XP 160 Ellipitcal Machine. Here's why: I started by using a treadmill for about 8 years; result: injuries to both feet and nerve damage.

I stopped but it was too late and I still suffer the effects of damage to my feet. When you use a treadmill you are pounding your feet on the treadmill platform with hundreds of pounds of pressure.

I stopped using it, gave the machine to the mailman and bought the ProForm XP 160. I might add I do weight training for about 13 minutes every other day, not heavy weights, 8 lbs and 20 lbs.

The elliptical machine does not put any pressure on the joints, your feet follow the peddals, you can increase the resistance when needed. I am a solid 212 lbs now and in the best shape of my life, thanks to this machine.

No joint pains, just the nerve damage, it is a great way to work out. The ProForm XP 160 Ellipitcal has training programs, but I do 20 minute workouts and adjust the resistance as I move along.

I recommend anyone to use an elliptical machine, it works. You have to take little steps at a time and work up the ladder, seems hard but after a few weeks it is really easy.

Paul
ProForm XP StrideClimber 600 Elliptical - I love it!
by Sarah
(Coatesville, PA)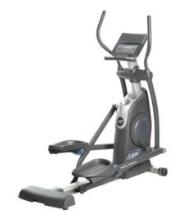 I've had the ProForm XP StrideClimber 600 elliptical for about two years now and I love it!

I read some negative reviews regarding this particular model...seems a lot of complaints are regarding noise or weight limit issues.

I am 118 lbs, I use my machine every day that I am home (sometimes twice a day) and I have yet to experience any problems...no missing parts, nothing broke...it works great!
Want to start a new discussion? Just click here to visit Elliptical Trainer Consumer Reviews - Rave or Rant!.
ProForm XP StrideClimber 600 - Returning Machine After 2 Workouts!
by Frustrated Buyer
(USA)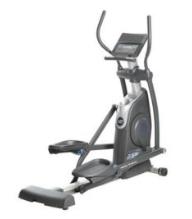 Repair man just left the house. My machine, the ProForm XP StrideClimber 600 is unrepairable! The repair man says this same problem happens to many of these machines.

The bearing housing in the frame strips out and the nuts that hold the bearing in the frame come off. This happened after two workouts!

Now to get my money back I'll spend a few hours taking it apart to get it back in the box. Please do not buy the XP StrideClimber 600.
ProForm 14.0 CE Elliptical - Parts Disintegrating
by Frank
(Wisconsin)
We have had the ProForm 14.0 CE elliptical for only a few weeks and already parts are disintegrating.

The pedal arm sleeve began to fail after only two weeks of use. The phone number given in the manual for service and parts would never answer.

I finally went through sales to get the part. If this an indication of things to come, I am not looking forward to it.

I should have known better based on the problems I had with the ProForm treadmill that doesn't work after less than two years of use.
Want to start a new discussion? Just click here to visit Elliptical Trainer Consumer Reviews - Rave or Rant!.
ProForm 10.0 CE Elliptical - 3 out of 5 Stars
by Matthew
(Kansas, USA)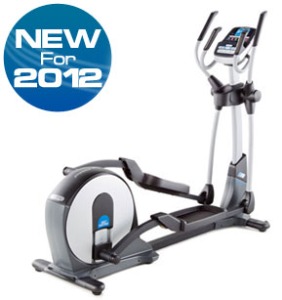 The ProForm 10.0 CE is the first elliptical that we've owned. Prior to this we've only used those you can find at the gym.

I bought this during the Thanksgiving holiday sale ($599) and combined it with a 10% coupon and free shipping. We've been using it for about a month now so here is our take:

The "8 Features Comparison"

Noise level: Very quiet. My wife exercises in the morning and I can barely hear it.

Stride Length: Adjustable from 16", 18" or 20". Adjustment is pretty easy, just unscrew two handles and slide to new length. This is a nice feature if you have both a tall and shorter person using the unit. (As we do.)

Size: Long and narrow, it does have the option to fold up. 74" L x 24" W x 65" H

Safety Features: Flywheel is enclosed. I might be mildly concerned if kids were playing on it like a jungle gym that it could tip.

Heart Rate Monitor: Has one but it might as well not be there. It does not work in any way that makes it useful. This is my biggest complaint. It jumps all over the place. Don't buy this unit if you want/need an HRM.

Features: iFit Live, Weight Loss and Performance Training programs. Audio input jack.

Warranty: Lifetime Frame, 1-Year Parts & Labor Warranty

Here are some additional comments.

Pros:

The screen is very bright and clearly visible.

The geometry of the cross-walk handles is much better than the gym units I've used.

Cons:

There is no ability to calibrate the calorie burn with your age/weight, so it is basically a guess. For me, it is usually 25% low when compared to my Polar HRM.

The foot pads are HUGE. This is probably a plus for someone with size 14 feet but for me, my foot tends to slide around a bit while exercising.

The lowest resistance level is still pretty firm. I was using level 9 at gym and I am up to level 3 on this unit.

Final Take: I don't think I would recommend the ProForm 10.0 CE to a friend. Especially if it was selling at full price. I would explore other options.

Overall: 3 out of 5 stars.
Want to start a new discussion? Just click here to visit Elliptical Trainer Consumer Reviews - Rave or Rant!.
ProForm Crosswalk 8.0 Elliptical
by Harold
(Twin Peaks, Calif., U.S.A.)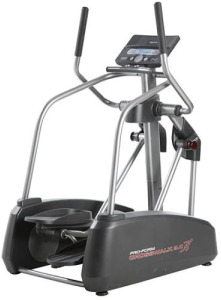 I've had the ProForm Crosswalk 8.0 Elliptical for over a year and it is now discontinued.

When I was doing my research for months comparing different models online because none of the sports stores had this model in stock, I noticed that a few people reported a knocking sound when peddling.

I thought that since that had been written up several times that the manufacturer would have now corrected the problem, so I went and ordered it.

Well, they never corrected the problem and now the machine just sits there. I don't know who to write to because all the old reviews I can't find.

The other thing I didn't like it said the Crosswalk 8.0 was compatible for iPods, well it is if you buy their $50.00 cord.

If I buy another workout machine I will make sure that I can test it in a store.
Want to start a new discussion? Just click here to visit Elliptical Trainer Consumer Reviews - Rave or Rant!.
Don't Buy the ProForm XP StrideClimber 600
by Steven Shelhamer
(Berwick,PA.)
I purchased a ProForm XP StrideClimber 600 from Sears. The sales lady assured me this was a quality built machine. Since then it's constantly broken down.

The parts are expensive and don't last. It's a shame because this machine really gave me a total work out. The welds break, the cast bearings break, the lower wheel bearings break apart, the plastic covers fall off, it clicks and clacks when I use it.

I paid $550 dollars for this so called quality machine that just doesn't hold up. Don't buy one.
Want to start a new discussion? Just click here to visit Elliptical Trainer Consumer Reviews - Rave or Rant!.
ProForm 18E Elliptical
by Fred Hodnik
(Walworth,WI, US)
I've owned for about 14 months. Use about 3 hrs per week. This is a very nice ellipitcal. I've become accustomed to the ramp and the ease of how the pedals glide across the rails.

When it was shipped it came to the house in a beat up cardboard box. And ball bearings were rolling around in the box(this scared me).
I called the company and they just wanted to sell me insurance (not what I wanted to hear).
I put it together and everything seemed fine until about a month ago when a sound (clicking sound) came from the back mechanism that controls the resistence. As I use it, it goes away. I am hoping that this will work itself out.
If not I will call them and discuss.

I really like this machine! It seems to be the perfect combination for an elliptical. I hope the machine lasts and the company takes care of its customers!
Want to start a new discussion? Just click here to visit Elliptical Trainer Consumer Reviews - Rave or Rant!.
ProForm 18.0 RE Elliptical Trainer Consumer Comments
by FJH
(Lake Geneva, Wisconsin,US)
I purchased a ProForm 18.0 RE Elliptical Trainer and when it was shipped I noticed the box was just a little fractured, not much!

When I opened up the box and started putting together the machine I noticed that the whole rear housing around the motor was shattered.

I had to re-order 4 pieces immediately to finish the set-up. I also noticed small ball bearings coming out of the box (I have not yet experienced the ramifications of that yet).

When I called to re-order the broken pieces, the marketing rep wanted to sell me additional insurance right away before really hearing what I had to say (it already comes with a 3 years parts, 1 year labor warranty). I found this to be tasteless and frankly it mad me a bit angry because I feel I was shipped a broken product.

As I spoke with the rep further he told me that if I did not have insurance the 4 plastic pieces that make up the housing would have cost me over $500.

I do not think that they should try so hard to push their insurance on us (the consumers) when they should be thinking on how they can service their customers better, and stand behind their product that they are selling.

For everything that is purchased today the sale price does not reflect a warranty insurance package. How about if they include the warranty insurance in the sale price so we(the consumers) can decide whether or not to buy at their fully posted price!

Is there anyone out there that agrees with me???

I would rate this a 4 out of 10 (10 being the best service)

FJH
Want to start a new discussion? Just click here to visit Elliptical Trainer Consumer Reviews - Rave or Rant!.
ProForm 500 LE Elliptical Failed Within 3 Months
by Jim
(Clifton Park, NY, USA)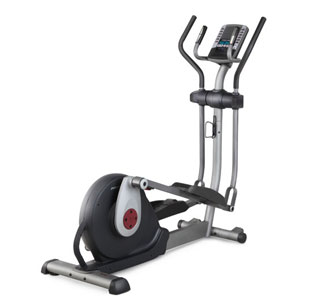 What a piece of junk! The ProForm 500 LE elliptical failed within the first three months of light duty use. The reed switch went bad, so the console was not registering any work effort. Even a replacement reed switch failed to remedy the problem. And to add insult to injury, not only did ICON charge an inflated amount for the replacement part, it charges an extremely inflated price for S & H..... almost $18 for a small item weighing a few ounces and fitting in a regular size envelope that you could send with a 45 cent stamp!

WHAT A RIPOFF !
Want to start a new discussion? Just click here to visit Elliptical Trainer Consumer Reviews - Rave or Rant!.
Proform 10.0 ZE Elliptical - Delivery Problems
by Katherine
(Virginia)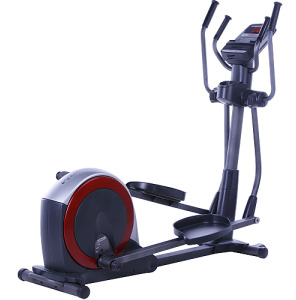 I read reviews and did comparisons and then price shopped. I ended up ordering the ProForm 10.0 ZE elliptical online at workoutwarehouse.com.

I got confirmation right away. 2 days later ICON Fitness tried to up sell me warranty stuff which I did not take, I was also told that I would have my elliptical within 2 weeks of my order.

My order was confirmed March 10. Days later I received a tracking number. Every time I tried to use it the shipping firm said it was invalid, that that meant the item was on the truck, but the truck had not been released for shipping to the freight line.

I was told it would take a couple of days. It never happened. Call after call, I spoke with a number of people and they said they would check and get back to me. Never happened.

Finally someone said it had probably disappeared during shipping. I could reorder at a discount. I did and was told it would arrive in 7 to 10 business days.

After 5 days I called to track. It turns out I was told that they are not making them anymore, but no one had told me. I was given the choice to get the new model which did not have the one option that was a must.

I was given the option to upgrade to the next model, but that was not going into production until mid-April. I did not want to wait and also was told there would be no way to move me to the front of the line.

I was then told I could take time and research it and also choose from NordicTrack. Well, ICON Fitness owns a bunch of the names, why couldn't I choose from all. It is now April 10. I still have to make my 3rd attempt.

Only because I can keep my now twice discounted price am I even considering it, but after over 10 calls and poor service, this will be my last try. Walking outside is free, I just may do that.
Want to start a new discussion? Just click here to visit Elliptical Trainer Consumer Reviews - Rave or Rant!.