The Proform 320 Elliptical Machine – A Trainer as Plain as it Gets
The Proform 320 elliptical machine is one of many produced by Proform, a division of ICON Fitness.
These machines fall into the no-man's land of elliptical trainers that are above the strictly budget machines below $300 but below the $1,000 ellipticals that many can't afford. It's a niche market that they've filled with numerous models.
The Proform 320 is one of the least expensive elliptical machines Proform offers, so it's pretty streamlined. You're getting basic performance and equipment because you're paying just under $300.
Let's take a look at what you're getting...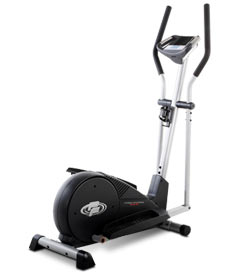 Upper body workout
10 resistance levels
8 programs
LCD display console
Hand grip pulse monitor
Magnetic resistance
Cool Aire fan
Warranty: 90 days
As you can tell, this is as plain as it gets. You aren't getting much, but it's functional.
What's Word on the Street?
UPDATE:  The ProForm 320 has been discontinued and isn't being sold anymore.  You can see all of the newest models available here.
The company doesn't make any ellipticals like this anymore.  All of their traditional models are about $599 and above.
If you want to stay in this price range you can check out their Hybrid Trainers, which are half elliptical machine and half recumbent bikes.  The base model runs around $399 when it's on sale.
If you can, try to push your budget over $500, as this will give you access to better machines with much more capability.  As a general rule when it comes to elliptical trainers for your home, the more you're able to spend the happier you will be with your purchase.
Trainers have consistently expressed their disapproval of this model.
Because ICON Fitness owns the company, some of the more expensive models have benefited from the innovations of ICON's development team, but the Proform 320 hasn't reaped any benefits.
It's a lightweight elliptical machine that wobbles and professionals don't feel it's safe or efficient.
People who have purchased the Proform 320 elliptical machine complain about how loud it is, which is bizarre since they tout the Silent Magnetic Resistance system.
Plenty of consumer reviews tell you that you can't use it and listen to music, watch television or even shout a conversation on this elliptical trainer.

ProForm 320 Review - Final Thoughts
Proform has its place in the industry – they have produced some acceptable elliptical trainers under the $1,000 mark. This $299 model isn't one you should consider, though. It's poorly put together and shimmies apart quickly.
With a paltry 90 day warranty, you'll run into repair bills and lots of upkeep that wind up making your Proform 320 elliptical machine a surprisingly expensive (and seldom-used) dust catcher.
Look at the higher end models in the lineup, and also compare them to those offered by their sister company NordicTrack.  There are some nice options in the $500-1000 range that might just be a better option for your home gym.