The ProForm Carbon E7 - Free Elliptical Trainer?

The ProForm Carbon E7 is one of the newest ellipticals in the company's lineup, joining the also relatively new EL and EX. These three machines make up the latest entry level series, replacing the popular Endurance Series trainers that were recently discontinued.
As of this review, ProForm was offering the Carbon E7 for free with a 3 year iFit membership, as part of their push to promote their interactive workouts. Although you are locked in for 3 years, the fact that the elliptical itself is free is pretty cool.
At any rate, let's get into it to see what this new cardio machine has to offer.
What You Get
The Carbon E7 is a relatively compact elliptical with stationary and moving handlebars. It's mostly black with gray accents.
Let's take a look at the most important specs...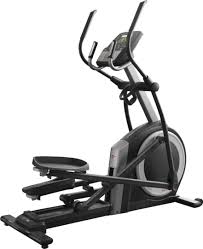 SMR™ silent magnetic resistance

24 digital resistance levels

25 lb. inertia enhanced flywheel
19" power adjustable stride
7" Smart HD touchscreen display

iFit® enabled
0-20 degrees adjustable incline
Adjustable, oversized pedals

Dual 2" speakers

10 year frame, 2 year parts and 1 year labor warranty

The Word On the Street
UPDATE: As of our latest review it looks like the Carbon E7 was replaced by the all new Carbon E10. Check out that review for a comparable model.
---------------
As we mentioned above, the Carbon Series replaced the Endurance Series in late 2020. Those ellipticals, which included the 520E, 720E and 920E, were quite popular, so we're not sure why exactly ProForm phased those out. Perhaps they thought Carbon was a more exciting name than Endurance...who knows?
At any rate, the Carbon E7 is at the higher end of the new entry level lineup, replacing the previous top of the line 920E. The specs on both are similar, with some noticeable upgrades.
The push at ProForm and their sister company NordicTrack these days is their iFit program, which is an immersive workout experience giving you access to endless workouts, experienced personal trainers, Google maps, tracking and sharing and a whole lot more.
iFit is a subscription based program, so you pay monthly or yearly to tap into all that it has to offer. ProForm currently offers it for free for one year on some of their cardio machines, while others, like the Carbon E7, actually come free when you sign up for 3 years of iFit.
It's an interesting proposition...although you are paying roughly the cost of the machine for the membership, you're getting the elliptical essentially for free...so it's a pretty good deal.
The Carbon E7 is chock full of great features and capabilities. On top of the awesome iFit workouts, you get a 7" Smart HD touch screen, missing on the mid-range Carbon EX and the base ProForm Carbon EL.
You get a generous 19" power adjustable stride, 24 resistance levels and even incline capability up to 20 degrees, something you just don't find often, especially on comparably priced ellipticals.
This allows you to really ramp up your workouts, and through iFit the machine actually adjusts the inline and resistance automatically to match the workout you've selected. That's a really cool feature.
Beyond the workout, additional features include adjustable oversized pedals, soft grips, workout fan, bottle holder, speakers, leveling feet and transport wheels.
As far as entry level ellipticals go, the ProForm Carbon E7 really has it all, and you'll be hard pressed to find all of these features elsewhere for the less than $1,500 price tag.
How Does the Carbon E7 Compare to the Other ProForm Ellipticals?
The ProForm Carbon E7 is the top model in the Carbon Series, as we discussed above. Let's take a look at the entire ProForm elliptical lineup to see how it compares to the others...
The cheapest ellipticals offered by the company are the Hybrid Trainers, which combine an elliptical with a bike for a 2-in-1 workout. These are very basic machines for light usage. They used to have three different models to choose from, and now it appears there's just one left.
You then have the Carbon Series, the entry level traditional ellipticals. Here's a quick overview so you can see the difference between the three models:
ProForm Carbon EL- You get a 19" stride, 20 degrees of incline, 18 resistance levels, 15 lb. flywheel, a 5" LCD display and a 300 lb. max user weight.
ProForm Carbon EX - You get a 19" stride, 20 degrees of incline, 20 resistance levels, 20 lb. flywheel, a 6" LCD display and a 325 lb. max user weight.
ProForm Carbon E7 - You get a 19" stride, 20 degrees of incline, 24 resistance levels, 25 lb. flywheel, a 7" Smart HD display and the same 325 lb. max user weight as the Carbon EX.
As you move up in the Carbon Series lineup you get a little more of everything...resistance levels, flywheel weight, screen size and max user weight.
Moving up in the lineup you get to the popular Pro Series, which includes the Pro 9.9, 12.9 and 16.9. These are the most advanced traditional ellipticals that ProForm offers, with more durability, longer strides, more resistance levels and heaviest flywheels.
If you're going to use your elliptical regularly, or there will be multiple people using the machine, a Pro Series model is probably a better choice than a Carbon Series if you can swing the additional cost.
Along with the Pro Series there is a HIIT Trainer Series, which is sort of like an elliptical and a stepper in one, similar to the Bowflex Max Trainer. There's a Carbon HIIT H7 and a more advanced Pro HIIT H14, with 10" vertical elliptical strides and heavy 30 lb. flywheels.
Like the Hybrid Trainers, these are not traditional ellipticals, but may appeal to you depending on your workout preferences.
So to sum up, starting from the bottom you have the basic Hybrid Trainers, followed by the Carbon Series, then the Pro Series, then the HIIT Trainers.
The Carbon Series and Pro Series are currently the only traditional ellipticals, so if that's what you're looking for take a closer look at those options.
If you want something different, consider the Hybrid Trainers and HIIT Trainers.

Which ProForm Elliptical Should You Choose?
It really comes down to what you're looking to achieve and what your budget is.
If you want something super basic that gives you a bike and elliptical together, take a look at the Hybrid Trainer.
If you're looking for a compact traditional elliptical that won't break the bank, the Carbon 7 and the rest of the Carbon Series are definitely good choices for your home gym.
In the Carbon Series we like the Carbon 7 best, as it's just packed with great features and you also get the touch screen console that the EL and EX don't have.
If you want something a bit sturdier for heavier use, then the Pro Series is the way to go for sure. For about $400-$600 more than the Carbon Series ellipticals, you get a lot more in terms of stride, resistance levels, flywheel weight and overall feel.
In the Pro Series we like the Pro 12.9 the best, as you get the touch screen display here too, it's just smaller than the one on the Pro 16.9. Otherwise this mid-level model is nearly identical to the pricier one.
If you want more of an elliptical combined with a step machine, consider the compact HIIT Trainers. There we like the Pro HIIT H14, again because of the advanced touch screen technology.
As of the writing of this review the Hybrid Trainer is around $599, the Carbon Series is $799 to $1400, the Pro Series is $1299 to $1699 and the HIIT Trainers are $1400 to $1699.
So consider what your budget is first and then figure out which model is in your price range. If your budget is a bit more open we recommend one of the more advanced Pro Series or HIIT Trainer models.
Final Thoughts on the ProForm Carbon E7
If you're in the market for a compact, affordable elliptical that's packed with great features and capabilities, then the Carbon E7 is definitely worth a look.
You get tons of workouts through iFit, plenty of resistance levels, incline capability and an intuitive Smart HD touch screen.
With or without the free 3 years of iFit family membership, it's worth the sub $1500 price tag, as you rarely get all that the Carbon E7 has to offer at that level elsewhere.
If you want to save a little money look at the other two Carbon Series ellipticals, and again, if you want something a bit more advanced consider the popular Pro Series...these ellipticals take training to a whole new level, yet are still quite affordable.