The New NordicTrack C 12.9 Review - A Solid Elliptical Trainer
The NordicTrack C 12.9 is a new elliptical trainer introduced a short while ago, joining the other members of the company's front-drive series: the C 7.5, C 9.5 and top of the line Commercial 14.9.
It's a very affordable model with some great features and capabilities, and definitely worth a look if you're in the market for something a bit more advanced than an entry level elliptical.
Let's dive into our review to see what this one is all about....
C 12.9 - What You Get
The C 12.9 has a 7" web-enabled touchscreen, so in addition to checking all of your workout stats such as distance, calories, time and incline you can watch videos, chat with your friends or check your social networking pages.

Here are some of the most important specs....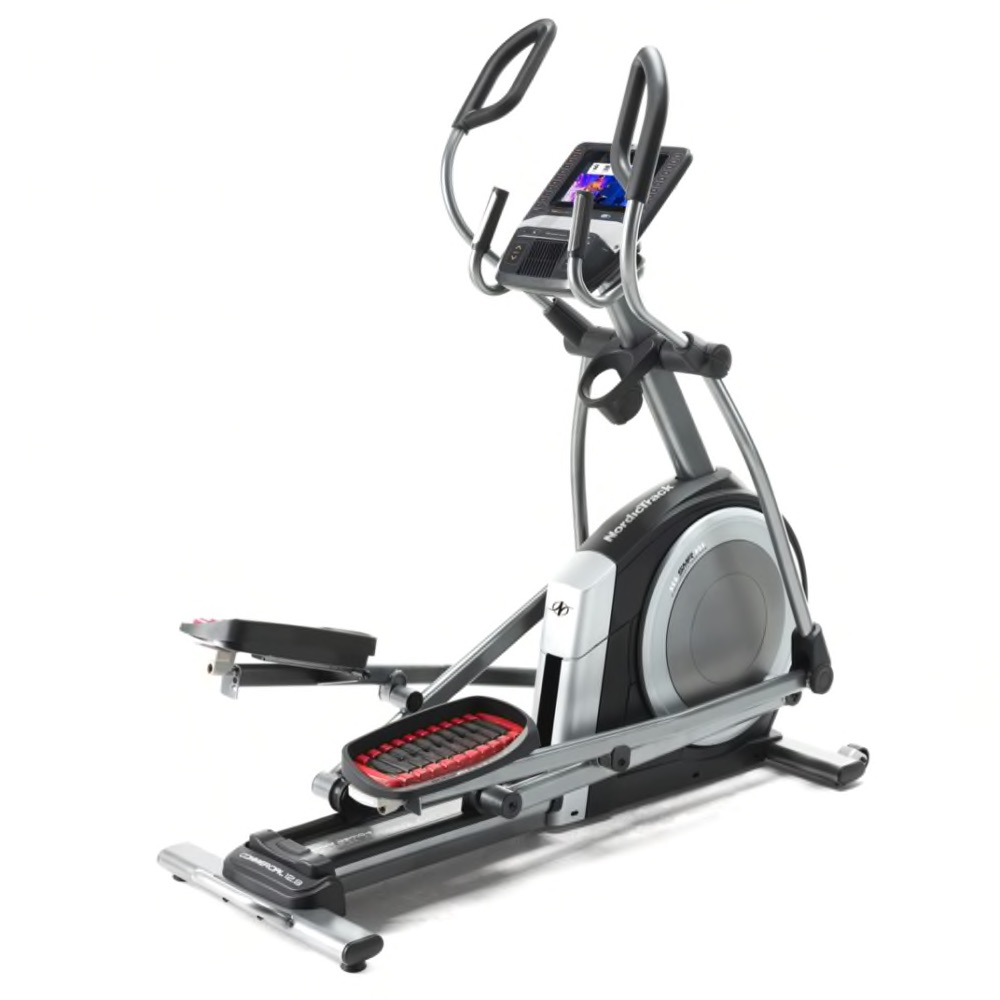 Front driven flywheel mechanism 

7"color, Smart HD web-enabled touchscreen
iFit® Coach enabled (tracking, training, maps)

26 resistance settings using SMR® technology

35 workout applications

0-20 degrees power incline
AutoBreeze workout fan

Music dock and speakers

18-20" power adjustable stride
Wireless heart rate strap included
Lifetime frame, 5 years parts and 2 years labor warranty
375 lb. Max user weight 

What's the Word on the Street?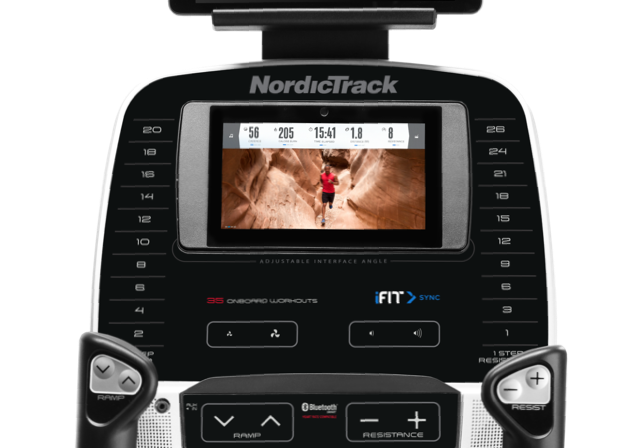 NordicTrack introduces new models very often, and discontinues others that were recently introduced.  So it can get a little confusing after a while as often you'll see an elliptical for sale one day, and the next day it is no longer available.
Still, the company does try to give you as much as possible without charging a lot, so we can forgive them for making it difficult for us to keep track of the current lineup. :)
The C 12.9 has been well received so far, and it does give you a lot of features for the money.  
As we mentioned, there are three other models in the series:  the base C 7.5, the C 9.5 and the top-end Commercial 14.9.
In addition to the web-enabled touch screen, updated for 2018, you get an 18-20 inch power adjustable stride, 26 different resistance levels, up to 20 degrees of incline and 35 built in workout apps.  
That's a lot of capability that you simply don't get elsewhere.
One of the most popular features is something called iFit Coach, which is an ICON Fitness exclusive that gives you even more professionally designed workouts, personal training, tracking/sharing capability and Google map integration to simulate working out anywhere in the world.
The latest version of iFit Coach gives you GlobeTrek workouts, which are point of view immersive training at various locations worldwide led by top trainers and LiveCast studio, which puts you right in the gym with fellow iFit users, training hard to reach your fitness goals.
Other companies have come out with similar interactive programs, but iFit remains the most comprehensive and entertaining.
The NordicTrack C 12.9 is also the only elliptical besides the up-level Commercial 14.9 to feature a free wireless chest strap for more accurate heart rate readings.  
This is a nice touch usually reserved for more expensive machines, and something that really helps keep you in your ideal zone.  It also has a heavy 32 pound flywheel, an upgrade from 25 on the C 9.5.
Other nice features mentioned in most reviews include music compatibility with good sound coming out of the dual 2 inch speakers, an AutoBreeze workout fan that syncs to the intensity of your workout, easy one-touch adjustments and an adjustable tablet holder.
How Does The C 12.9 Compare to the Rest of the NordicTrack Ellipticals?
As we mentioned above, there are a lot of NordicTrack ellipticals, so it's often quite difficult to decide which one to choose.  
Other brands make it easier, as all of their ellipticals are similar and there are fewer to choose from.  NordicTrack has something for everyone, and as such there are a lot of options.
The C 12.9 is one of four ellipticals in their front drive series.  So the best comparisons you can make are to the other front drive models, which include the C 7.5, C 9.5 and Commercial 14.9.
The front drive series ranges in price from $799 to $1499, so if price is a consideration it's easier to decide which one to choose.  
The C 7.5 is your entry level model, with a backlit display, 19" stride, 20 lb. flywheel, 22 resistance levels and 26 built in workouts.
The C 9.5 is a step up from the C 7.5, with a 7" Smart HD touch screen, 25 lb. flywheel, 24 resistance levels and 32 built in workouts.
The C 12.9 is a step up from the C 9.5, upping the stride an inch to 20", with a 32 lb. flywheel, 26 resistance levels and 35 built in workouts.  You also get a free Bluetooth chest strap for wireless heart rate monitoring.
Lastly, the top end Commercial 14.9 gives you all of the same features and capabilities as the C 12.9, but with a 10" Smart HD touch screen instead of the 7".
So the NordicTrack C 12.9 is very similar to the Commercial 14.9, except it has a slightly lower max weight capacity and a smaller touch screen display.
Which C Series NordicTrack elliptical should you choose?  
It really depends on your needs.  If budget is tight, the entry level C 7.5 is just fine for basic training.  
If you're a little more open, or want something more advanced, the C 9.5 and C 12.9 are great choices as they add a touch screen console with web capability, a nice addition that makes your training more enjoyable.
If you just want the most advanced model in the series, then by all means consider the Commercial 14.9 with its high weight capacity and large touch screen.
Our favorite model in the front drive series is the C 12.9 though, as it gives you everything you need for a great workout and is sturdier and smoother than the C 7.5 and C 9.5.  
Although the 10" Smart HD touch screen is very cool on the Commercial 14.9, the 7" one on the C 12.9 is ample enough that you don't need to pay the extra $200 or so.
What about comparing the C 12.9 to the other NordicTrack ellipticals?
That's a hard comparison to make.  The FreeStride Trainers, ACT Commercial models and rear drive SpaceSavers are all very different, so it's really not an apples to apples comparison.
If you like the idea of a front drive elliptical, then stick with the C Series models.  
If you think you might enjoy a rear drive or mid drive machine, you can learn more about those on our main NordicTrack review page.
NordicTrack C 12.9 Review - Bottom Line
The C 12.9 looks like a nice addition to the front drive elliptical series, with some great features and capabilities to keep you excited about your workouts.
You get power incline, a lot of built in workouts, plenty of resistance levels plus iFit Coach to take your workouts to the next level.  You'd be hard pressed to find all of that for under $1500 elsewhere.
Also consider the C 9.5 for a few hundred less, but the 12.9 has it beat in many areas.  You can also look at the top of the line Commercial 14.9, but besides a larger touch screen it doesn't have that much more to offer.
The NordicTrack C 12.9 elliptical offers a lot of value...a very good choice for your home gym that has plenty to offer.