NordicTrack Commercial 9.9 - New Front Drive Elliptical
The NordicTrack Commercial 9.9 is one of the newest ellipticals in the lineup, recently replacing the popular Commercial 9.5 model. With an affordable price tag and tons of features and capabilities, it's a great choice for the home gym.
Let's jump into our review to see what this front drive elliptical trainer is all about...
Commercial 9.9 - What You Get
The Commercial 9.9 comes with a 7" Smart HD touch screen display so you can see all of your workout stats right in front of you and tap into all of the features of iFit, NordicTrack's exclusive interactive workout experience.

You have power adjustable stride, up to 20 degrees of power incline, professionally-developed built-in workouts to choose from and 22 resistance levels.
You also get iFit technology built right into the machine, which gives you access to tons of additional workouts, tracking and sharing capability and Google map integration to workout anywhere in the world.
Here are the most important specs...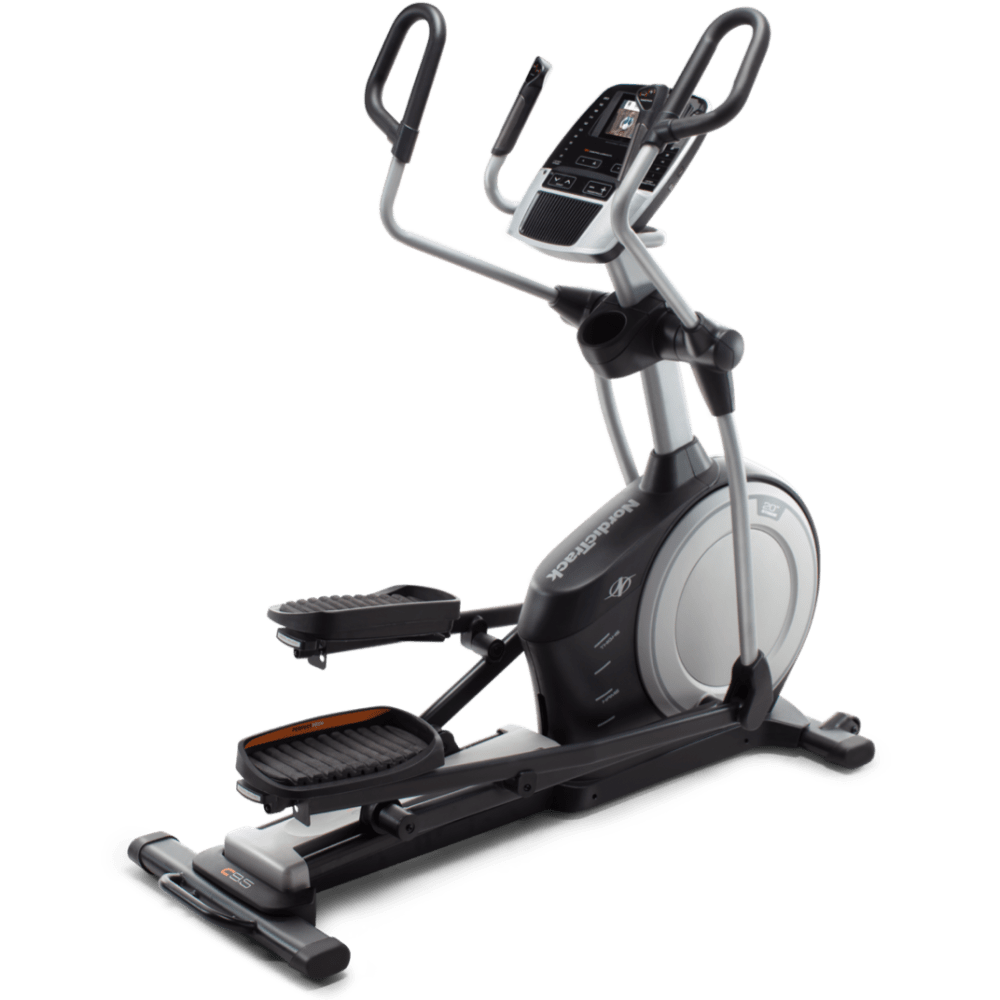 Front driven flywheel mechanism 

7"color, Smart HD full touch screen
iFit® enabled to track your workouts

22 resistance settings using SMR® technology

Built In workout applications

0-20 degrees power incline
AutoBreeze workout fan

25 lb. flywheel

Power adjustable stride length
Adjustable, oversized pedals
10 year frame, 2 years parts and 1 year labor warranty
350 lb. Max user weight 

What's the Word on the Street?
As we mentioned, the model that the new Commercial 9.9 is replacing, the C9.5, was quite popular, and as such NordicTrack kept all of the best features in place.
You still have the awesome 7" Smart HD touch screen, the power adjustable stride, the 20 degrees of power incline and the wide range of resistance levels.
You also still have iFit, as all of the NordicTrack ellipticals and treadmills do, which gives you an endless library of workouts ranging from beginner all the way up to advanced training. You can pick the classes that fit your fitness level and goals.
As of this writing iFit was included for free for a year, after which you have to pay a yearly membership free. But with all of the powerful tools at your disposal, it's well worth it in our opinion.
For an entry level model, the Commercial 9.9 has a ton of capability. You can adjust the stride with a touch of a button to get the perfect length for your workout. The pedals are large and cushioned, so your workout is comfortable and you can train for longer periods of time.
You get incline capability as well, which you don't always find, especially on lower priced ellipticals. All of the front drive models, including the mid-range Commercial 12.9 and top of the line Commercial 14.9, come with 20 degrees of incline, 5 more than most ellipticals.
You also get a number of resistance levels to choose from: there are 22 different levels that you can also adjust digitally like the incline. You can start off easy and raise it up as you get more comfortable on the machine.
Some of the other nice features include an AutoBreeze workout fan, soft touch grips, Bluetooth audio, 2 speakers, water bottle holder and front-mounted wheels for easy transportation.
One thing to note is that the warranty is not as strong as the one on the previous model. The C 9.5 had a lifetime frame warranty...the new Commercial 9.9, despite all of its enhancements, has a 10 year warranty. We're not sure why they couldn't maintain that same coverage.
Thankfully, NordicTrack ellipticals have a good track record as far as longevity is concerned, so the Commercial 9.9 should last a long time.
Overall, the buzz is positive on this new model and users are happy with all of the updated features and streamlined redesign.
How Does the NordicTrack Commercial 9.9 Compare to the Other Ellipticals in the Lineup?
As we mentioned, the Commercial 9.9 is the current base model in the front drive series, joining the Commercial 12.9 and 14.9 ellipticals.
They are all very similar, and share most of the same features, but as you move up in the lineup you get a little more.
The mid-range Commercial 12.9 gives you a larger 10" Smart HD touch screen,  more resistance levels, more workouts and a heavier 30 lb. flywheel.
Te top of the Commercial 14.9 is very similar to the C 12.9 but with a 14" touch screen, even more resistance levels, more workouts and a 32 lb. flywheel.

The Commercial 12.9 and Commercial 14.9 run about $1,499 and $1,999, respectively. The new Commercial 9.9 is around $1,299 on sale.
So which front drive NordicTrack elliptical should you choose?
Deciding between the Commercial 9.9 boils down to your budget and your needs/wants.  
If budget is a major concern, stick with the Commercial 9.9, as it is packed with features and it's one of the least expensive NordicTrack ellipticals.

If you want something more advanced and something that will stand up to heavier use take a look at the Commercial 12.9 and Commercial 14.9.
What about the other NordicTrack ellipticals?  
In addition to the Front Drive Series there are also the FreeStride Trainers and the Rear Drive Space Saver ellipticals. Each series has its pros and cons, so it's worth looking at the specs of each to figure out which one works best for you.
If you think you might prefer a rear drive or a mid drive elliptical, check out our main NordicTrack elliptical reviews page to learn more about the different types that the company offers.
NordicTrack Commercial 9.9 Review - Bottom Line
If you're in the market for a competitively priced elliptical with a lot of capability, the NordicTrack Commercial 9.9 is definitely one to look at.
You'll be hard pressed to find a trainer with as many features, especially under $1,500. You get a touch screen display, tons of workouts through iFit, incline training, plenty of resistance levels, one touch controls, oversized pedals, power adjustable stride and a whole lot more.
We would have loved to see that lifetime frame warranty, but with everything else the Commercial 9.9 has to offer, we'll let that slide for now.
If you want a bigger touch screen, more resistance levels and a machine that can handle a bit more, take a look at the Commercial 12.9 and 14.9 as well. You can't go wrong with any of them.