NordicTrack FreeStride Trainer FS7i Review - Great Overall Elliptical

The NordicTrack FreeStride Trainer FS7i is one of the best elliptical machines on the market today, consistently ranking on the top of our rankings.
It has an adjustable stride up to an impressive 32", allowing you to choose whether you want a stepper, an elliptical or a treadmill workout...you have total freedom of movement to target all different muscle groups.
With loads of built in workouts, an impressive touch screen display and personalized iFit coaching and training, this is one of the best cardio machines you can buy for your home.
Let's get into our FS7i review to see what it is all about….
FS7i - What You Get
The floating suspension gives you the sensation of working out mid air, which is something you don't typically experience. It's about as close to zero impact as you can get. 
You get a bright, 7" Smart HD color touchscreen, so you can access all of your workouts and stats quickly and easily.
The machine is center drive, as opposed to front or rear, which means it takes up a lot less space in your home gym...plus you're centrally located as you work out which helps with balance and stability.

Here are the most important FS7i specs…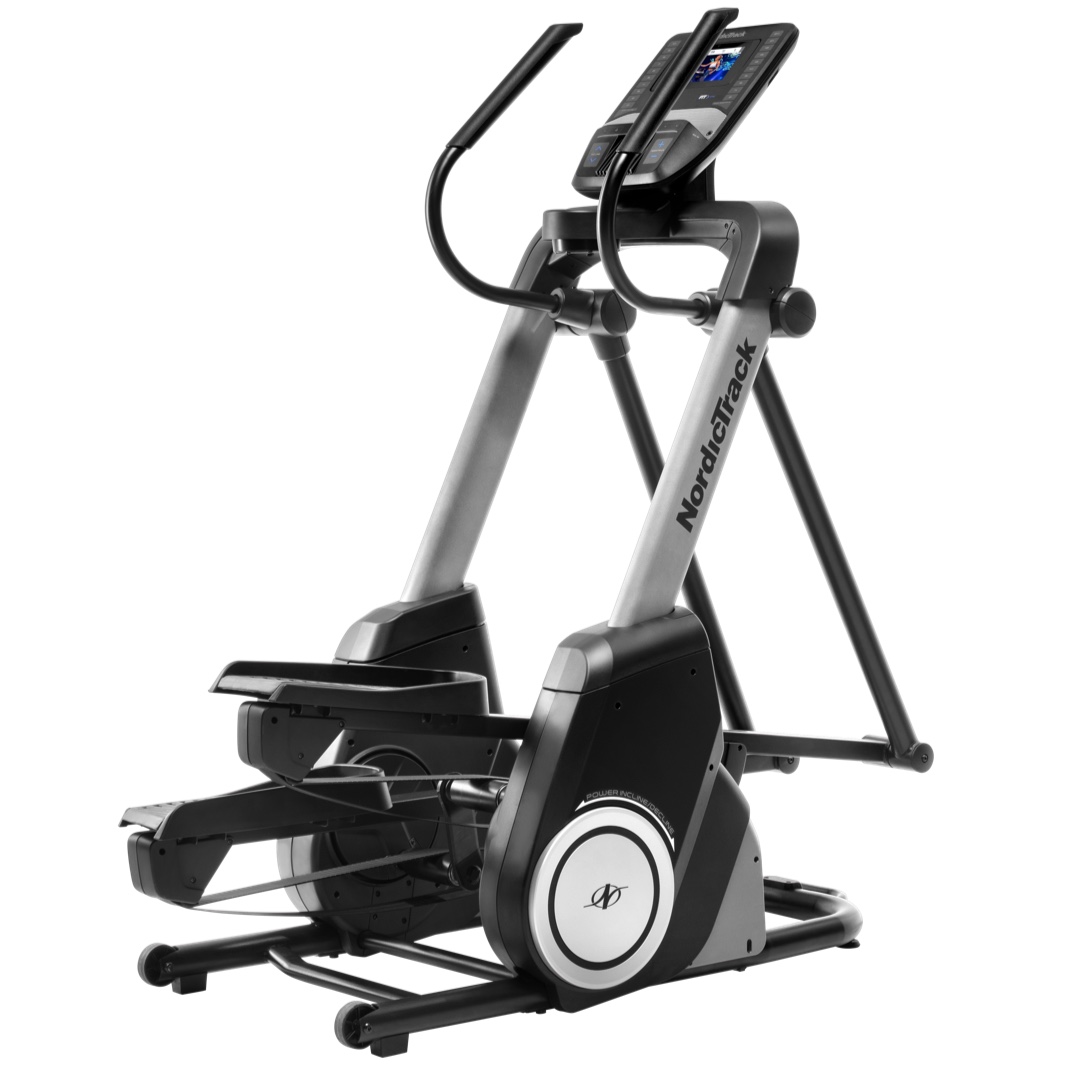 7" color Smart HD touchscreen

Stride auto adjustable up to 32 inches

Innovative Floating Suspension

iFit Enabled
10% power incline capability

24 resistance levels
35 built-in workout apps

Music port and speaker system
AutoBreeze Workout Fan
Adjustable cushioned pedals

10 year frame, 2 years parts and 1 year labor warranty 

What's the Word on the Street?
UPDATE: In mid-2020 the FS7i was discontinued and replaced with the all new NordicTrack FS10i elliptical trainer. Check that one out to see if it's the right choice for your home gym!
The NordicTrack FreeStride Trainer FS7i has received great reviews since it was first introduced a few years ago.  
Although the series is more expensive than some of the traditional ellipticals, the fact that you get a treadmill, a stepper and an elliptical in one compact machine really justifies the price.
How does it work exactly?  
With the 32" adjustable stride (same as on the base FS5i elliptical which may be phased out shortly) you can set it at the lower lengths to create the shorter, choppier feel of a stepper machine.  
At the middle lengths the motion is like a traditional elliptical trainer.  
At the longer lengths your stride is completely opened up, similar to how it would be if you were jogging or running on a treadmill.
So the FS7i gives you all of that capability, along with adjustable resistance and up to a 10% power incline to diversify your workouts even more.
Expert reviews tend to focus on the fact that these machines are quite sturdy, with a 375 lb. max weight capacity and a large number of workouts to choose from.  
Plus, with iFit, you have access to a host of additional trainer-created programs, tracking capability and Google map integration to run anywhere in the world. 
(A small yearly membership is required...but it is well worth it for all that it offers. Note that throughout the year NordicTrack offers FREE iFit with purchase. Look out for those special deals.)
The floating suspension is another aspect that experts and users like, as the pedals ride on belts rather than rails, which gives you the feeling that you are floating while you train...with almost no impact whatsoever.
The FreeStriders are fantastic machines, and the FS7i probably offers the best value of all of the models.  
If you're interested in decline as well as a bigger touch screen take a look at the up-level FS9i model, which you may find even more appealing.
There's a new FS10i model and a top of the line FS14i that is the latest addition to the FreeStrider series. Take a look at that one as well.
How Does the FS7i Compare to the FS9i, FS10i & FS14i Free Striders?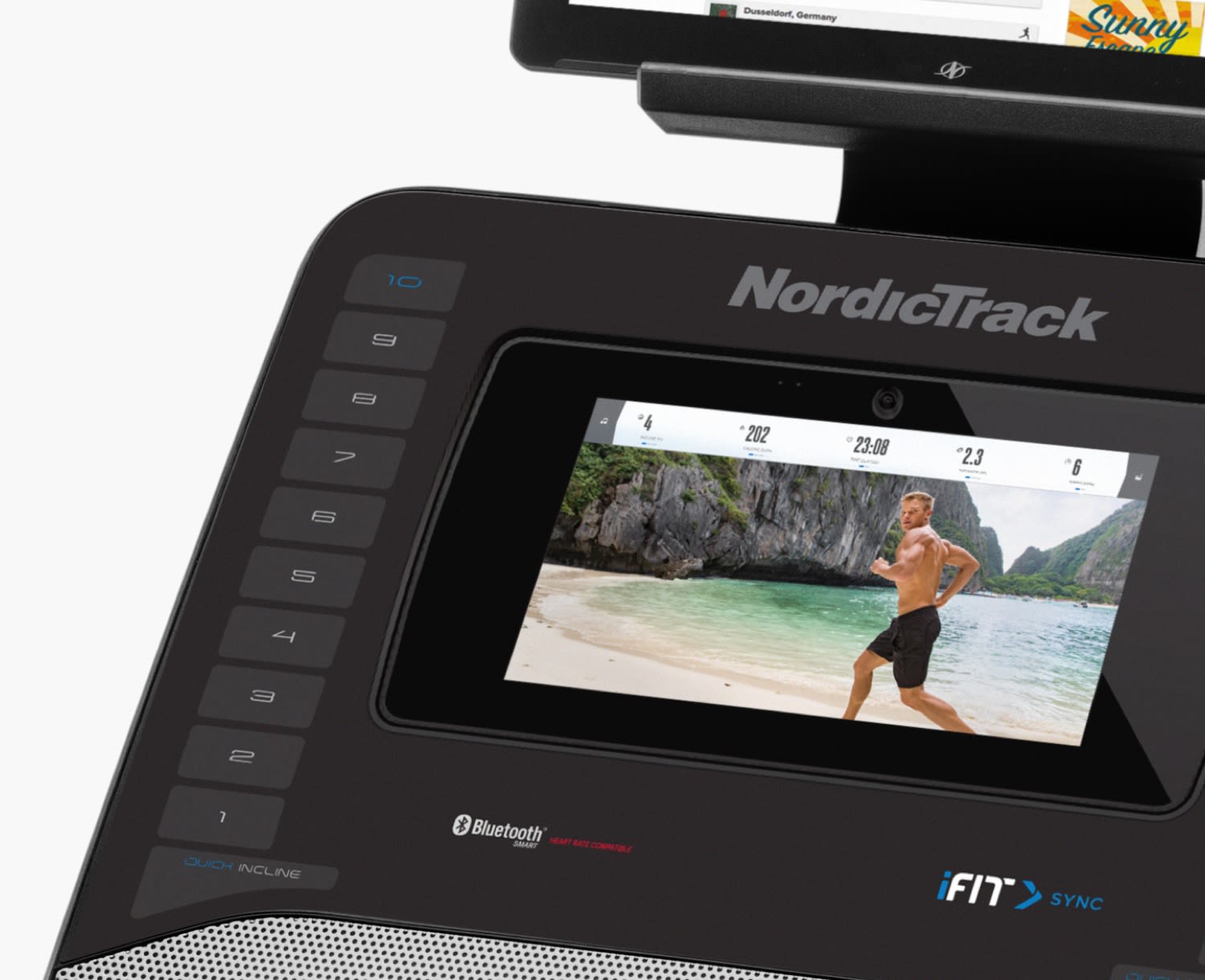 All of the NordicTrack FreeStride Trainers provide the same smooth, natural, walking on air feeling, making them the ultimate elliptical machines.
The FS7i is definitely the most popular of the series, because it has the perfect combination of features and capabilities for the price.  
It is also one of our Best Buy picks for overall ellipticals for home use for that reason.
The FS7i comes with a 7" Smart HD touch screen, 24 resistance levels, 10% power incline and higher max weight capacity, as well as 35 built in workouts.
The jump up to the FS9i doesn't give you too much more than you already have on the FS7i. 
You do get a larger 10" HD screen, a few more workouts and resistance levels, and decline capability. Those are all nice upgrades, but you have to decide if it's worth the additional price increase from the FS7i to the FS9i.
The new FreeStride Trainer FS10i is similar to the FS9i, yet it doesn't have decline capability for some reason. So we're not sure it's worth buying that one either at the moment.
Then you have the FS14i, which has a 14 inch Smart HD touch screen and the same decline capability as the FS9i.
In our opinion the FS7i is the best choice of the three, but any one of them will give you a really great workout. Check them all out and see which one most appeals to you.
NordicTrack FS7i Review - Bottom Line
The NordicTrack FreeStride Trainer FS7i is a solid choice if you're interested in a machine that goes beyond the traditional elliptical to give you additional workout options to target all of the different muscle groups effectively.
On top of the three in one capability, you get incline, a lot of workouts, a free wireless chest strap for accurate heart rate monitoring, oversized cushioned pedals and easy assembly.  
This is why we chose it as our top overall pick.
If you are also interested in decline capability take a look at the up-level FS9i and FS14i models. Also look at the newest member of the lineup, the FS10i, to see if that appeals to you.