The NordicTrack FreeStride Trainer Review - Ultimate Elliptical For Your Home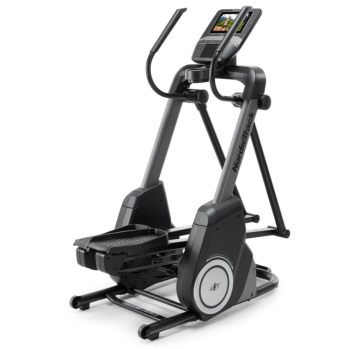 The NordicTrack FreeStride Trainer is unlike any other elliptical on the market today, and very different than the rest of the company's lineup.  
It has quickly become one of their biggest sellers due to its unique combination of features and capabilities.
If you're looking for a great all around elliptical trainer for your home, with a generous stride length, compact size, plenty of workouts and your own personal trainer right there with you, one of the three FreeStride trainers is a very good choice.
What are the FreeStride Trainers All About?
The FreeStride Trainers are designed to give users more freedom than they have on most other elliptical machines on the market today.  
They are essentially three different machines in one: a stepper, an elliptical and a treadmill, as you can choose your own stride length and make adjustments without having to get off the machine or press a button.
This freedom of movement is what separates the FreeStride Trainers from the rest of the pack, and why many runners actually choose these machines instead of treadmills for their indoor training.
The unique experience starts with the floating suspension, which feels like you are working out mid air.  
Rather than being forced to follow a certain elliptical motion like on most machines, here you decide if you want to do short, choppier motions like on a step machine, a mid length elliptical pattern or an all out sprint like on the treadmill.
The machine adapts to your stride, however short or long it is, and there is almost zero impact on your knees and joints, another added bonus.
The FreeStride Trainer series is also very compact, a good 15-20" shorter than a typical elliptical, which makes it ideal for the home gym setting, where space is often a major concern.
And as with all of the NordicTrack ellipticals, you get an endless amount of features to keep you motivated and entertained: at least 32 built in workouts, over 22 resistance levels, iFit interactivity, music port, speaker system, heart rate monitoring, workout fan and easy touch controls.
Let's take a closer look at the entire series so you can see what your options are.
The Current NordicTrack FreeStriders
As of 2023 there are only two NordicTrack FreeStride Trainer models to choose from, down from four last year: the FS10i and the top of the line FS14i. The FS7i and FS9i were recently discontinued.
They range in price from about $1,799 to $2,499 on sale, which may sound like a lot but is actually quite reasonable for all that you are getting.
Here's a brief overview of the FreeStride Trainers...
FS10i (Base Model)

The new FS10i replaced the previous FS9i with a completely new design and added functionality.
You get an auto adjustable stride up to an impressive 32", a 20-lb. flywheel for smoother performance, a 10" Smart HD touch screen display, 24 resistance levels, up to a 10% incline and a 375 lb. maximum user weight capacity.
FS14i (Top-of-the-Line Model)

The newest member of the lineup is the FS14i, which gives you all of the features of the FS10i FreeStride trainer, with a larger 14" touch screen, 26 resistance levels, and decline capability to -10% on top of the incline.
Otherwise, the FS10i and FS14i are very similar.
Here are some of the recently discontinued models that you might come across...
Discontinued Models
FS5i (Base Model)
The entry level FS5i elliptical comes with a power adjustable stride up to 32", a 16 lb. flywheel, 22 resistance levels, 32 built in workout programs,   cushioned pedals, iFit Coach, a 7" backlit display and a 350 lb. max weight capacity.
You get a lifetime frame warranty, 5 years on the parts and 2 years labor, one of the strongest elliptical warranties you will find.
FS7i (Base Model)
The base FS7i is the most popular model in the series, and it improves upon the recently retired FS5i in various categories.
The FreeStride Trainer FS7i comes with a power adjustable stride up to 32", a 20 lb. flywheel, 24 resistance levels, 35 built in workout programs,  a 7" Smart HD touch screen display and a 375 lb. max weight capacity.
You also get up to 10 degrees of power incline (not available on the old FS5i) along with a host of other features and capabilities.
FS9i (Mid-Level Model)
The FS9i FreeStride Trainer gives you everything the FS7i has, plus a larger 10" Smart HD touch screen, free wireless heart rate monitor, 26 resistance levels and 38 built in workouts.
The FS9i has decline capability on top of incline.  You can adjust the ramp from -10 degrees up to +10 degrees to target more muscle groups and enhance your cardio burn.

Our All Ellipticals Expert Opinion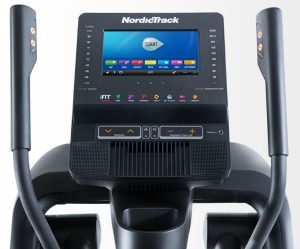 We have been big fans of the NordicTrack FreeStride Trainers since their introduction several years ago.  
Although they do take some time to get used to, as they are very different than the typical elliptical motion, we find the fact that you can choose your own pattern very enjoyable.
Most ellipticals have fixed strides of 20", which is ample for most users, but you need to stay in that exact pattern throughout your workout.  Having the ability to change that stride on the go gives you a lot of freedom, allowing you to target more muscle groups in the legs as well and go from a step machine to a treadmill and everything in between on one machine.
So compared to a traditional elliptical, the FreeStriders give a wider range of motion as well as less impact with their floating suspension.  
They also compare favorably to other hybrid machines like the Bowflex Max Trainer, as that machine only gives you a stepper/elliptical combination.  You can't stretch out up to 32" like you can with the FreeStride Trainer.
So the Max Trainer is essentially two machines in one....the FreeStride Trainer gives you three.
The workout itself is very effective...you get a wide variety of built in programs and you can choose from an endless library of additional workouts through the company's iFit.  
This requires a yearly fee, which is sometimes included in the price, and gives you access to personal trainers, worldwide destinations, in-gym classes and nutrition recommendations, as well as the ability to track and share all of your workout results.
Along with the workouts and iFit, you get a wide range of resistance levels to make everything more challenging, incline on the FS10i, incline and decline on the FS14i, and plenty of entertainment features.
So the FreeStride Trainer series is pretty much the best that NordicTrack has to offer, and these machines will give you the most effective, complete workout of all of the machines.
Which of the FreeStride Trainers Should You Choose?
Along with being the best ellipticals that NordicTrack offers, they are also the most expensive.  So the first thing to figure out is if it is within your budget.
As we mentioned, the base FS10i costs around $1,799, so it's the more affordable model  And it has almost all of the features and capabilities that the higher end model has.
Both models have the same 32" stride, which allows you to stretch out and target different muscle groups.

Our favorite NordicTrack FreeStrider is the FS14i as it gives you a much bigger touch screen as well as more resistance levels and decline training capability.
You can see everything unfold right on the machine itself...the iFit training, the Google maps, etc.
And you get the 32" stride to more closely mimic a real run, as well as more workouts and a higher user weight capacity.
What about the FS10i?  Also a great machine, and if you want to save about $800 or so definitely consider that one.
A 10" touch screen is just fine, especially in the home setting....although the 14" screen on the FS14i is pretty amazing! 
So bottom line...we would look at the FS14i first, followed by the FS10i.
You'll be very happy with either model.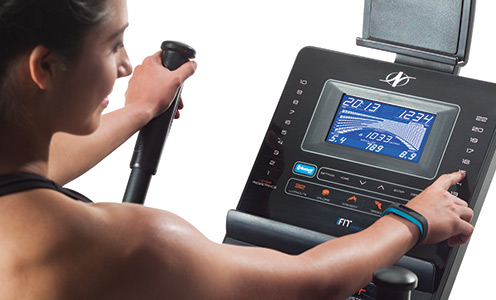 What's the Bottom Line on the NordicTrack FS10i & FS14i?
If you are looking for a solid, compact cardio machine that gives you more than the typical elliptical, then it's very hard to beat the NordicTrack FreeStride Trainer series.
These 3 in one trainers give you just about everything you could possibly want in a home cardio machine: space saving design, open stride, extremely low impact, endless workouts, tons of resistance levels, tracking and sharing capability, iFit, speaker system, workout fan...the list goes on and on.
NordicTrack has special sales throughout the year, so always check back with us as we will let you know about any deals that are currently going on.  They often include free shipping or free iFit for a year on some models, so you can really save a lot money depending on when you buy.
Again, the FS14i is our favorite and actually made our expert's top ellipticals list once again this year.  It's a great all around elliptical, and although it is more expensive than some of the other models that NordicTrack offers, you definitely get what you pay for here.
The FreeStriders have a very strong warranty backing them up which speaks to the company's confidence in their durability.  So you can buy these ellipticals with peace of mind.
Check out this special series and see if one of the NordicTrack FreeStride Trainers is right for your home gym.