What is an iFit elliptical and is it worth buying?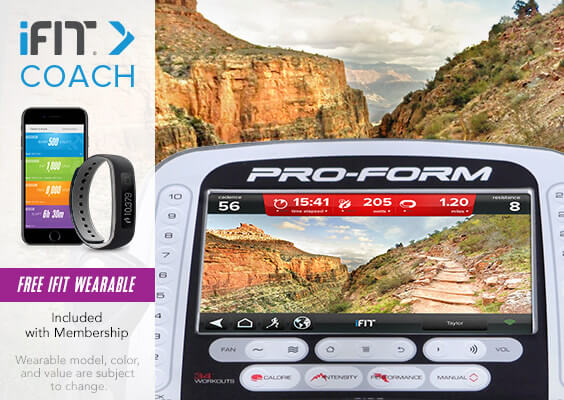 An iFit elliptical is a cardio machine that has ICON Health & Fitness' patented workout programming capability.  It is available to some extent from all of their many brands, but currently only NordicTrack and ProForm have the latest version, called iFit Coach.
Let's take a closer look at iFit to see what it is all about...
An Overview of the iFit Program
With so much competition in the fitness industry, companies are always striving to come up with the next thing that gives them a leg up on the competition.  To this end, ICON Health came up with the concept of iFit, which brings a whole new workout experience to elliptical, as well as treadmill and exercise bike users.
In addition to the various workouts that are built into the machine itself, iFit gives you access to an unlimited library of additional personal trainer designed workouts, as well as nutrition recommendations, workout tracking and sharing, real-time studio training and Google map integration.
You can access this information in two ways.  Some iFit ellipticals, those with touch screens, have the capability built right into the machine.  So the entire iFit interface is right there in front of you.
Check out the latest NordicTrack ellipticals on sale!
Check out the latest ProForm ellipticals on sale!

Other iFit ellipticals, those that are not touch screen, work via Bluetooth, and you can interact with the program with your tablet or smart phone, which rests on the tablet holder attached to the machine.
So you can think of iFit as a comprehensive fitness and lifestyle app that covers every aspect of your health: exercise, wellness, diet and sleep, integrating all of them together to help you reach your ultimate goals.
ProForm and NordicTrack iFit ellipticals are the most popular, and this is where ICON focuses most of their attention.  These are the top selling brands (they also own FreeMotion, HealthRider, Weslo, Weider and Reebok) and only on these machines will you find the very latest versions of the program.
Note that iFit is a subscription based program.  They used to include 1 year for free, but currently there is a monthly or yearly fee to join.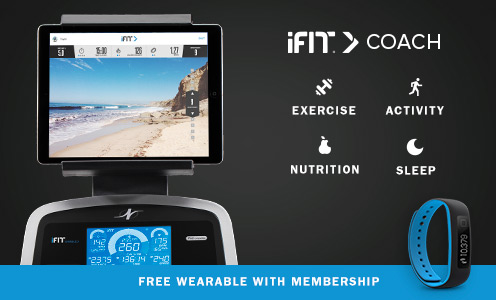 iFit Coach is the Latest Version
There have been a number of iterations of the iFit program over the years, but the very latest version is called iFit Coach, and iFit Coach Plus on some of the higher end elliptical trainers.
With an iFit Coach elliptical, you can select from a group of personal trainers and have them guide you through a selection of workouts.  You can also choose whether you want it in studio, or anywhere else across the world with Google maps (called GlobeTrek Workouts).
Another cool feature is that your elliptical will automatically change its incline and resistance as you workout to match the terrain of the location you choose.
In addition to global workouts, you can enter your fitness goals into the program, and it will create custom workouts and meal plans for you.  It also monitors your sleep and your activity throughout the day.
The iFit program is ever-evolving to include more features and capabilities, so by the time you read this there may be even more that it offers.
iFit Coach is currently found on NordicTrack and ProForm ellipticals only.  The entry level models offer it via Bluetooth and the higher level models offer it right on the elliptical itself.
What are the iFit Costs?
The price of the iFit Coach programs changes often, as ICON Fitness experiments to see what price levels work for most people.  On some machines iFit is required, on others it is an optional add on.  So the cost may be different than what we outline here.
Just to give you a general idea, according to our latest iFit reviews the cost is about $33 per month billed annually when it is optional.  When it is required, it is $39 per month, and is the iFit Coach Plus program.
Sometimes a free iFit wearable is included as well as a set of adjustable dumbbells.  It just depends on the current deal.
Is it worth it?
It may sound like a lot of money but in our opinion an iFit elliptical is worth the additional price, especially if it will motivate you to work out more.  It's kind of like having a personal trainer come to your home, so even if you only use your elliptical 3 days a week, it's definitely worth around $3 per workout.
What are the iFit Coach Ellipticals?
iFit Coach can currently be found on these NordicTrack ellipticals:
NordicTrack
iFit Coach
FS5i, FS7i
C7.5, C9.5, C12.9, Commercial 14.9
SE7i, SE9i
ACT, ACT 7, ACT 10
iFit Coach Plus
FS9i
iFit Coach can currently be found on these ProForm ellipticals:

ProForm
iFit Coach
520E, 720E, SMART 920E
Pro 9.9, SMART Pro 12.9, SMART Pro 16.9
495 CSE, 695 CSE, SMART 895 CSE
All Hybrid Trainer Models 
Both HIIT Trainers
*Note that the SMART ellipticals come with one year of iFit Coach free as of this writing.
Do other brands have similar programs?
There are alternatives to iFit ellipticals from other brands such as Johnson Health & Fitness, Bowflex, Sole and others, but most of them only have one or perhaps two components of iFit, not the entire program.
For example, Johnson Health offers the entry level Horizon and higher end Matrix ellipticals.  Some Horizon ellipticals have ViaFit workout tracking, Passport HD destination videos and Virtual Active on board videos.  Matrix ellipticals have all of those features plus touch screens with various apps.
Sole Fitness has Bluetooth tracking and app syncing.  Bowflex does as well.
But only iFit offers the personal training, Google maps, nutrition programs and sleep monitoring.  Yet the other programs are free with the cost of the machine...iFit Coach is an extra expense.
You don't need iFit to get a good workout, and if you prefer another brand to NordicTrack or ProForm you're not missing out...however, if you do have the opportunity to try iFit you'll definitely fall in love with it.  Working out in any location of your choice via Google maps is worth the price alone in our opinion.
Check out the latest NordicTrack ellipticals on sale!
Check out the latest ProForm ellipticals on sale!
---