The NordicTrack SpaceSaver SE7i Elliptical - Compact Folding Design

The NordicTrack SpaceSaver SE7i elliptical uses rear drive technology and is a great mid-range cardio trainer with a lot of bang for its buck. It has a nice range of features, tons of built in workouts and its slim line design allows you to store it almost anywhere.

What You Get
The SE7i comes with a traditional 5 inch backlit display which allows you to track your calories and workout progress on one easy to read screen. The display being set across a wide platform allows the user to see a visual interpretation of their quarter-mile track as well as keeping tabs on their distance, pulse and time.
The NordicTrack Spacesaver SE7i elliptical has an ergonomic design that has pedals that have been designed to match the neutral stride pattern of the average adult, with oversized pedals allowing you to move your feet closer or further apart. This elliptical also offers a five point stride advantage that allows you to fully customize the feel of your workout. 

SpaceSaver design for easy storage

22 digital resistance levels with OneTouch control

24 built in workouts

Soft touch upper body grips for comfortable workouts

0-10 degrees power incline
Rear drive system with 18lb. inertia enhanced flywheel

5" backlight display

Forward and back moving handlebars
AutoBreeze workout fan

iFit Coach to track and monitor workouts

Music compatible jack to listen to your music

10 year frame warranty, 2 years parts and 1 year labor

The Word on the Street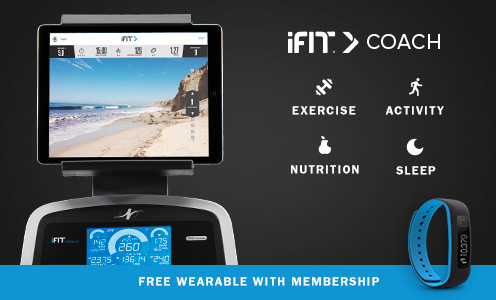 UPDATE: As of summer 2023 it looks like the SpaceSaver rear drive ellipticals were discontinued. Check out our latest NordicTrack elliptical reviews to find an alternative for your home.
--------------------------
Most of the reviews of the NordicTrack SpaceSaver SE7i elliptical are positive with a lot of great feedback relating to its compact design. It's hard to find an elliptical that folds up and can be easily stored so this is why most people rate this trainer positively.
For a reduced price of $1299 on sale from the original $1599 this elliptical packs a great punch.
The newest changes to this one are the enhanced display, two additional degrees of power incline (up to 10 degrees) and the latest version of the company's popular interactive program, iFit.
Using iFit allows users to be able to track real life journeys using Google maps and monitor training which makes the elliptical a lot more user friendly.  You also receive custom meal plans and get sleep tips, so it's really a total health program.  You access iFit via your tablet or phone, and it requires a small yearly fee.
Also being able to plug your music device directly into the unit gives the user a chance to really personalize each workout. The ergonomic design of the pedals is great and many users are able to adjust their feet position to give a comfortable workout.

There are very little negatives to this elliptical but one thing that might bother you is the fact that the SE7i has a very basic display.  If you want something more advanced, with internet capability, consider the up-level SpaceSaver SE9i model.
Also, it has a fixed 18" stride which may not be ideal for very tall users.  If that is you, consider one of the other NordicTrack series models.
How Does the SpaceSaver SE7i compare to the Other NordicTrack Ellipticals?
The SpaceSaver SE7i and the SE9i are the only two ellipticals in NordicTrack's Rear Drive Series.  This means that the flywheel is located at the back of the machine, as opposed to the middle or more commonly, the front.
Rear drive ellipticals put you in a more upright position than front drive, where you're leaning forward just a bit.
The SE7i and SE9i are the only NordicTrack ellipticals that fold, so if that is something that you want or need, the SpaceSavers are going to be your best bet.  However, they also have the smallest stride lengths, at a fixed 18", so if you are on the taller side you might not be as comfortable as you would be on one of their other machines.
Assuming that the SpaceSavers will work for you, the only choice you need to make is between the SE7i and the SE9i.  Both are good options, but the SE9i definitely has its advantages.
The SE7i is considerably less expensive, at around $1299 as we mentioned vs. $1799 for the SE9i.  So if your budget is tight the SE7i might be your better choice.  However, you may decide that it is worth spending more for the additional features.
As we mentioned above, the SE7i has a basic 5" backlit display vs. a 7" Smart HD touch screen.  Although not a must, the touch screen really does add a lot to your workouts with, with workout stats and Google maps right on the screen without the need to use your tablet.
Beyond the console, the SE9i will give you two additional resistance levels for a total of 24.  The SE9i also gives you an iFit Bluetooth Smart Chest Strap for heart rate monitoring, something you don't get on the SE7i.
As far as workouts on the SE7i vs the SE9i, you get 24 on the former and 30 on the latter, so there is a little more variety.  You also get a stronger warranty...5 years parts and 2 years labor as opposed to 2 years parts and 1 year labor.
So the SE9i is definitely a more advanced elliptical, with more features and capabilities than the SE7i has.  It's a matter of deciding if you have the additional $600 to spend.
What about the SE7i or SE9i vs the other NordicTrack machines?  If you are a taller or larger individual, and don't necessarily need a folding elliptical, then you might want to check out one of the other models.
The front drive series (Commercial 9.9, Commercial 12.9 and Commercial C 14.9) have longer stride lengths, up to 20% incline and higher max weight capacities.
The popular FreeStride Trainers (FS7i, FS10i, FS14i) have the largest strides, smoothest motion and even decline capability on the upper end model.
So to sum up, price and folding capability are the main advantages of the SpaceSaver series, but they are not ideal for taller users.  The SE9i will give you a lot more capability than the SE7i, but both are great cardio machines that will give you a solid workout.
Our Thoughts on the SE7i
The NordicTrack SpaceSaver SE7i certainly appears to tick all of the boxes, and is a great, affordable option for those looking for a foldable elliptical with lots of features and comforts.
If you think you'd prefer a touch screen console, wireless heart rate monitoring and even more workouts, take a look at the up-level SE9i elliptical as well.
And for taller users, or heavier usage, consider one of the other NordicTrack ellipticals such as one of the FreeStride Trainers or perhaps a front drive model.