The NordicTrack SpaceSaver SE9i Elliptical is All New

The NordicTrack SpaceSaver SE9i elliptical is one of two models in the company's popular rear drive series and is a competitively priced trainer under $1,800 on sale.
The machine folds up with the smallest footprint yet but still packs in a ton of great features and capabilities...everything you need to get a really great workout at home.

What You Get
With the NordicTrack SpaceSaver SE9i elliptical you get a bright 7 inch Smart HD touchscreen display that shows you all of your workout stats in real time.
It is also fully integrated with iFit which includes tons of workout programs, tracking capability and Google maps. The user also has the ability to connect their personalized music to allow them to listen to their own tunes while working out with a high quality sound system with 2" speakers.
Let's take a look at some of the important specs....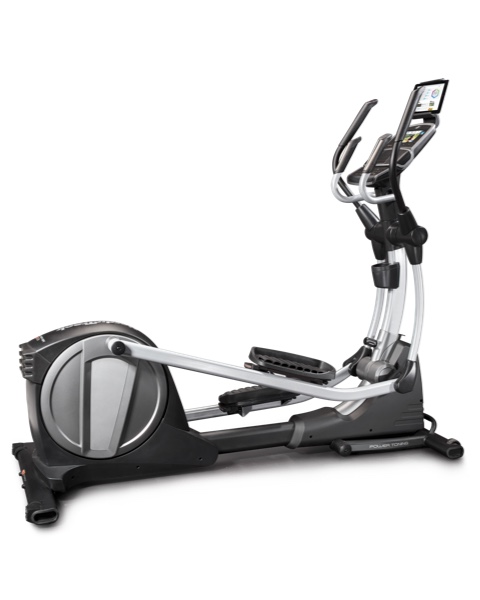 7" fully web enabled touch screen display

18-inch rear driven flywheel

iFit Coach ready

AutoBreeze™ fan

30 workout applications

OneTouch™ resistance controls with 24 different settings

Music compatible to listen to your own tunes

Wireless chest strap, soft touch rubber handles and a water bottle holder

2 inch speakers with high quality sound system

Built in heart rate monitor using CardioGrip™ on the handlebars

Vertical SpaceSaver™ design for easy storage

0-10 degree incline to target lower body

Adjustable oversized pedals

10 yr frame, 5 years parts and 2 year labor warranty 

The Word on the Street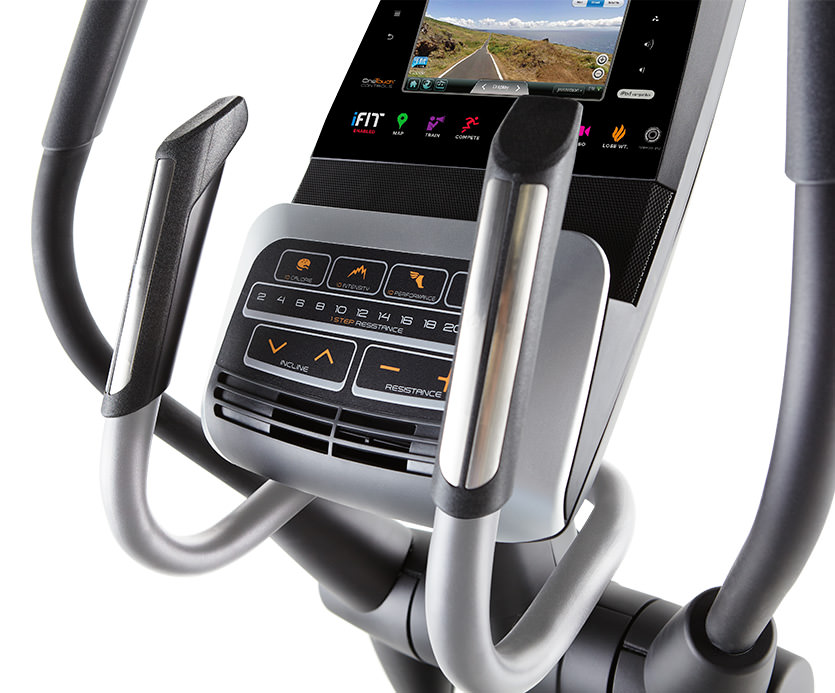 UPDATE: As of summer 2023 it looks like the SpaceSaver rear drive ellipticals were discontinued. Check out our latest NordicTrack elliptical reviews to find an alternative for your home.
--------------------------
The NordicTrack SpaceSaver SE9i has plenty to offer, regardless of your fitness level, and the reviews have been very positive since its release. Most users would recommend this trainer to their friends and why wouldn't you; with a huge amount of capability this trainer really does deliver.
The fully web enabled touchscreen display is a big hit with users as they are able to select functions quickly and also are able to browse the internet, watch videos and do whatever else they like to do online.  If you don't need the internet you can save some money and opt for the SpaceSaver SE7i instead.
You get 10 degrees of power incline, so you can ramp up your workouts and target more leg muscles.  It includes the company's patented SMR silent magnetic resistance which is smooth and quiet.
The SE9i has 24 resistance levels to challenge yourself with, and an impressive 30 different built in workouts, on top of those that you can access through NordicTrack's iFit programming.
This subscription-based service gives you unlimited professionally designed programs, training with fitness pros across the world, Google map integration allowing you to choose any destination worldwide, meal plans and much more.
Assembly is easier than ever right out of the box, and the machine will fold with the touch of a button for easy storage post workout.  Note that the SE9i and its little brother the SE7i are the only NordicTrack ellipticals that fold.
The only negative with the SpaceSaver series is the stride length.  At 18", it may not be as comfortable for taller users.  
Other than that, the SE9i has everything you need.  On top of all of the features above, you also get a free iFit Bluetooth Smart chest strap for accurate heart rate monitoring, oversized cushioned pedals, AutoBreeze workout fan, Soft Touch Upper Body Grips, water bottle holder and transport wheels for easy mobility.
How Does the SE9i Compare to the Other NordicTrack Trainers?
The SE9i and SE7i are the only rear drive ellipticals in the NordicTrack lineup.  These machines will keep you in a more upright position as you train than the front drive models, and are similar to the trainers you'll find at your gym.
If you definitely want/need a folding ellipticals, then these are your only options.  It's then just a matter of choosing between the two.
The SE9i is definitely more advanced than the SE7i, with a touch screen console vs a basic backlit one.  You get 24 resistance levels instead of 22 and 30 built in workouts as opposed to 24 on the SE7i.
You also only get grip heart rate on the SE7i, while the SE9i gives you the free wireless chest strap for more accurate measurements.
The only reason you might not opt for the SpaceSaver SE9i would be the price.  The SE7i is around $1299 or so on sale, while the SE9i is $1799. We think it's worth the additional $500 for all that you are getting, but you need to decide if it's within your budget.
What about the SE9i vs the other NordicTrack ellipticals?  All of the machines are different, so you really can't compare one series to the next.  However, the SpaceSavers have the shortest strides as we mentioned.
The FreeStride Trainers give you the most freedom of movement with their large adjustable strides...the Front Drive models give also give you longer strides and increased incline capability.  And the Mid Mech series is very compact and gives you adjustable strides as well, like the FreeStriders.
So first hone in on a series, then choose the model that most appeals to you.  If you like rear drive and you're not very tall, stick with the SpaceSavers.  If you think a front drive or mod drive might be better, consider those series as well...especially if you are on the taller or larger size, or if the machine will see a heavier amount of usage.
Our Thoughts on the SpaceSaver SE9i
We really have nothing negative to say about the NordicTrack SpaceSaver SE9i.  It has easy folding capability, incline training, plenty of workouts and resistance levels, iFit Coach technology and wireless heart rate monitoring, as well as many other features and comforts.
It's definitely a big step up from the base SE7i, with many additional capabilities.
The only downside to the SpaceSavers is their 18" stride, which may not be so comfortable for taller individuals.  If that is you, consider one of the other NordicTrack ellipticals.  There are plenty of options and you'll definitely find one that appeals to you.