The Precor EFX 833 Elliptical Trainer - Superior Quality and Patented Engineering
The Precor EFX 833 elliptical trainer offers the patented, low impact EFX ramp technology that can alter the elliptical path between 13 and 40 degrees. Fixed handlebars let you concentrate your workout on muscle groups in the lower body.
The Machine
The LED-based console has a numeric keypad, scrolling message window, matrix profile and window for fitness stats, options key, and pre-set program buttons.
The Precor EFX 833 elliptical trainer specs are: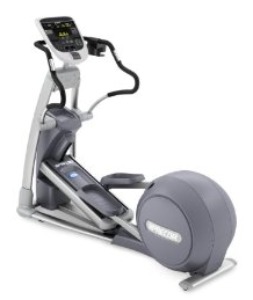 Adjustable CrossRamp® Technology
Ramp Angle 13-40°
Stride Length: 21 to 25 inches
Fixed Handlebars
20 Resistance Levels (18 – 720 watts)
Contact Grip HR Monitoring
Wireless HR Telemetry Compatible
Self-Powered
350-lb Max User Capacity
Weight / Dimensions: 338 lbs / 68"H x 32"W x 80"L
Home Use Warranty: Lifetime frame, 10 yrs parts, 1-yr labor
Check out the EFX 833 Elliptical on Sale at the Precor Store!
The Buzz
The Precor EFX 833 elliptical trainer is part of the low impact EFX ("Elliptical Fitness Crosstrainer") Experience series featuring Precor's patented CrossRamp Technology that ranges from 13 degrees up to 40 degrees, a nice step up from the base EFX 731 model.
As you adjust the incline rate, different muscle groups of the glutes, quads, hammies, and calf muscles are targeted in combination or isolation at each particular stride length.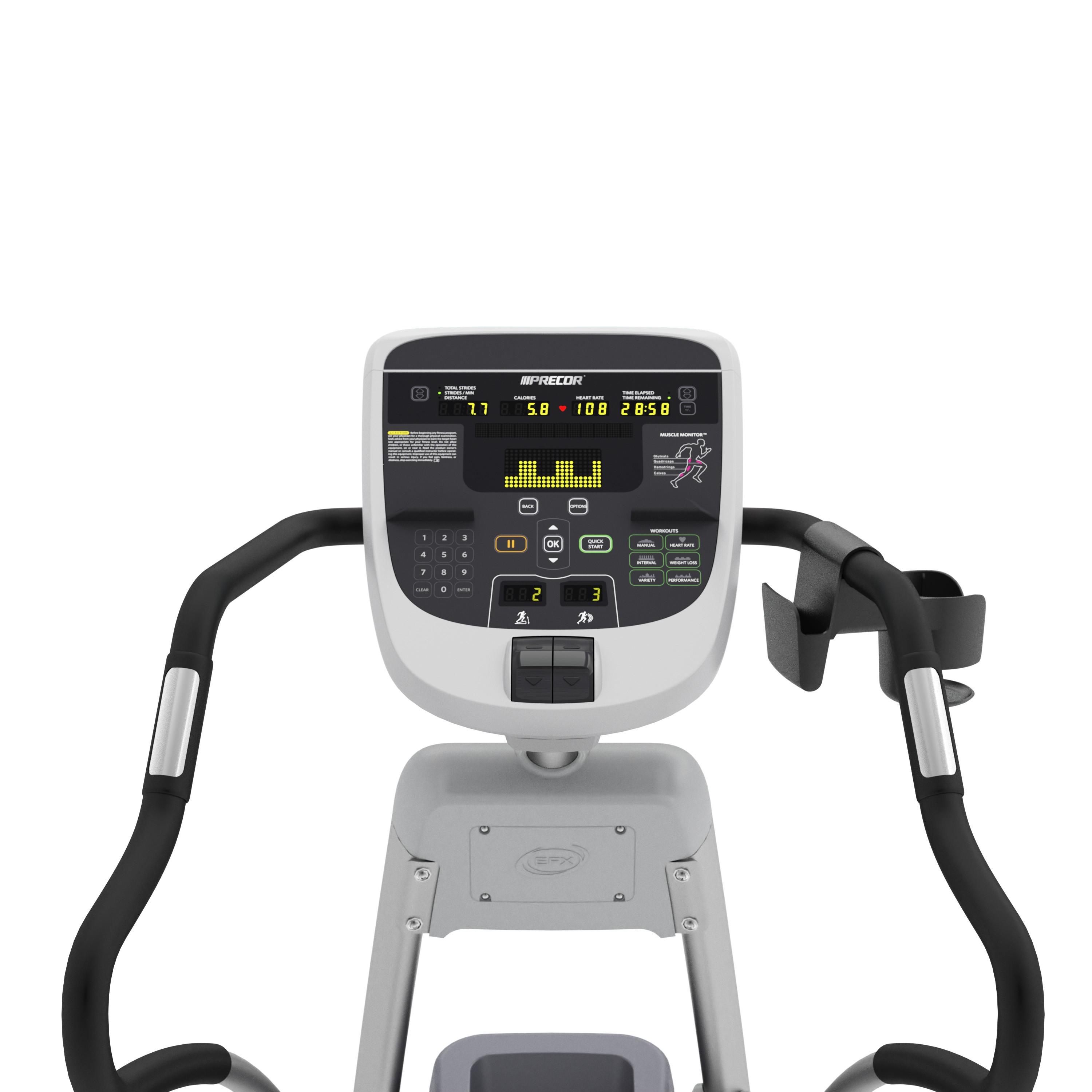 The brake system features a 6-phase generator and frictionless parts to provide for consistent performance with no maintenance necessary. The double polyurethane wheels under the foot pedals have sealed bearings and glide on a set of precision extruded aluminum tracks, which are partially enclosed by a ramp cover to keep out dirt and dust. The ramp cover is easily removed so you can occasionally clean the tracks.
Compare Prices on the EFX 833 at Amazon
The Precor EFX 833 elliptical trainer has 20 resistance levels ranging from 18 watts (level 1 at 20 SPM) to 720 watts (level 20 at 100 SPM). The stride length at the minimum incline is 21 inches and at the maximum incline the stride is 25 inches. The minimum spacing between foot pedals is a comfortable 2.4 inches for a more natural stride.
Readouts in the dedicated windows include: Resistance Level, Incline Level, Strides / min, Total Strides, Distance, Calories burned, Time Remaining or Time Elapsed, Time in Zone, Segment Time, Calories per minute, Calories per hour, Watts, METS, Target Heart Rate, and more.
In addition to a Manual workout, it offers pre-set conditioning programs such as Intervals, Weight Loss, Variety, Gluteals, Heart Rate, Performance Test, Cross Training and more. At the end of the workout, it shows a Profile Workout Summary in the scrolling message window.
Like all Precors, the Precor EFX 833 Commercial Series Elliptical Fitness Crosstrainer is built with superior quality and patented engineering. On the downside, there are two major issues with this model: the first is that it does not have the Smart Rate heart rate indicator in the console. The SmartRate feature takes the reading from the handgrip sensors and analyzes your heart rate to keep you in your target cardio zone. This is a slightly different console from other Precors, which is a disappointment to a lot of reviewers.
The second issue is that while the Precor EFX 833 is a self-powered machine, if the daily home use will be too light to allow the internal generator to power the console battery, you will need to have an optional electrical power supply added by a Precor-authorized service technician.
What We Say About the EFX 833
The fixed handlebar Precor EFX 833 elliptical trainer is priced at $6,495 which is too much for most home users, unless you can find it for around $3,000-$4,000 as a remanufactured model.
If you prefer moving handlebars and the SmartRate feature, you should consider the EFX 835 model. These home models have the CrossRamp from 15° up to 30°, SmartRate HR feature, and plug in power, as well as the other perks you desire in a Precor.
We suggest you pay less and go with a home version, rather than pay too much for a commercial model that will require modification to add the plug-in power.
Show me other Precor Elliptical Machines