The Precor AMT 813 Introduces Complete Adjustability
The AMT 813 is the base Adaptive Motion Trainer from Precor, one of the leading high-end cardio equipment brands in the world.  These unique machines give you total freedom of movement, allowing you to target more muscle groups than on a traditional elliptical.
What You Get
The Precor AMT 813 is a well constructed machine, durable and modern looking, with light and dark gray components with bright blue accents.  it features a large LED console with 11 different workout metrics including time, calories, heart rate, distance, strides, SmartRate and workout profile.
Let's take a look at some of the important specs...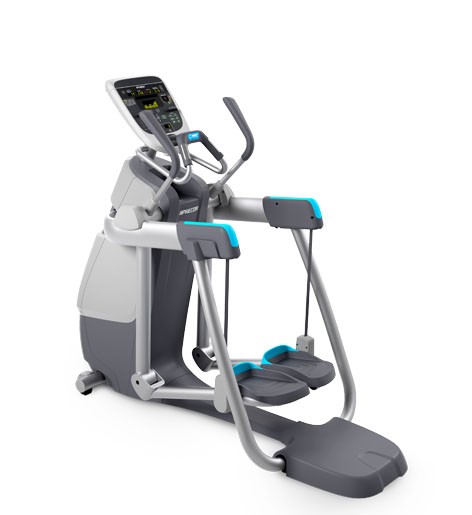 Adaptive Stride technology
0 to 36" stride length
Dual action handles
Bio-mechanically ideal for all users
20 resistance levels
6 workout programs
Max user weight: 350 lbs.
Transport wheels
Foot pedals with toe caps
Touch and Wireless heart rate monitor 
Lifetime warranty frame and welds, 10 year parts
The Word on the Street
UPDATE: The AMT 813 was replaced by the AMT 733 for the 2016/2017 model year.  Check out our full review here.
The Adaptive Motion Trainers are great, and always receive positive reviews from the experts.  They allow you to take your workout to the next level by opening up the stride and giving you total control over your range of movement.
Unlike the typical elliptical trainer that gives you a fixed stride or an adjustable one up to 20" or so with the touch of a button, the AMT 813 allows for a stride from zero all the way up to 36 inches without having to make any adjustments.  So you can simply go from a short stride to a long one and right back to a short one by just changing your motion.
This freedom allows you to target all different muscle groups as you go from a short stepper motion up to a long stride that mimics a run on a treadmill.  All the while you get the most natural feel possible, as these machines are bio-mechanically ideal to delivery the best possible movement for all users.
The Precor AMT 813 is the base model in the series, so it is missing some of the features you'll find on the upper end models like the AMT 835 Adaptive Motion Trainer.  This includes OpenStride technology which allows you to adjust the height of your stride in addition to the length.  It is also missing the StrideDial which shows you real time stride length to determine which muscles you are targeting.
If you haven't used either of these tools before, you certainly won't miss them here...it's simply an added capability.
The AMT 813 gives you 20 resistance levels to choose from, tactile dome keys, 6 workout programs, QuickStart function, wireless and pulse heart rate monitoring and a 350 lb. max weight capacity.
Any negatives to speak of?  Not really.  One complaint mentioned in reviews is the price tag, but remember these are high-end, commercial elliptical machines.  The 813 is the cheapest model, but still is around $6000 on sale.  Plus, it doesn't come with a wireless chest strap for more accurate readings...you have to provide your own.  Couldn't they throw that in for the price?
But all told, this is a solid machine with great technology built in and will last you for many, many years.
Our Thoughts on the Precor AMT 813
The bottom line is that Precor ellipticals are as good as it gets.  The fact that you can change your stride on the fly to target different muscle groups is a great feature, and you won't find a more natural motion and feel on any other machine.
Hopefully they add touch screens to all of the models and perhaps some internet capability to bring a little more excitement.  But if you want a top of the line cardio trainer to help you elevate your workouts and see better results, you'll be more than happy with an Adaptive Motion Trainer...if budget allows.
See all of the latest AMT models on special sale here!