The Precor AMT 835 is the Most Popular Adaptive Motion Trainer
The Precor AMT 835 is one of two higher-end Adaptive Motion Trainers from the well-regarded company.  It offers total freedom of movement with Open Stride technology, allowing adjustment of both stride length and height for an endless variety of motion.
What You Get
The AMT 835 gives you a large LED display showing calories burned, resistance level, heart rate, time, distance, stride, watts, profile and more.  There are a ton of comfort features and capabilities.
Let's take a closer look at the specs...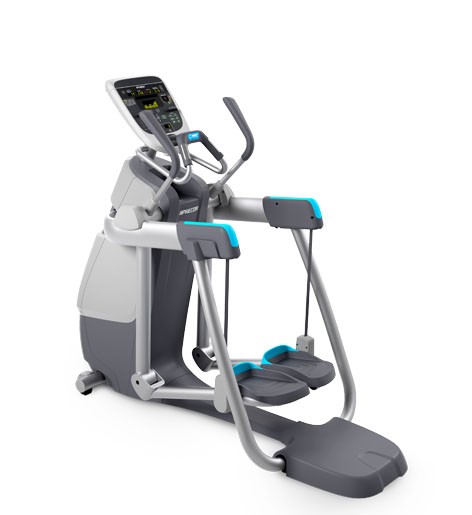 OpenStride technology
6.8 to 10" stride height
0 to 36" stride length
StrideDial muscle targeting
20 resistance levels
Foot pedals with toe caps
Touch and Wireless heart rate monitor 
Lifetime warranty frame and welds, 10 year parts
Get the popular AMT 835 on Sale Now at the Precor Store!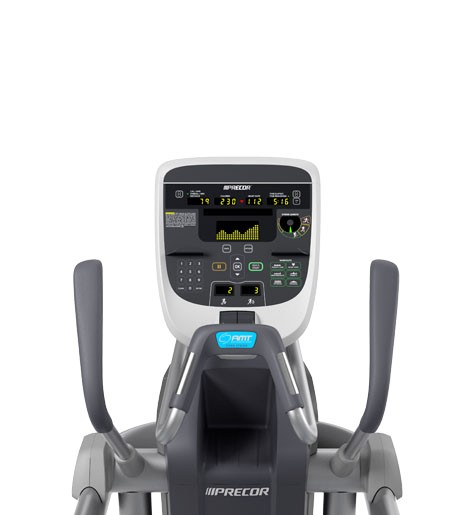 The Word on the Street
The Adaptive Motion Trainers get great reviews from experts and have been in a big hit in gyms for several years now.  They offer an extremely low impact workout, as if you are floating on air, and you are able to adjust the stride length and height, offering endless possibilities that you just can't get on other machines.
(Note that you can't adjust the height of your stride on the base AMT 733 model.)
The only drawback to the AMT 835 is its price.  At around $9,200 on sale, it is out of reach of most customers, so you're not going to find too many user reviews to get an idea of what these machines are all about.
We've used the commercial version of the 835 at our gym for many years, and it takes the elliptical machine experience to the next level.  The only real difference is that the gym models have the interactive screens.  
The home unit has a large, but basic display with all of the relevant workout metrics, numeric keypad, tactile keys and QuickStart function.
Getting on the machine is easy with the rear platform.  Adjusting the resistance levels and stride height is seamless as well, and this adjustability allows you to use the machine as a stepper, an elliptical or a treadmill, with short, medium and long strides respectively.
Any negatives?  For starters, although it has wireless capability the chest strap is not included.  We believe it should be for that price.  It also does not include Preva, Precor's workout tracking program, which again should be included for the price.
A more advanced touch display with internet capability would also be a nice touch, especially since you can get that on an elliptical that's thousands of dollars cheaper these days.
Our Thoughts on the Precor AMT 835
We love the Adaptable Motion Trainers, especially the 835 and 885 with the OpenStride technology which really opens up the stride adjustment capability.  We also like the Stride Dial that shows you which muscles you are targeting with each stride length, a very cool and helpful feature.
The downside, besides the hefty price, is the lack of technology on these machines.  They are awesome to use but it would be nice if they had a web-enabled touchscreen like they do in the gym, and also a heart rate monitor would be a nice touch.
All in all, the AMT 835 is an incredible piece of equipment, built to last and fun to use...if you have the money, you'd be hard pressed to find a better machine.
Get more info and see special sale pricing on this elliptical here