Precor EFX 5.21 si Elliptical -- If You Can Afford It ... Buy It!
by Patrick
(Winthrop, WA)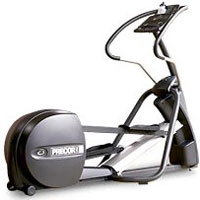 UPDATE: Please note some of the models below may be older or discontinued. To read our expert reviews of the latest Precor elliptical trainers just follow this link.


---
I bought my
Precor 5.21 si elliptical machine
roughly ten years ago.
The price tag is high but what you get is a machine that is bullet proof and performs like a commercial quality elliptical machine. No squeaks or parts wearing out or falling off.
The motor mechanism is absurdly simple which is great: not likely to break down and it delivers a smooth stride and solid feel.
I took off the plastic motor shroud once....4 screws holds it on, and tightened a bolt with an Allen wrench...loose bolt on the crank...that is it!!!
The computer display is large and shows me all the info I would ever need. I bought the optional heart rate strap so I could use the heart rate program....nice touch. The cross ramps are great. When you use the incline feature you can really feel your glutes burn.
This model doesn't have the arm extensions. I use 2 lb hand weights and swing my arms while striding. The motion is natural and I get a great workout. I learned a long time ago you get what you pay for. I bought a cheap Weslo treadmill and it spent more time being broken than being used.
Pros:
Solid construction, reliable, computer monitor, cross ramp technology, simple electomagnetic motor, quiet and comfortable.
Cons:
Expensive, big, a heart rate "grip" should be included.
Conclusion...If you can afford a
Precor elliptical machine
...buy it!!!
Want to start a new discussion? Just click here to visit Elliptical Trainer Consumer Reviews - Rave or Rant!.
Precor EFX 5.23 Elliptical - 6 Years Without Any Problems!
by Marie
(Haslet, Texas)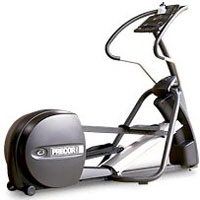 I absolutely LOVE my Precor EFX 5.23 Elliptical Trainer! I bought it new (and it was very pricey!), and it is worth every single penny I paid for it!

I've had it for going on 6 years now without a single mechanical problem. It works like a dream, and I use it every day.

I cannot say enough good things about it.
Want to start a new discussion? Just click here to visit Elliptical Trainer Consumer Reviews - Rave or Rant!.
Precor EFX 5.35 Elliptical User Review
by Fred
(Sydney, Australia)
Can't say enough good about the Precor EFX 5.35 elliptical trainer. I'd be like the other reviewers and say it's expensive, but I've had to replace 2 Tunturis that equal the cost of my Precor. You get what you pay for, mate.

It took a small amount of time to get used to the Precor action. Or rather "un-learning" the poor action of my former ellipticals. Now I'm hooked and getting a full body workout, with a lot of variability in stride and incline available.

I like to push my upper body on these machines, and the Grip/Arm motion (though close to the user) is well suited. I believe the comments I've read about the Precor's being best for smaller statures, are probably correct. I'm 5'7" and I could use a tad-bit more range when I'm loafing along at an easy pace.

My wife loves the Precor EFX 5.35 elliptical. She swore any previous Elliptical caused back strain for her. So she started out using it as a stepper only. All that's changed and she does the full workout.

Mechanically its robust. With all of the leverages and actions going on for each stride, a tiny bit of looseness is apparent. But, nothing overwhelming like a cheap bearing clunk with every stride as with the cheaper units.

We religiously keep the rails clean, a spot of Silicon lube in the visible bearings occasionally, and turn it off after every use. I expect we'll see the 10 years (on our 2nd now) that people have been writing about.

Want to start a new discussion? Just click here to visit Elliptical Trainer Consumer Reviews - Rave or Rant!.
Precor EFX 5.35 Elliptical - Precor is Tops!
by Fred May
(Sydney, Australia)
Our Precor EFX 5.35 elliptical trainer has been a very good purchase.

My wife and I use the machine extensively, probably as much time a week as any couple could do on an elliptical and survive.

We've had the service guy out once to change a heart-rate receiver circuit board (warranty) and now some squeaks in the the connecting arms are starting more regularly.

You must be ready to take on the task of religously lubricating these beasts. Lots of connecting rods and associated bushings/bearings, that need the odd daub of lube.

Mind you, we're sticklers for a smooth running machine...(why else a Precor to begin with)

A service tech here recommended using the spray Silicone lubricant on all bushings/bearings. I have to NOT agree on that, and would like some input from the guys at AllEllipticals on this.

I find the thin-ish Silicone lubes drive out the original grease from the bearings and you are left with having to Silicone them quite often.
I've had to go back and re-pack some previously Siliconed-out bushings/bearings with the real grease.

Otherwise Precor is tops, the workout is fantastic, lots of upper body available if you want it. There's a line-up at our house to use it.
Want to start a new discussion? Just click here to visit Elliptical Trainer Consumer Reviews - Rave or Rant!.
Precor EFX 5.31 Elliptical - Couldn't Image Settling for Anything Else
by Liam
(Toronto, Canada)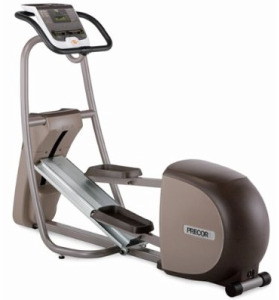 We have owned the Precor EFX 5.31 elliptical trainer for a little over a month, but we did extensive research (and tried out) a number of different ellipticals before purchasing it.

Precor is by far the best elliptical out there. It is expensive, but that old mantra - you get what you pay for - is very accurate.

The only drawback of the Precor EFX 5.31 is that is lacks the moving arms for an upper body workout. (The higher end models have the arms.)

That can be remedied by simply having small hand weights to use while on the elliptical. I always used the arms in the gym, but I haven't missed the arms as yet.

The Precor elliptical has an incredibly fluid movement with absolutely no strain on knees, back, or other potential sore spots. It is largely quiet, with the loudest noise coming when the crossramp adjusts the incline for workouts.

My wife has chronic back pain, and the only elliptical she could comfortably use was the Precor. I have no back issues, but wouldn't have one on a machine such as this - it is poetry in motion - once we tried it, we would have had trouble using any other elliptical.

The Precor EFX 5.31 also comes with a phenomenal warranty. The warranty on the U.S. built machines is 10 years parts, and 1 year labour. That is unheard of with other elliptical companies that we researched.

You should be sure to do the research on any elliptical you are considering buying. It is a significant investment even if you buy a cheaper model.

Before I tried out all the ellipticals that I did, I was leaning towards other brands (due to reduced cost, among other considerations). After deciding on the Precor elliptical, I couldn't imagine ever settling for anything else.
Want to start a new discussion? Just click here to visit Elliptical Trainer Consumer Reviews - Rave or Rant!.
Precor AMT100i Elliptical - AMAZING!!
by Kristi
(Columbus, OH)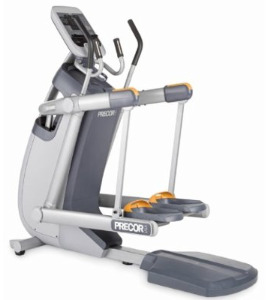 The Precor AMT100i Elliptical is unbelievable!

I suffer from a partially herniated disc in my neck and impact training is often painful. The free stride of this machine allows me to feel like I'm running without any impact.

I'm up to 5 miles over my lunch hour several times a week and my resting heart rate is 51 thanks to this awesome piece of machinery. This 46 year-old gal loves it!
Want to start a new discussion? Just click here to visit Elliptical Trainer Consumer Reviews - Rave or Rant!.