The Precor AMT100i Elliptical – Rated Best Buy
The Precor AMT100i elliptical is an award-winning commercial model introduced in 2007. Since then, hundreds of health clubs and fitness centers worldwide have installed the Adaptive Motion Trainer (AMT) in their facilities to the delight of their customers. Imagine owning one in the privacy of your own home!
What You Get
The Precor AMT100i elliptical offers four programs including fat burner, heart rate control, interval, and manual. It features integrated contact heart rate monitors on the handlebars and is compatible with wireless monitoring (optional).
The full list of features is: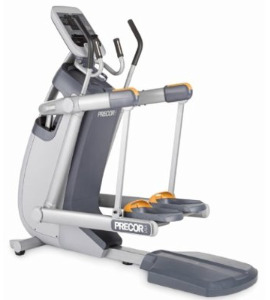 20 Resistance Levels
0 to 27" Stride Length
4 Programs
Upper Body Workout Arms
Contact grips for heart rate
Integrated reading rack, water bottle holder
350 lb. user weight capacity
Self Powered (No Outlet Necessary)
Dimensions/Wt: 74"L x 28"W x 69"H / 445 pounds
Warranty: 7 yrs frame, 2 yrs parts, 1 yr labor
UPDATE:  The AMT100i is no longer being produced.  You can check out all of the latest Adaptive Motion Trainers at the official Precor Store.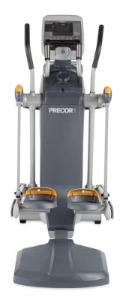 The Word on the Street
The Precor AMT100i Experience Series Adaptive Motion Trainer allows the user to make up his own stride patterns. Unrestricted to a fixed glide path like traditional ellipticals, an AMT can offer short quick steps, stair climbing motion, deep lunges, long strides, or simple elliptical pedaling – all using any level of resistance you select.
There are no awkward change-ups or stopping either; simply adapt your movements on the fly. That goes for your arms as well. The upper body workout on a Precor AMT100i works with your body, allowing for natural movement.
Compare Prices on AMT Trainers at Amazon

This intense cardio trainer is ideal for overall conditioning of the body, muscles, heart and lungs, as well as giving you a superior fat burning workout when compared to an average elliptical. In addition, its smooth glide prevents the types of joint stress that treadmills and road running puts on your legs and back.
If you are seriously considering buying the commercial Precor AMT100i elliptical for home use, then it is highly likely you have already spent a lot of time on one at your health club and already know about its superior fitness training advantages. There is nothing quite like a low-impact system that takes your aerobic training to a new dimension using both horizontal and vertical planes.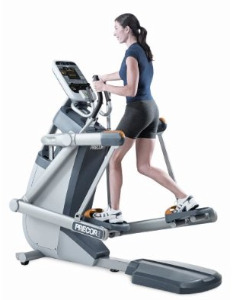 About the only thing that can be added, in regards to tips from elliptical reviews, is that you should have your purchase delivered and assembled by fitness equipment professionals. This elite cross trainer has a footprint that is about the same size as an elliptical, but at 445 lbs the AMT is twice as heavy.
Our Thoughts
This Precor gets 5 star reviews in elliptical comments and on this site. It is the exact same machine used in health clubs for thousands of hours per year by a variety of users of different weights and abilities.
It carries a reputation of being one of the most effective weight training and cardio fitness machines on the market. If you can afford one, the Precor AMT100i elliptical at $7,995 rates a Best Buy.
Show me other Precor Elliptical Machines