The Precor EFX 5.31 Elliptical Crosstrainer – Fluid & Smooth Workouts
The cardio blasting Precor EFX 5.31 elliptical crosstrainer gives you the dual aerobic fitness and strength training ("cross-training") workout you've been seeking in a home machine.
What You Get
The Precor EFX 5.31 elliptical crosstrainer comes with an LCD display showing time, calories, CrossRamp angle, Heart Rate, Strides per minute, Time, Watts, Workout Summary, and more. Programs include Aerobic, Cross Training, Fat Burner, Fitness Test, Gluteals, Hill Climb, Heart Rate, Interval, Weight Loss, and Manual.
The Heart Rate and SmartRate® features require the optional wireless chest strap transmitter (not included).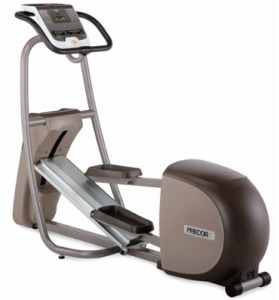 The features on the Precor EFX 5.31 include:
CrossRamp® Adjustable Incline (15-30°)
21" to 23" Stride Length
10 Programs; 2 User ID
20 Resistance Levels (10-625 watts)
Heart Rate Telemetry
Fixed Multi-Grip Hand Rail
3-inch Footplate Spacing
Weight / dimensions: 210 lbs / 84"L x 31"W x 63"H
Warranty: lifetime frame, 10 years parts & wear items, 1 year labor
The Word on the Street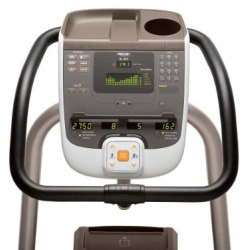 UPDATE: The EFX 5.31 is an older model that is no longer available.  You can check out all of the latest ellipticals here or compare older Precor models on sale here.

The Precor EFX 5.31 elliptical crosstrainer features stationary arms and a new longer Variable Stride Biomechanics. That is, as the CrossRamp® adjusts from 15 to 30 degrees, the user's stride length changes from 21" to 23".
This Variable Stride Geometry focuses on engaging more muscle recruitment from the lower body including the calves. The 20 resistance levels range from 10 watts and 20 RPMs at the lowest level, to 625 watts and 100 RPMs at Level 20.
The polyurethane wheels glide on the anodized aluminum CrossRamp® providing a remarkably quiet workout. The direction of rotation is reversible; the pedals go both forward and backward for optimum recruiting of all muscle groups.
Elliptical reviews on the Precor EFX 5.31 crosstrainer have been enthusiastic because the workout is so fluid and smooth you don't feel that you are working as hard as you are, and the true elliptical pattern of the striding motion feels completely natural. 
Consumers also report that they have had excellent response from Precor whenever they have had to contact the company with inquires. The EFX 5.31's 10-year warranty on wearable parts is "bumper-to-bumper" and considered to be one of the best in the industry.
Our Thoughts
Once you've owned a Precor elliptical trainer or worked out on one at a health club, it's hard to settle for anything else. In fact, many Precor owners will ride their machines for 5 years and then upgrade to a new model with spiffy new electronics.
They find that used Precors have quite a bit of re-sell value. We would prefer to see the Precor EFX 5.31 elliptical crosstrainer at a lower price since $3,999 is about $1000 more than you should ever spend on an elliptical, but that's up to you.
It's a great machine, but get it on sale if you can. If you haven't yet considered the reasonable price and advantages of a refurbished health club model, check out the Precor EFX 546 Commercial Elliptical Crosstrainer.
Show me other Precor Elliptical Machines