The Precor EFX 5.21i Elliptical Trainer – True Cross-Training
Again, Precor has come up with an elliptical that's a dream to work out on. The Precor EFX 5.21i elliptical trainer is priced at about $2,800, making it one of their mid-priced models (although still an expensive machine for most people). It has all of the components users have come to expect from Precor – a fluid feel, true elliptical motion and craftsmanship that can't be matched.
What You Get
The Precor EFX 5.21i elliptical trainer has some very nice features that the company's less expensive models don't boast. The electronic scrolling display includes calories burned, cross ramp incline, resistance level, stride, strides per minute, time and more so that you're getting periodic updates as you work out. Other features include:

Cross ramp technology for true cross training
20 resistance levels
Ergonomically designed handlebars
Accessory holder
Adjustable 13-30° incline
18" stride
6 pre-set programs
Optional wireless heart rate monitor
Warranty: 10 yrs. parts, 1 yr. labor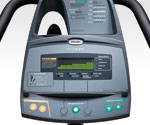 The Word on the Street
UPDATE: The 5.21i is no longer available for sale.  However, you can still find some of the older models here if you are looking to save a little money.
Trainers give lots of praise to the Precor EFX 5.21i elliptical trainer for the trademark Cross Ramp technology. They say it's the reason you get a true cross-training experience with this brand that works all the major muscle groups of the lower body. The machine's adjustable incline and 20 levels of resistance are also key to their appreciation.
Those who've purchased this elliptical machine always comment on the little touches that give it such a personalized feel. For instance, the ergonomic handlebar grips and the way the foot pedals never let go of the heel both provide exceptional comfort.
Our Thoughts
Simply put, the only "con" to buying the Precor EFX 5.21i is the price tag. If you can afford it, you won't regret it – you're getting a truly special piece of equipment that will last you for years and will perform with the same smoothness and efficiency five years down the road as it does on the day you purchase it. But for some, the cost of this elliptical trainer is simply too prohibitive.
Once thing we noticed about the EFX 5.21i that we liked – it's got a smaller footprint than other Precor models. Although it's plenty heavy (which is what gives it such great stability), it can be moved from room to room because it's narrower and more compact. It can easily fit through standard doorways, so you can move it without disassembling it. If you have the resources and know you're going to be using this months and years from now – the Precor EFX 5.21i elliptical trainer is a beautiful machine.
Show me other Precor Elliptical Machines