The Precor EFX 5.35 Elliptical Crosstrainer – Solid, Reliable, Expensive
You'll get a smooth workout on the Precor EFX 5.35 elliptical crosstrainer, an elite home machine that is nearly silent in operation, health club quality in workmanship, and provides the cardio workout you've been seeking.
What You Get
The Precor EFX 5.35 elliptical crosstrainer comes with a Biofeedback Center with SmartRate® feature which provides dedicated readouts during heart rate monitoring. Programs include Basic HR, Cross Training, Fat Burner, Fitness Test, Gluteal, Hill Climb, Interval, Weight Loss, and Manual. The Convertible Arms allow the user to do a Total Body workout or focus on a Lower Body workout.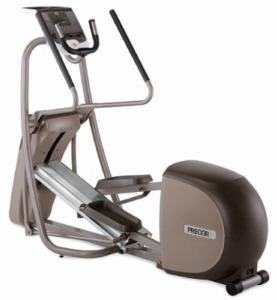 The features on the Precor EFX 5.35 include:
CrossRamp® Adjustable Incline (15-40°)
21" to 24.5" Stride Length
10 Programs; 2 User ID
20 Resistance Levels (10-625 watts)
Convertible Arms Technology
Heart Rate Telemetry
HR Chest Transmitter included
3-inch Footplate Spacing
Weight / dimensions: 240 lbs / 84"L x 31"W x 63"H
Warranty: lifetime frame, 10 years parts & wear items, 1 year labor
The Word on the Street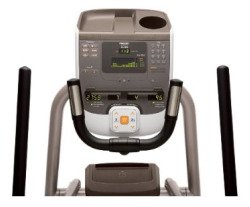 UPDATE: The EFX 5.35 is an older model that is no longer available.  You can check out all of the latest ellipticals here or compare older Precor models on sale here.

The first Precor crosstrainer, the EFX 544, launched a revolution in elliptical technology when it came out around 1995.
By optimizing biomechanics and replicating the smooth, natural elliptical motion of the human foot while running, the EFX Crosstrainer gives the user a low impact RPE (Relative Perceived Exertion) rate that keeps you working longer – because you perceive it to be easier than it really is!
Along with the commercial quality, elliptical reviews enthuse about the smooth ride, virtually quiet operation, and comfortable stride motion of the Precor EFX 5.35 elliptical crosstrainer, which is backed by the best warranty in the business – 10 years on parts and electronics.
What if you need new wheels four years from now? Just call Precor and they'll take care of you; the warranty coverage is bumper-to bumper on all wear and tear parts. There are only a handful of elliptical manufacturers that have such satisfied customers bragging about the service.
The standards are substantially higher for Precor than for most other elliptical makers since so many EFX machines are heavily used in health clubs. Home users want their private machines to perform just as professionally as the commercial models – and they do. The only complaints you'll find about Precor crosstrainers are about the price, but you are paying for a top brand name. All Precors are great machines, but they are also very expensive.
As far as the high price of the Precor EFX 5.35 elliptical crosstrainer goes, there is another point to consider — resale value. Unlike other elliptical brands, a Precor won't be hauled out to the trash or to the Goodwill in 5 years. A Precor is sort of like the Harley Davidson of ellipticals; it holds its value over the years, so that when you want to upgrade to a new model, your used machine will still fetch a chunk of money which you can put towards a new machine.
Our Thoughts
You don't have to be told how solid and reliable Precor ellipticals are. You likely work out on a Precor at your health club and want to invest in one for home use. So your question is, which model?
The basic features are the same, except that they have differences in the number of programs, and the degree of ramp incline, i.e., the EFX 5.35 crosstrainer goes from 15 to 40 degrees, while the Precor EFX 5.25 goes from 15 to 25 degrees (and the rate of incline also affects the stride length).
For quiet operation, ergonomics, quality, warranty, and all the rest – the Precor EFX 5.35 elliptical crosstrainer rates a Good Buy. But if the $4,999 price is too much for your budget, view the specs on the smaller EFX 5.25 at $3,399, or check out the price of a refurbished Precor EFX 546 Commercial Elliptical Machine for around $2,600.
Show me other Precor Elliptical Machines