Bowflex Max Total 16 Review - Newest Model in the Popular Series
The Bowflex Max Total joins the M6 and M9 as the new top-of-the-line Max Trainer, one of the most popular hybrid elliptical machines of all time.
The allure of these cardio trainers is not only their compact size, but also the fact that you can get a complete workout in less time than you would on a traditional elliptical, as the Max Trainer is two machines in one.
Let's jump into our review of the latest Bowflex model to see what it's all about...
Max Total 16 - What You Get
The Max Total is the most advanced of all 3 models, featuring an all black design with red accents. It has the most workouts, most resistance levels and tracking capability for unlimited users.
Let's look a closer at the most important specs...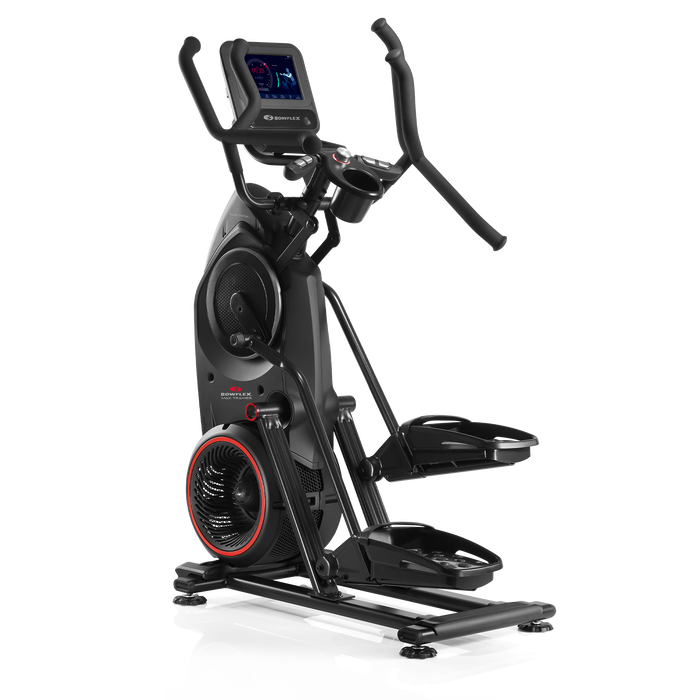 16" touch screen display
20 resistance levels
Bowflex JRNY platform
4 built in workout programs
Bluetooth/WiFi enabled
Contact and wireless heart rate monitoring
Commercial grade grips/performance pedals
Unlimited user profiles
Tablet holder/Media shelf
Water bottle holder
Dimensions: 49.3" L x 30.8" x 65.7" H
Warranty: 3 years frame/parts, 90 days labor

What's the Word on the Street?
There was a lot of buzz surrounding the release of the new Bowflex Max Total 16, as it is the first cardio machine ever from the company to feature a touch screen display, something competitors like NordicTrack and ProForm have offered for years.

It's a built-in adjustable 16" touch screen, a noticeable upgrade from the basic backlit displays found on the other Bowflex Max Trainers.
You'll need a WiFi connection, which most houses have these days, and with it you can access all of your favorites like Amazon Prime, Netflix and Hulu. It definitely helps the time go by while you're working out.
The Max Total 16 also comes with a 12-month subscription to Bowflex JRNY, previous called Max Intelligence, an interactive program that offers virtual coaching, customized workouts, tracking and milestones, on-demand classes and other motivational features.
It's similar to NordicTrack's iFit program, which also has on-demand workouts, tracking and all of the other features that Bowflex JRNY offers. iFit is a bit more comprehensive, but likely only because it's been around for a lot longer. Time will tell if JRNY will differentiate itself.
Max Total comes with 20 resistance levels to vary your workout, and 4 built in programs (besides the unlimited options with JRNY). It also has upper body power training, something the Max Trainer M9 and other models don't currently have.
You also have grip as well as Bluetooth wireless heart rate monitoring so you can keep track while you're training to ensure you're in the ideal zone.
As far as the workout itself, the Max Trainers are like ellipticals and steppers in one machine, so you get the benefits of both as far as cardio and muscle targeting. It's low impact, so it's easy on the joints, and the motion is very comfortable, although it does take some getting used to.
All in all the Max Total 16 is a great addition to the lineup, and users will definitely appreciate the touch screen display, especially if they've used one of the other Max Trainers in the past.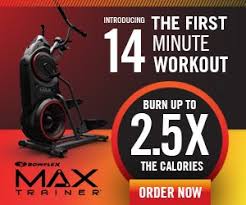 Which Bowflex Max Trainer Model Should You Choose?
With the introduction of Max Total 16, you now have 3 Max Trainers to choose from: the M6, M9 and Max Total 16. So which one should you pick?
We discuss this topic on our main Max Trainer review page, but it's worth going over again here.
The new Max Total 16 definitely has the most features and capabilities of all of the models.  
You have the 20 resistance levels, 4 workout programs, WiFi & Bluetooth capability, touch screen display and lots of upgrades and additional comforts.
So if money is no object, it certainly makes sense to go for the Max Total 16, which as of this writing was about $2799 on sale.
However, if budget is a concern, it might make sense to consider the step down M9 or the base model  Max Trainer M6, one of our top picks here at All Ellipticals.
You don't get the touch screen display or the WiFi capability, but most of the other great features are there...JRNY compatibility, built in workouts, 16+ resistance levels and heart rate monitoring. The M9 and M6 are about $700 and $1,100 cheaper than the Max Total 16, respectively.
As far as the base M3, that's going to be the most affordable model at under $1000, but unless you're on a budget we wouldn't go in that direction. It doesn't have the touch screen, Bluetooth or WiFi, and you can't access the JRNY at all. It also has no workout tracking and only 2 built in workout programs. (RECENTLY DISCONTINUED)
So as far as deciding which Max Trainer to go with, consider your budget first and see which one has the features you are looking for. Just to recap, the M6 and M9 are our favorites if the Max Total 16 is too expensive for you.
Max Total 16 Review - Bottom Line
The Max Total 16 is sure to be a big hit, as users have been asking for a touch screen for years now and it's really the only thing the Max Trainers were lacking until now.
Still, at almost $3,000 it's not for those on a budget, so unless money is no object you may want to consider one of the other models, including our two favorites the Max Trainer M6 and M9 models.
However, if you can afford it's an awesome machine, with a huge touch screen, tons of workouts through Bowflex JRNY, varied resistance levels, low impact, compact design and heart rate monitoring.
Bottom line is you can't go wrong with any of the Bowflex Max Trainers.