The Bowflex Max Trainer M3 Review - Popular Hybrid Cardio Machine
The M3 is the base model in the Max Trainer series from Bowflex, a unique hybrid machine that is kind of like an elliptical trainer mixed with a stepper.  It is designed to give you maximum results in a short amount of time, ideal for those who don't have that much time to work out.
Max Trainer M3 - What You Get
The Bowflex Max Trainer M3 is a modern looking machine, jet black with red accents, with a basic LCD display showing you your speed, distance, calories, time and other workout metrics.
Let's take a look at the important specs...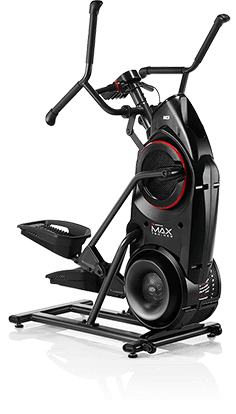 LCD display with calorie burn meter
8 resistance levels
2 workout programs
Contact and wireless heart rate monitoring
Tablet holder/Media shelf
Water bottle holder
Max user weight: 300 lbs.
Dimensions: 46" L x 25" x 63" H
Warranty: 1 year

The Word on the Street
UPDATE: It looks like the Mac Trainer M3 might have been discontinued. Check out the Max Trainer M6, a comparable model.
----------------------
The Bowflex Max Trainer M3 has received very good reviews since its introduction several years ago.  Its main selling point has always been the MAX Interval 14 minute workout, a unique interval training program that gives you a full cardio workout in only, you guessed it,  14 minutes.
As we mention above, it is kind of like an elliptical and a stepper in one, with a short range of motion.  It does take some getting used to if you are accustomed to the traditional elliptical motion, but most users say they quickly acclimate to the motion.
The M3 is the base model in the series, and usually costs around $999 on sale.  Other models include the mid-level M6 and M8, and the newest member of the collection, the top-of-the-line Max Total.
The M3 gives you 8 different resistance levels to choose from as well as a wireless heart rate monitor for more accurate readings.
You only get 2 workouts with the M3: manual and the Max Interval, so if you are looking for a little more variety you might want to step up to the M6 which includes 9 workouts and an additional 8 resistance levels.
Other nice features include 2 user profiles, a water bottle holder, a media shelf and an AC adapter included.
One of the other aspects mentioned in a lot of customer reviews is the fact that the Max Trainers don't take up a lot of room.  At only 46" long, they are almost half as long as traditional elliptical trainers, so if space is a concern, these are certainly worth looking into.
As far as negatives there isn't too much.  The M3 models don't give you the opportunity to sync your workouts with Boeflex JRNY for tracking, goal setting and personal records like the M5 and the newer M8 model.
Also, the M3's come with a one year warranty, which isn't great...the other three models come with a two-year and three-year, respectively.
Which Model Should You Choose?
A lot of people ask about the M3 vs the M6 vs the M8, and we break it down for you on our main Max Trainer page.  Basically the M3 is your entry level model and around $999 on sale it is more affordable than the other two models.
So if budget is an issue, go with the M3...you won't be disappointed.  If you can raise your budget a bit, we believe the M6 is the best model in the series.  It gives you more resistance levels, more workouts, Bluetooth with app compatibility, enhanced display and upgraded touches.
The M6 is $600 more, but it also gives you a lot more to work with, and is a more complete elliptical trainer.
What about the top of the line M8 and Max Total models? They're great, and give you even more of everything than the M6 does.  However, it's not necessary for an additional $600-$1100 on top of the Max Trainer M6's price.
It does give you a better warranty and is sturdier, so if you think it's going to see very heavy use, or there will be more than 2 users on it, then the M8 or Max Total might make sense for you.
So to sum up, if you want to save the most money, choose the Max Trainer M3.  If you want more workouts, resistance levels and tracking capability, go with the mid-level M6.  If money is no object and/or you think the machine will see some heavier usage by multiple people, then opt for the Max Trainer M8 or Max Total.
Max Trainer M3 - Bottom Line
If you're looking for a way to burn a lot of calories in a short period of time, the Max Trainer M3 is not a bad way to go about it.  It's a very cool looking machine that doesn't take up a lot of room.  It's also well-priced at only $999, although you can get a traditional elliptical at that price with a lot more workouts and features.
If you can afford the bump up to $1700, the M6 is probably the best of the four models, with more resistance levels, workout options, upgraded features, Bluetooth syncing and a better warranty than the M3.
Still, all four of the Max Trainers are quite popular and get good reviews, so if you like the idea of a hybrid elliptical, definitely check them out.  If you're not happy Bowflex has a six week buy back guarantee and sometimes offers free shipping depending on what model you choose.